News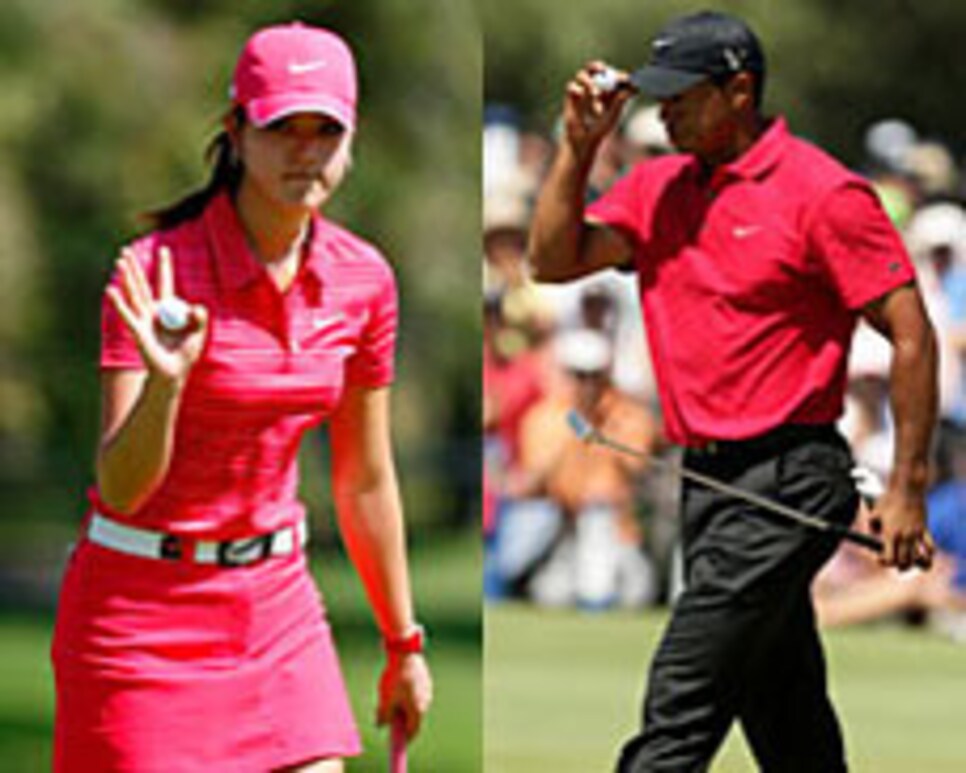 Michelle Wie may be the only figure in golf capable of stealing the spotlight from Tiger Woods.
Tiger Woods won on Sunday by two strokes in Australia for his seventh victory of the year, but he wasn't the biggest story in golf. Michelle Wie was, winning for the first time in her career. It's not often that Tiger is upstaged, but that shows the magnetic appeal that Wie has on women's golf -- and all of golf for that matter.
The comparisons between the two Ws only go so far, because while Wie is new to winning, Woods has perfected it over time. The routs aren't as often and lately he is winning ugly, but win he still does in bloodthirsty fashion, -- club-pitching, expletive-spewing his way around the globe on a year-ending world tour. As stated, the Aussie Masters was his seventh victory of the year, an accomplishment that as a stand-alone feat would rank as remarkable -- until the kicker that it started eight months after major reconstructive knee surgery to Woods' ACL. Then it becomes part of Woodsian lore.
There was the comeback at Bay Hill punctuated by his putt in the dark, followed by a 65 on Sunday to win again at Jack's Place. After Memorial, he proved a good host has no problem winning his own tournament, giving Anthony Kim a lesson on Sunday at the AT&T National. At the Buick Open, he won by three over Roland Thatcher, John Senden and one of the runners-up this past Sunday at Kingston Heath, Greg Chalmers. At the WGC-Bridgestone Invitational, he kept his cool under a slow play warning while Padraig Harrington did not, while his Saturday 62 at the BMW was Tiger at the apex of his game.
It wasn't always pretty. There were "bad days," as Woods admitted there was Saturday in Australia, and the work of swing instructor Hank Haney was under scrutiny all year. But what made Woods proud was the consistency, with three second-place finishes and 14 out of 17 top 10s – all in a year where the putter didn't always show up.
Over the course of time, can Wie have the same kind of competitive drive that it takes to win at this clip? Before trading text messages with Tiger, and taking on the enormous load of carrying the LPGA on her back, Wie should consider that it takes winning to do that -- winning in bunches. Woods has amassed 83 victories worldwide, including 14 majors, averaging nearly six wins a year in his first 14 years as a pro. He was 20, the same age as Wie, when he won the Las Vegas Invitational in 1996.
At the very least, Wie needs to have the type of monster seasons that Annika Sorenstam and Lorena Ochoa had before personal callings interrupted their respective runs. Is she emotionally equipped or competitively dominant enough to do that? Over the next 14 years -- Woods turns 34 on Dec. 30 -- will she be able to intimidate and dominate the way Tiger has?
Right now, we're giddy for Michelle again. The criticism she took over the past six years -- since winning the Women's Public Links in 2003 -- is becoming back story. She took a short game lesson before the Solheim Cup with Dave Stockton, listened to the guidance of Solheim captain Beth Daniel, gutted out a sore ankle, and fit in a victory between classes at Stanford.
Michael Whan doesn't care about that perspective right now. All he knows is that some two weeks after being named LPGA commissioner, he gets the breakthrough victory that Carolyn Bivens was waiting for the entire year. Perhaps it was just coincidental that ShopRite jumped back in as a corporate sponsor the day after Wie's first professional win, symbolically perhaps not.
The LPGA's 2010 schedule, announced this week at the LPGA Tour Championship in Houston, starts in Asia and has a five-week gap after the Kraft Nabisco. A resurgent Wie can help fill in those blanks, but before we all forget, she's a junior in college, leading another life that judging from her Twitter account, does not have the same "kill-or-be-killed" mentality that Tiger got from his Green Beret father and his friend, Michael Jordan. Her post on Sunday after winning Ochoa's tournament in Mexico: "such a great weekend first stanford football dominated and now this?! Wooowwwwwwww i just love life."
Wouldn't it be nice if we could get some of that personal connection from Tiger, warm-and-fuzzy glimpses that are more than just "I got a W"? Maybe that's asking too much or maybe it's why Michelle Wie will never live up to the comparison. When laying down a golf legacy, no one will.