News
Reaction Mixed To Woods News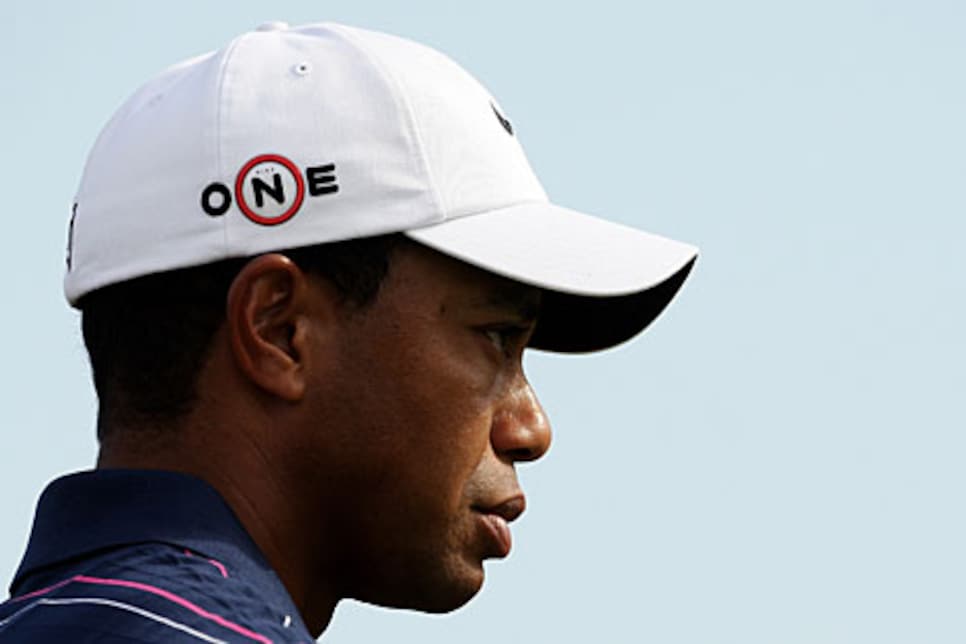 Tiger Woods may have work to do to repair his reputation.
Tiger Woods' apology for "personal failings" on Wednesday has evoked mostly support from his peers on the PGA Tour and the sports world at large. A notable exception has been Jesper Parnevik, the Swedish golfer who introduced Woods to wife Elin Nordegren when Nordegren was working as a nanny for the Parneviks.
"I feel really sorry for Elin since me and my wife were at fault for hooking her up with him. We probably thought he was a better guy then he is. I would probably need to apologize to her and hope she uses a driver next time instead of the 3-iron," Parnevik told reporters at PGA Tour Qualifying School in West Palm Beach, Fl.
"It's a private thing of course. But when you are the guy he is, the world's best athlete, you should think more before you do stuff. And maybe not just do it, like Nike says."
In the last week, Woods has faced intense media scrutiny after a car accident outside his home in the middle of the night. Finally, on Wednesday, Woods acknowledged he had "not been true to my values and the behavior my family deserves."
I have let my family down and I regret those transgressions with all of my heart," Woods said on his website. "I will strive to be a better person and the husband and father that my family deserves."
Along with a public apology, the man who has pursued privacy as relentlessly as he has chased major championships made another plea for privacy.
"Personal sins should not require press releases and problems within a family shouldn't have to mean public confessions," he said.
The investigation into Woods' accident ended Tuesday when the Florida Highway Patrol issued a $164 citation for careless driving. The inspection of his personal life is seemingly just beginning.
Woods' career -- as a golfer, a pitchman and perhaps the most recognized athlete in the world -- has been largely without blemish since he turned pro at age 20.
Three of his sponsors -- Nike, Gatorade and EA Sports -- expressed support or commitment to Woods. Gillette said it had no plans to change its marketing programs. AT&T declined comment.
Windermere police said Woods' wife told them she smashed out the back windows of his SUV with a golf club to help get him out after he struck a fire hydrant and tree.
While Parnevik was critical of Woods, other players were quick to defend him.
"It's not anybody's business, man. It's his and his wife's and his children's business," Rocco Mediate said in a radio interview Wednesday with ESPN Radion in Chicago. "And the problem I have with it is all the people that are trying to take this guy down because he made a mistake -- like everybody else does in the world, a million times -- they're forgetting about what it involves. Those two little kids and his wife. Their deal. Knowing him and, I don't know her very well, but knowing him, he'll fix it. Everything's fixable. But because he is the most recognized person on earth, let's just tear him apart while we have a chance. You know what I mean?"
Notah Begay III, Woods' friend and former teammate from Stanford, said the events of the past few days have only underscored that Woods isn't perfect.
"The only thing that this whole situation has proven is that he is fallible," Begay told Golf Channel. "As we all are. He is human. And I think he's just trying to do two things, which is figure out in his own heart and soul where he stands as far as being a man. And secondly, try and work things out to get his family life back to where wants. The best thing for that is time. But also, privacy is a big part of that."
The support for Woods extended beyond the golf world. Jason Taylor walked into the Miami Dolphins' locker room and saw ESPN running a tease about Woods. He reached up and turned off the TV. "Nobody's damned business," Taylor said.
Minnesota Vikings kicker Ryan Longwell lives in the same Isleworth gated community as Woods outside Orlando, Fla., and said it was "crazy" in the neighborhood. He said his wife told him paparazzi were everywhere and helicopters hovered overhead.
"My wife is a blonde and wears sunglasses in Florida, so every time she comes out of the gate, they're snapping pictures," Longwell said. "It's a different thing than we've ever faced down there. It's certainly a new wrinkle to it.
"You just pray for his family," Longwell said. "You pray for his wife and kids. Just pray that if what's coming out is true that he can learn from it and move on."
Most players at the Chevron World Challenge -- hosted by Woods, who withdrew earlier this week -- offered him support, even as they were curious how he crashed his car in the wee hours of Friday morning.
"He's trying to make it as private as he can, and it's just hard, because everybody is trying to get a piece of information on really what happened," said Steve Stricker, who regularly exchanges text messages with Woods, but hasn't heard from him since the accident.
"I think his image is going to take a bit of a shot," Stricker said. "I think I'd like to see him come on TV and just pour it out a little bit and show what's happened. I don't know if that will ever happen."
"I don't foresee it being a detriment," 2007 Masters champion Zach Johnson said. "I think it's an opportunity for forgiveness and an opportunity to realize that we're all human and we all make mistakes. You know, it's just something you've got to get through."
In its final report released Wednesday, the Florida Highway Patrol said Woods caused $3,200 in property damage, was not wearing a seat belt and was traveling 30 mph in a 25 mph zone.
The six-page report -- which did not include statements from Woods, his wife or any witnesses -- said Woods' SUV rubbed up against bushes, crossed over a curb, onto a grass median and into a row of hedges before striking the fire hydrant and a tree. Damage to his Cadillac Escalade was estimated at $8,000.