News
Pettersen's Decision Pays Off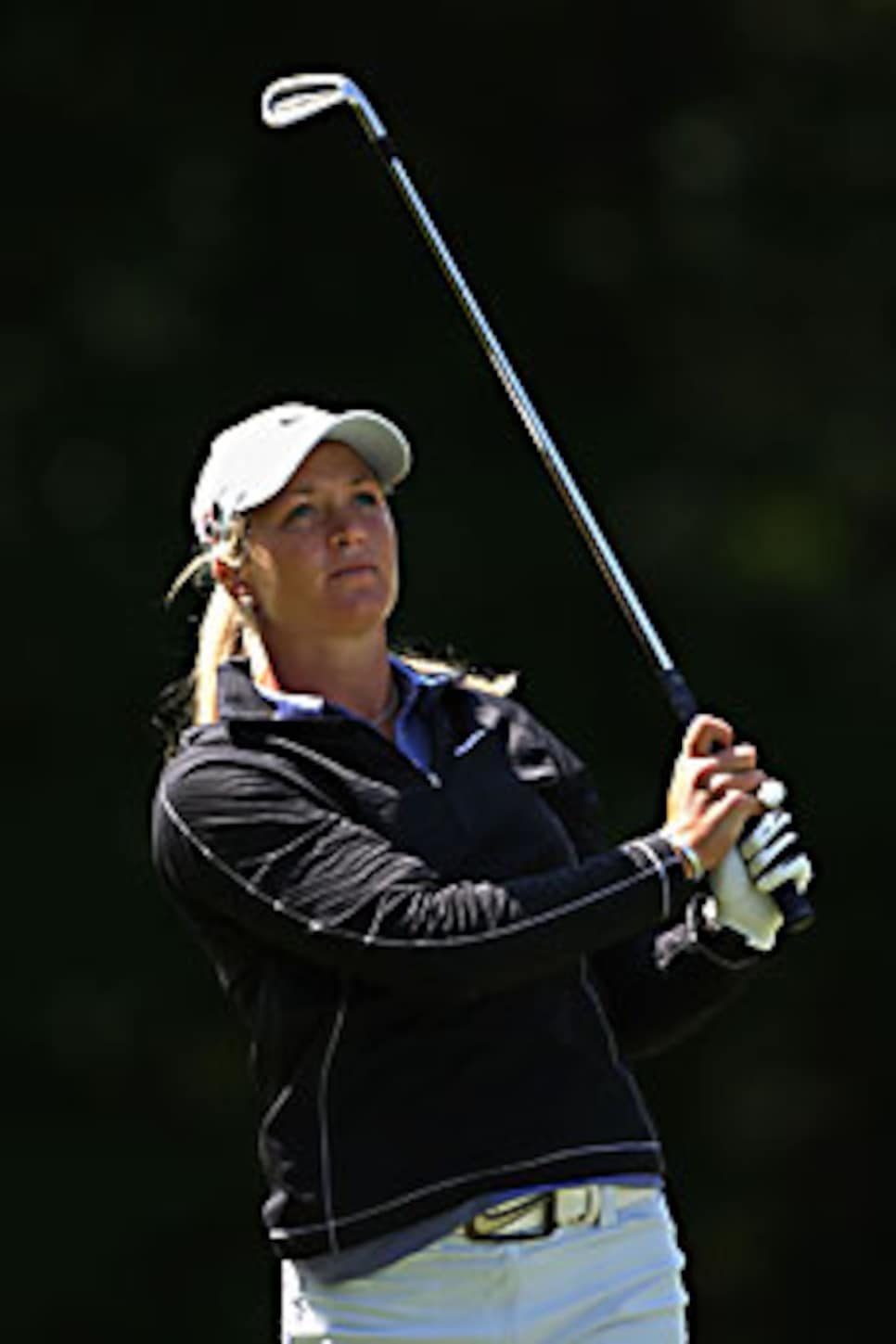 Suzann Pettersen has not recorded a bogey through two rounds.
SPRINGFIELD, Ill. (AP) -- The tingling sensation in her right hand kept hitting with the force of a tee shot, and when her caddie threw the ball, Helen Alfredsson couldn't catch it.
That feeling was miserable. This was much better.
While Hall of Famer Se Ri Pak maintained a share of the State Farm Classic lead with another bogey-free performance, Alfredsson shot into contention with a 9-under 63 in the second round Friday.
"I think sometimes you just see the line," Alfredsson said. "It comes easy to you when you look at it. When you do, you can strike the ball well."
Now, she's one stroke behind the leaders.
Pak, meanwhile, was one step closer to her first win in two years and her first top-10 finish in 10 starts this season. Not a bad time to rediscover her stroke, considering the LPGA Championship is next week at Bulle Rock in Maryland.
The first-round co-leader, Pak shot a 4-under 68 on Friday. That left her at 10-under 134 and tied with Suzann Pettersen (66), who began the day two strokes off the lead but nearly withdrew before teeing off because of a sore throat.
Alfredsson joined Kristy McPherson (66), first-round co-leader Jee Young Lee (69), Kris Tamulis (68) and Moira Dunn (66) at 9 under.
Jiyai Shin (67) was 8 under, Juli Inkster (65) was in a crowd at 7 under, and Michelle Wie (68) and Cristie Kerr (69) topped a group at 6 under.
Among those missing the cut were Kraft Nabisco Championship winner Brittany Lincicome and Hall of Famer Karrie Webb.
Alfredsson won the Nabisco Dinah Shore in 1993 and was the European Solheim Cup captain in 2007, the same year she was finally diagnosed with a herniated disk in her neck. That explained why, as she put it, the ball was "going pretty much off the planet."
She played in just seven events that year before shutting down and the rest paid off, with two wins in 2008.
Now, after she followed a mediocre round with one of her best ever, another victory is in sight. And if she had anything to say to her ball, it was probably just a simple "thank you" or "good job."
Known to yell at it when shots go astray, the 44-year-old Swede had no reason to complain after turning in the second-lowest round of her career. Her stroke was as good as the weather on a clear 78-degree day, producing seven birdies and an eagle with no bogeys.
She started on the 10th hole and began assaulting the course on No. 13 when she birdied the par-5 hole -- the first of three in a row. She then eagled No. 16, when she knocked a 6-iron to five feet to go 5 under and continued her charge toward the top.
That would be the career-low 62 she shot in the opening round of the Sybase Classic at Upper Montclair three weeks ago before stumbling to a 76 the second day.
"It was one of those things, like if you sit at home, you say, 'I would like to do this, this and that,'" Alfredsson said. "That's what happened. This was not as solid."
But she'll certainly take it.
The same goes for Pak, who's back in familiar territory and challenging for her first win since the 2007 Jamie Farr Classic. She hasn't spent much time in the lead recently, but her 25th LPGA Tour victory is in reach after a two-round stretch she jokingly called her best in "maybe thousands, thousands (of) years."
It seemed that way, at least. But the last two days?
"She played like a Hall of Famer the last two days," said McPherson, who was in her group.
Which the 31-year-old Pak is. She also has struggled since becoming one two years ago.
She couldn't really say, but Alfredsson offered a theory.
"She's so young," Alfredsson said. "When you really have one big goal, which that is, what do you do after that pretty much? I think she went back and she couldn't find motivation, which absolutely is so understandable."