News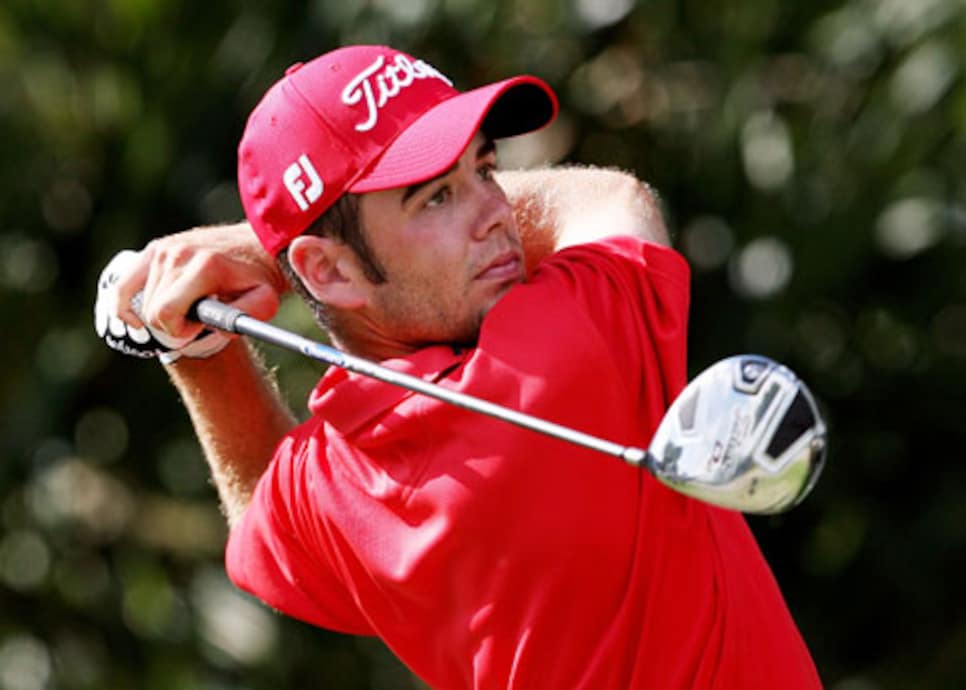 Both Troy Merritt (above) and Graham Delaet are products of the unheralded Boise State golf program.
WEST PALM BEACH, Fl. -- One hails from a suburb of Minneapolis, the other from Saskatchewan, but their connection besides growing up in short golf seasons is an intersection at that golf hotbed known as Boise State University. In football the Broncos just won their second-straight WAC title and are famous for the blue turf of their field, but on the green grass at Bear Lakes CC the Boise alumni association is 1-2 going into the final day of the PGA Tour Qualifying Tournament. What was supposed to be Rickie Fowler's Q School has become a show of force by Troy Merritt of D-II Winona State before transferring up to Division I competition at Boise; and Graham Delaet, a Canadian who spent some time growing up in a town called Moose Jaw, before moving on to play his college golf in the relatively balmy climate of Treasure Valley.
"You have to learn to play in inclement weather," said Kevin Burton, the Boise State golf coach who inherited Delaet and had Merritt for his final two years of eligibility. "It's not like you're playing golf in a dome. But overall, we have some pretty good weather up here. We play golf year round. We have to bust the myth that this is a winter wonderland."
It's all relative: On Sunday morning, as Merritt, 24, and Delaet, 27, finished up the fourth round of this six-round marathon in Palm Beach County, the temperature rose to 21 degrees in Boise, with a wind-chill of 9 degrees.
Burton, who played the 2007 PGA Championship in searing temperatures in Tulsa, was not surprised that two of his former players were handling the heat of Q School. He called Delaet a human specimen and referenced Burton's 10 victories in his two years at Boise State.
The raw athletic ability in both came through as they hit balls side-by-side before the fifth round. Merritt was an all-conference guard on the 2004 Spring Lake Park High basketball team that gave his school its first trip to the state 3A tournament. Delaet was a hockey player before turning in his stick for clubs. They both acknowledged watching Boise whip New Mexico State 42-7 the night before.
"It's Dil-ette, like the razor, which I obviously don't use," he said, stroking a blond beard and wearing J. Lindeberg. After winning earlier this year on the Sunshine Tour, Delaet was actually ranked 163rd in the world, impressing Retief Goosen in South Africa and Padraig Harrington in Scotland. "They get on the back nine at St. Andrews (in the Dunhill Links Championship) and Harrington asked him if he knew what his ball speed was," said Burton. "And he barely gets it to parallel."
After representing Canada in the World Cup, Delaet flew from China, arriving in Miami on Monday 48 hours before the opening round at Bear Lakes. Merritt, who won the Nationwide Tour's Mexico Open, was two strokes up on him when fifth-round play was suspended Sunday night.
Keeping track on PGATour.com and later on Golf Channel will be Burton, who had his No. 1 recruit in from Arizona over the weekend for an official visit. Boise may be 2,432 miles to the northwest of West Palm Beach, but watching Merritt and Delaet take the top two places in 80 degree temperatures, the kid from 'Zona gave Burton his verbal commitment.
As the great tradition of Boise State golf continued to unfold, several story lines continued to take shape:
Fowler, who was nine strokes back of Merritt and right on the number to qualify, will need to gain exempt status on the PGA Tour. As a non-member, his finish in the 126-150 slot on the PGA Tour money list does not give him unlimited exemptions, but there doesn't seem to be a cause of great concern. He will get seven exemptions and is already entertaining offers to play in Europe.
Good karma continued to shine on Brendan Pappas (T-4), who loaned Chris Couch $3,000 to keep his career alive in 2003 and J.P. Hayes (T-8), who turned himself in after realizing he used a ball that was not on the conforming list during second stage qualifying in 2008.
Past major champions continued to have a rough tournament, with David Duval (T-102) looking at a year where he'll be exempt into the first three majors thanks to his T-2 at the U.S. Open, but nothing much else; Todd Hamilton was at 10-over 226 and tied for 156th when he withdrew; and, Shaun Micheel (T-46), who had to roll up his pant legs and wade thigh deep into a water hazard on the 16th hole when his putter ended in a submerged position after a three-putt. Micheel came back to birdie the next hole and laughed in the locker room afterward. "It was not one of my finer moments," he said. "There's still water spilling out of the grip, I think."
Tom Pernice Jr., who turned 50 in September and celebrated by winning the SAS Championship on the Champions Tour, is staying forever young with a T-20 going into the final round. "I still want to play on the PGA Tour, the opportunity is there, I mean I'd probably be home playing golf anyway so I might as well come here -- rather than just go play," Pernice said. "It's still just playing golf. Try to shoot the low score. It's not any different than we do on the other weeks."