News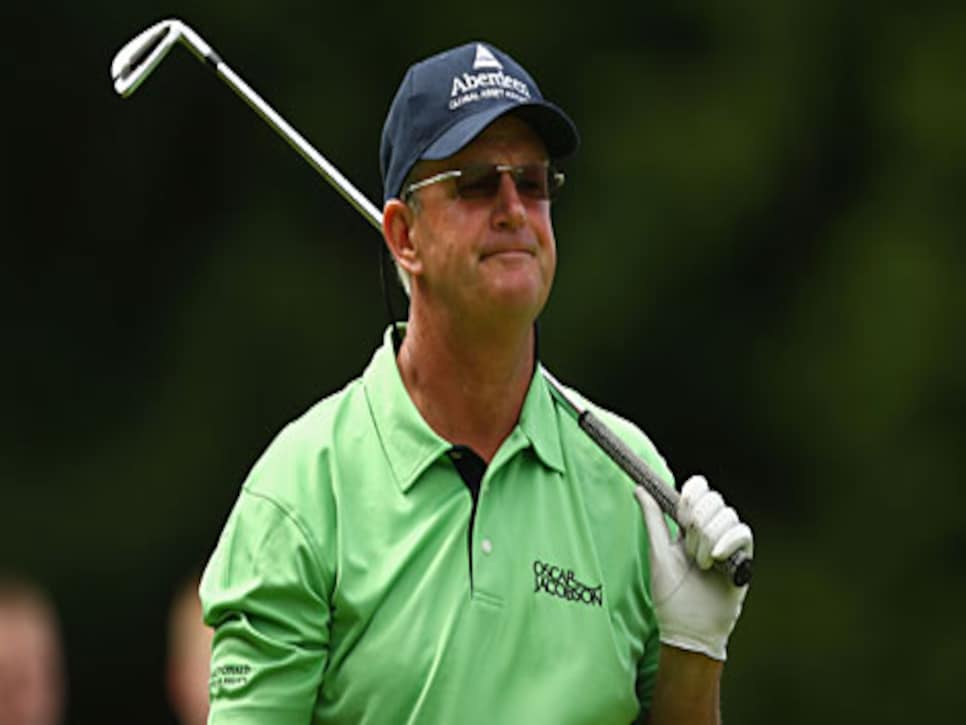 Countrymen Sandy Lyle and Colin Montgomerie enjoyed happier times than the fiasco they were embroiled in Tuesday
TURNBERRY, Scotland -- Just like summers in Scotland, a potentially delicious feud did not last long here Tuesday. Hours after tarring and feathering Colin Montgomerie in the morning newspapers as an appetizer to the British Open, Sandy Lyle called an afternoon press conference at Turnberry to apologize for accusing his countryman of cheating and assorted pecadillos.
"Colin Montgomerie and I are not at war," Lyle said while reading a statement to a packed press room with flash bulbs popping. "Colin Montgomerie is a great champion and a good friend. I feel especially bad if I jeopardized his preparation for the Open Championship."
Lyle's mea culpa was an unfortunate blow to us Americans who felt so much at home, however briefly, with a couple of high-profile athletes sniping at each other. Actually, this hissing match was more of a one-way conversation -- at least so far – because the always controversial Monty was flogged and forgiven without ever saying boo. Such a shame, because if there's one thing we appreciate in the United States, it's "bulletin board material" attached to sports whenever possible.
Over here, they call it a "kerfuffle", which in this context is short for Lyle calling Montgomerie a cheater. That's no way for one Scotsman to treat another, is it? As Lyle told Golf World in a recent interview, he feels as though he's been rendered invisible by those who select captains for Europe's Ryder Cup teams. Lyle thought it was his time in 2010, except Monty got the call. In that sense, Lyle has become Europe's version of Larry Nelson.
Anyway, it was suggested the other day that Lyle seriously hurt his cause during last year's British Open, when he excused himself after only nine holes in brutal conditions at Royal Birkdale. Lyle responded thusly: "What Monty did was far worse. You had a situation where Monty dropped his ball badly in that overseas event. That is a form of what you would call cheating."
Lyle's reference was to an incident at the 2005 Indonesia Open, where play was halted by a thunderstorm. Montgomerie marked his place at the time, but when he returned the next day, he dropped his ball a foot or so away. Monty was absolved by rules officials, but not necessarily by peers or public opinion. He subsequently confessed to an "unwitting error" and donated his prize money to charity.
"You would think that would have gone against him," said Lyle. "That's a case where he was breaking the rules. And there have been a few times when he has been called in to see the videos."
Indeed, in 2002, Monty submitted to a tape review of a putt he holed after the ball appeared to be moving upon address. He escaped a penalty, stating he had not grounded his club when the ball wobbled. The big fellow tied for the top at the Volvo Masters and donated his share of the money to himself.
Lyle is an easy-going sort, and Monty can be 100 compression, so there still is every possibility their next meeting will be interesting. Lyle said he has tried to contact Monty since the captaincy was announced, but without much luck. "He is a bit aloof sometimes. He disappears. I rang him a few times after the decision, but didn't get a reply. Eventually, I got a letter but I had the impression that was written by his manager." The window for Lyle appears to have closed, for he is 51 -- that's too old, according to some critics, to be contemporary. Lyle said the age factor "is a load of rubbish."
Montgomerie has not yet named a vice-captain for next year's matches in Wales, and his tee time is only an hour or so apart from Lyle's for Thursday's first round. So, they could meet on the practice range and make peace. Methinks there is a better chance this kerfuffle will continue, perhaps when Monty is asked about Lyle's comments. Monty isn't known for holding his tongue. I'm guessing he will hold his serve instead.