News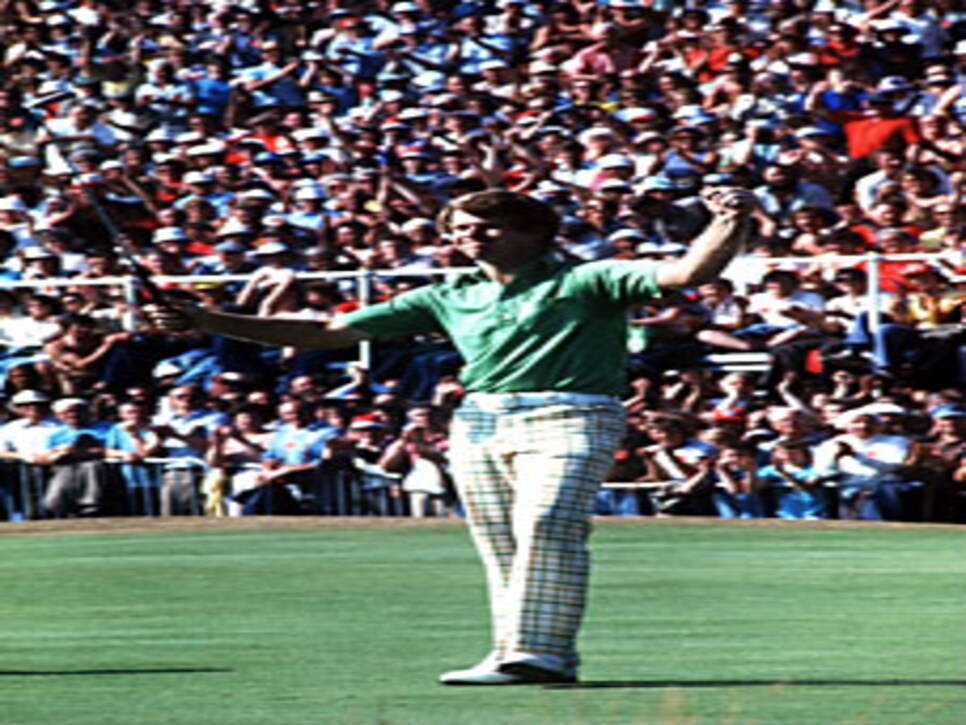 Tom Watson's win in the famed "Duel Of Sun" was the first in a trend of elite winners at Turnberry.
If Tiger Woods needs more than the victory he earned at the recent AT&T National event to feel good about the upcoming British Open, he just needs to glance at a bit of history in between practicing head-high 3-woods and knockdown wedges. Indeed, the past bodes well for Woods' immediate future and his chances of collecting the claret jug for the fourth time and his 15th professional major championship on July 19.
The three previous Opens held on the Ailsa course at Turnberry have been won by Hall of Famers who were the best golfers of the day when they became the champion golfer of the year. Turnberry has delivered Tom Watson (1977), Greg Norman (1986) and Nick Price (1994).
Watson arrived No. 1 on the PGA Tour money list and having turned back Jack Nicklaus for the first time in the 1977 Masters. He would win five titles that year and 22 times over the next four seasons, supplanting Nicklaus as the game's best. For Norman, 1986 was the year he led every major after 54 holes and topped the PGA Tour money list. Price got to Turnberry as the hottest player in golf in 1994, No. 3 on the World Ranking behind Norman and Nick Faldo and No. 2 on the American money list. His Open win at Turnberry was one of six victories that season and 14 PGA Tour titles he claimed between 1991-94.
Although not as long, the list of Turnberry's marquee winners rivals the caliber of recent champions in Opens held on the Old Course at St. Andrews, where Nicklaus (1970, 1978), Seve Ballesteros (1984), Faldo (1990), John Daly (1995) and Woods (2000, 2005) prevailed.
Longshots need not have applied for ultimate glory at this scenic spot on Scotland's Ayrshire coast, but less-than-household names did pop up for cameos, as they tend to at most majors. In 1977 unsung American Mark Hayes fired a second-round 63, tying the record single-round score in a major and shattering the British Open standard of 65 established by Henry Cotton in 1934. Nine years later Japan's Tommy Nakajima one-putted 12 times -- including nine straight -- during a second-round 67 to vault into contention. Little-known English pro Jonathan Lomas shot a 66 to take second place after the first round in 1994.
Ultimately, with the course and the weather conditions markedly different for each of the three Turnberry Opens, thoroughbreds reigned.
The Ailsa fairways were quite narrow in 1977, but a prolonged dry spell meant little rough and scant penalty for off-line shots. Balls kicked up dust when they landed in the fairways, and the massive galleries following the Watson-Nicklaus shootout over the final 36 holes left clouds in their wake. Though the course was there for the taking, other than Watson and Nicklaus no one tore it up. Watson's 12-under 268, one better than Nicklaus, broke the Open record by eight strokes, but Hubert Green was a distant third at 279.
"I don't think there is an explanation," Watson says of the separation between the leading duo and everyone else, "except that maybe we were just playing that much better than the rest of the field. I was in good form, and that was one of the few times in my career I really felt I had a great chance winning the tournament going into it."
Turnberry couldn't have been nastier in 1986, from the course setup to the weather. The fairways were slender ribbons -- at 20 to 23 yards, likely the most narrow in championship golf prior to Carnoustie in 1999 -- flanked by brutally punishing rough. Norman, in fact, wondered out loud before play began that a player was going to get hurt trying to escape the tall stuff, presaging Phil Mickelson's contention at the 2007 U.S. Open. (Craig Stadler would prove Norman right, injuring his left wrist on a recovery shot that would force him to withdraw after an opening 82.)
"I just don't see a name popping up that is not well known," Raymond Floyd said in a pre-tournament interview. "It's going to take experience and playing ability and a player who can cope. Probably as severe a test as I have seen."
On a cold, wet and very windy first day, Ian Woosnam took the lead with an even-par 70. Norman managed a 74, which was four strokes below the field average. Guy McQuitty recorded the day's high score, a 95, and another golfer, Andrew Broadway, a young Brit, was 18 over after 10 holes when he stopped marking down his scores.
It was hard to see a 63 coming on Friday amid those kind of first-round numbers, but that's exactly what Norman delivered -- despite three bogeys. The weather had calmed down some, but it was still a remarkable round and set up the Aussie for a five-stroke victory over Gordon J. Brand two days later at even-par 280.
In 1994 Turnberry was in lush condition, softened by heavy pre-championship rainfall, its fairways somewhat wider than the alleys of 1986, its rough short because of a poor growing season. "We are not worried if players shoot low scores, so long as as the best players are winning," said then-secretary of the Royal and Ancient Michael Bonallack. "On a links course, if you make it too penal, you take away the whole character and players take irons off the tee. You want to tempt them to use drivers off the tees and attack the course. They can still get in a lot of trouble even if there is not so much rough."
Those playing well didn't get in much trouble, particularly after the wind abated following the first round. Price matched Watson's 268 winning total, with Jesper Parnevik one shot back in second place. Unlike the parched, bump-and-run Open of 1977, when Green was the only other player who broke 280, 35 more golfers finished under par.
Whether shootout or survival test this year -- the rough is said to be formidable, more like 1986 than 1977 or 1994 -- there is no reason to believe Turnberry won't suit the best player in the game ... again.