News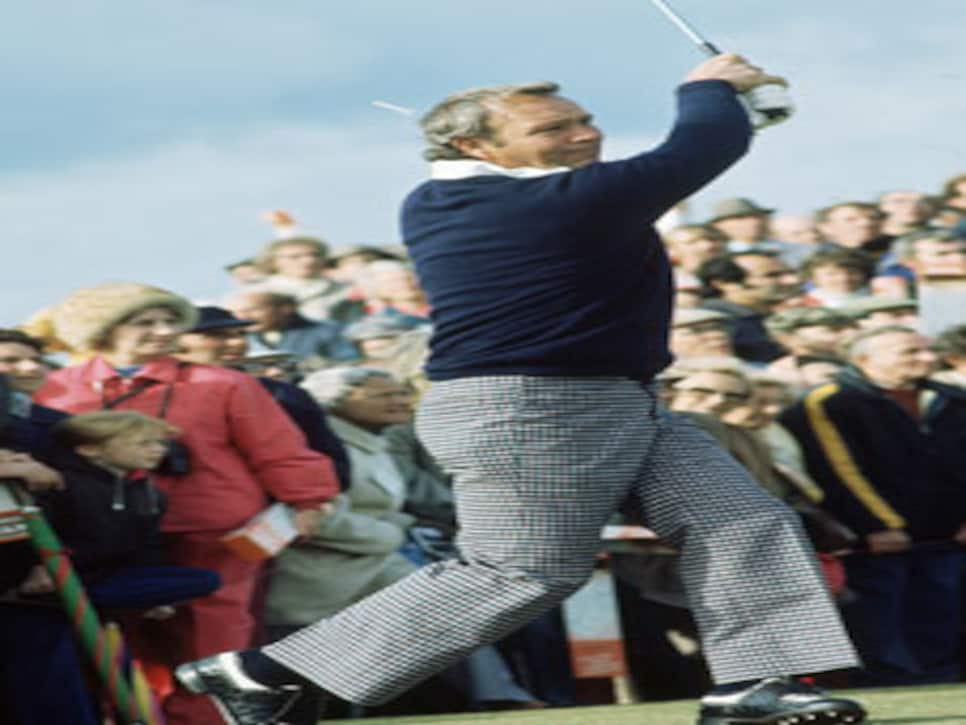 Arnold Palmer's efforts to qualify for the British Open underscored the tournament's importance to his contemporaries
As it turns out, it's a history lesson, more than anything. In 1960, Arnold Palmer won the Masters and the U.S. Open and badly wanted to play the British Open at St. Andrews. So he did. But only after playing a 36-hole qualifier. Palmer wound up second at St. Andrews.
He went back to the 1961 British Open at Royal Birkdale and this time won it. But just to be part of the Open field again, Palmer had to play another 36-hole qualifier. Move ahead to 1962, as the defending Open champion and Palmer entered the Open at Royal Troon ... but not before -- you guessed it -- he had to play a 36-hole qualifier. He won his second Open in a row.
So don't tell Palmer that the British Open is something that any U.S. players should skip, if they feel like it.
"I felt then and I still do that you had to win internationally to be considered a great player," Palmer said in an interview. "I did what I had to do to be considered a player of some circumstance."
In the storybook of professional golf, there have been few players of such circumstance as Palmer, and he said his experience with the British Open played no small part in whatever level of success he has been able to reach. There's probably a lesson in there somewhere.
There was a period when U.S. players rarely played the Open Championship because of travel problems and small purses -- Palmer made $3,920 for his victory at Birkdale -- but Palmer managed to change that culture forever.
"I think it's very clear the change in the attitude of the players is because of Arnold Palmer when he won the Open Championship and had to qualify the next year," Tom Watson said in a recent conference call. "He put that much emphasis and importance ... and the rest of the players followed."
The Open Championship follows the story of golf, almost from its very roots, with chapters that cover its most storied subjects, from Old Tom Morris to his son Young Tom, from Willie Clark to Harry Vardon, from Walter Hagen and Bobby Jones to Bobby Locke and then on to Palmer and the modern generation.
It is played on some of the game's most legendary real estate, with the Old Course at St. Andrews the capital.
That's probably what Brad Faxon was thinking about in 2005 when he went to St. Andrews, without a spot in the field, and earned his way into the Open through qualifying. For two rounds, he was in the mix, before Tiger Woods won in a runaway. In 2000, Faxon had tried following the same route, but failed to qualify at St. Andrews, so he flew back to the U.S. -- and won the B.C. Open.
Payback for doing the right thing? Faxon said in a Golf Digest interview he grew up as a traditionalist, and following the British Open on television was a big part of his makeup.
"Watching Jack Nicklaus wearing his argyle sweater in July," Faxon said. "That blue argyle sweater -- I thought that was cool. I get upset with guys who don't go because it's too far or it's too cold or it's not the kind of game they like. I respect guys not having the same opinion as I do, but I really think they're missing out."
Faxon criticized Scott Hoch for not playing when he was eligible, but more recently, Kenny Perry has taken, mostly from the media, for not playing the 2008 British Open when he had the opportunity (although Perry will be playing this year despite his mother's battle with cancer). Jerry Kelly isn't playing Turnberry, but is instead showing support for the lame duck PGA Tour event in Milwaukee, his hometown, which will be played the same week.
Boo Weekley, who is playing the Scottish Open at Loch Lomond and the Open Championship at Turnberry, said any decisions about scheduling the Open are personal.
"I look at it, if you got the opportunity to play, go play it," he said at the AT&T National. "It's up to the discretion of the player. Like Kenny Perry. If he don't wanna go, he ain't gotta go. It ain't gonna make or break who Kenny is. The media is going to beat him up a little bit, but just because he don't wanna go. He's earned that right."
Weekley said he will be at Turnberry despite his problems with unfamiliar food, the lack of sleep and the prospect of bad weather.
"A lot of the guys don't want to go because of the weather," he said. "You don't ever know. You might get two or three good days and then next thing you know, you might get four days of pure crap. But that's part of golf. I mean, that's part of the history of actually going over and playing in the British. It ain't always sunshine."
With or without Perry, the U.S. contingent will be strong at Turnberry, and it signals once again that attitudes have clearly changed about participating in the Open Championship. Instead of it being regarded as a vague maybe on a player's schedule, players now risk criticism for not showing up.
Lucas Glover said he understands the weight of circumstances, but believes the Open is not just any tournament.
"It's one of the four majors, it's one of the four tournaments that a lot of careers are decided on," Glover, the recent U.S. Open Champion, said at the AT&T National. "A benchmark, if you will. So if you're eligible, I think 99 percent of us will go, unless there are extenuating circumstances, just because travel is easier, there are easier ways to get there now. So I think it's becoming a more popular deal to go."
Jim Furyk acknowledged Palmer's role in improving the status of the Open among the U.S. players.
"He made it popular before my time," Furyk said at the AT&T National. "Do we have an obligation to go? In my opinion, as a major championship, if I have the opportunity to go, I'm going to go. You can't win if you don't show up. You only have a few opportunities in your career to win a major championship, so you want to try to take advantage of all those. All travel is bad, no matter where you go."
Watson wasted no words in expressing his opinion on the participation of U.S. players.
"Yes, everybody has an obligation to play in what I call the world Open of golf, the world Open Championship," he said.
As for Palmer, his 36-hole qualifying experience as a defending Open champion eventually led to a change in the rules. It took another 20 years for the PGA Tour to count the prize money from the British Open as official money, and that only added to the changing attitude players had toward commitments.
Palmer is proud of his role of something of a pioneer in "opening up" the Open.
"I kept playing, I kept bringing the message," he said. "I realized it was something that was very important to golf.
"In this day and age, I don't think there's a top player in the world who thinks the British Open isn't one of the most important tournaments in the world. Absolutely play it. It's not about the money or the travel or the weather. It's about careers. Nobody should forget that."