News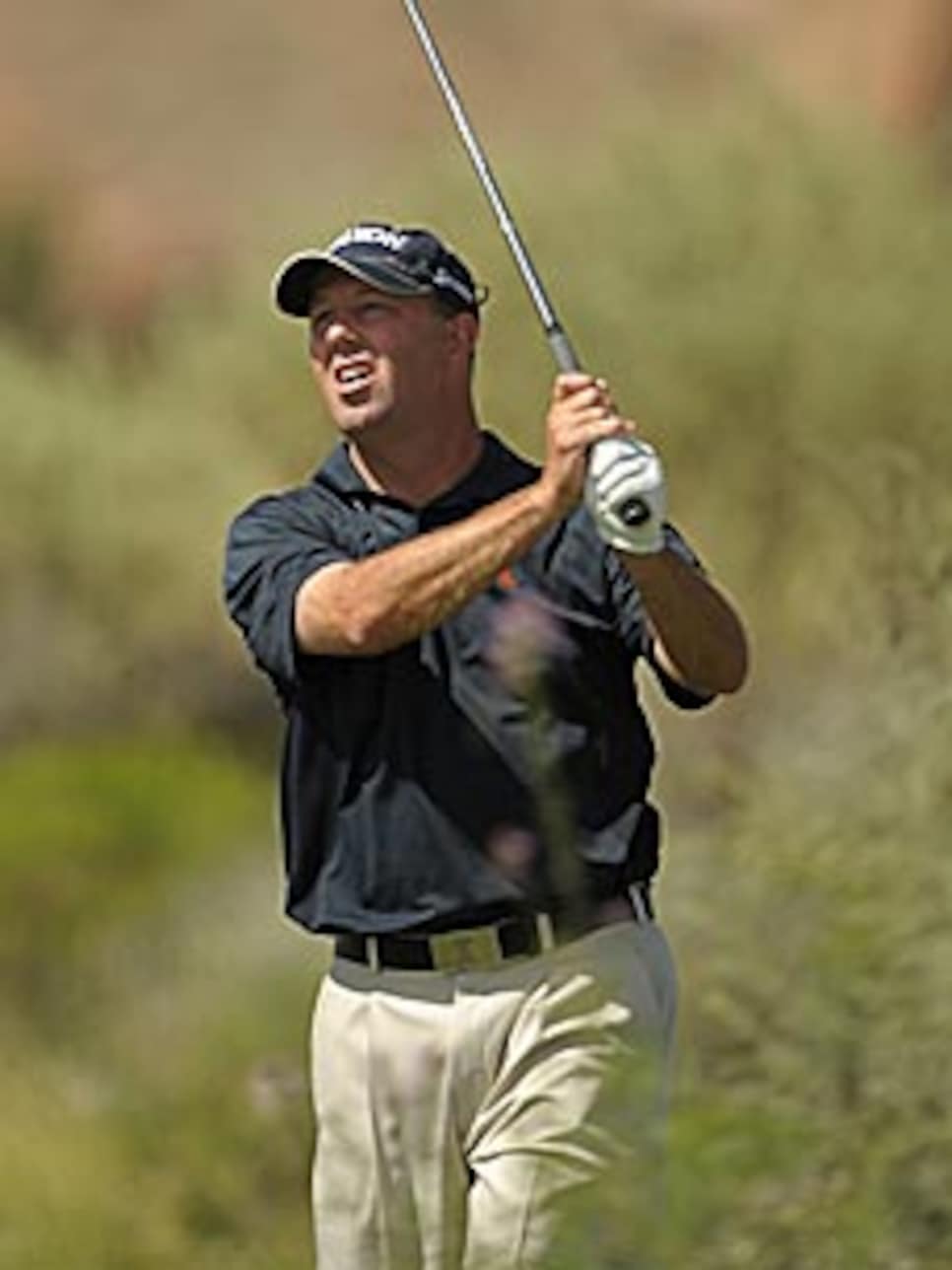 Small rallied from a four-shot deficit on the final day to win $75,000 and lead qualifiers for the PGA Championship at Hazeltine.
It's possible the 42nd PGA Professional National Championship in Santa Ana Pueblo, N.M., marked the first time anyone walked the Twin Warriors golf course this year. The dramatic, 7,493-yard layout lies in the same high desert canyons where "No Country for Old Men" was filmed, and in late June, those cartpath switchbacks get hot. Mike Small, the University of Illinois men's coach who won the event, walked it with a bad back. Small, 43, said disk problems limited him to just three rounds the previous month.
"He wouldn't mention it, but I knew it was hurting him," said Small's caddie, Jim Ambrose, who watched his man make five birdies and two bogeys in the final round as the threesome of contenders in the final group faded.
"I told myself to just hang around, same thing I tell the kids on my team," said Small, who started the last round four shots behind. "In heat and altitude and wind, the tendency is for people to slip backward." Note Small did fire 68-68 the final two days to finish seven under, not exactly "hanging around."
For the first three days spectators stayed by the ninth and 18th greens, mindfully keeping the shade, drink and air-conditioning of the clubhouse within striking distance. But in the fourth round, a packed leader board finally lured them out to the far reaches. Not unlike Llewellyn Moss stumbling across a briefcase of cash from a drug deal gone bad, the stakes of this event were the highest any of the 312 contestants typically get involved with anymore: $75,000 to the winner and berths into the PGA Championship at Hazeltine National GC to the top 20 finishers. Surely a different kind of drama than being hunted by a murderous sociopath, but still something people want to follow.
Coming in, the biggest check Mark Sheftic, a Merion GC teaching professional and the 36- and 54-hole leader, had ever earned was $8,000 for finishing as low pro in the 2007 Philadelphia Open. "Playing, I was more relaxed than I thought I'd be, but man, I sure had a hard time sleeping at night," said Sheftic, who missed a six-foot par putt at the 72nd hole that would have forced a playoff. He hit an aggressive approach trying to make birdie and win outright, a good strike over a bunker right at the stick, but it dribbled long.
"This is our Masters, our U.S. Open," said Kyle Flinton, head professional at Quail Creek G&CC in Oklahoma City, who finished a disappointing T-34 after opening 67-69. The week prior Flinton had been working 16-hour days to make sure his club's annual member-guest tournament ran smoothly.
As champion Small reminded when he won his first PGA Professional National Championship in 2005, not everyone in this tournament is a club pro. The PGA has 27 different classifications of membership, which include assistants, superintendents, architects, college coaches, sales reps, club-fitters and so on. Adam Corson, who missed the cut, is manager of Dick's Sporting Goods in Altoona, Pa. More than 15,000 professionals were eligible to qualify this year; 3,728 gave it a go.
"Preparing for this tournament is easier for guys from my area because our clubs are dead in the summer," said Lee Rinker, director of golf at Emerald Dunes Club in West Palm Beach, who finished T-4. "Pros up north have a harder time justifying it because their seasons are in full swing."
"I've learned to be efficient," said Sheftic. "Back when I was playing mini-tours, I'd practice all day and get sloppy. Now when I have 15 minutes, I focus and make the most of it."
"Nowadays more pros are just trying to make sure they keep their jobs," said Ryan Benzel, a self-employed teacher at public Battle Creek outside Seattle, who also finished T-4. Formerly head professional at nearby Mill Creek CC, Benzel said he "missed warning signs" the club was uneasy about the time commitment he was making to be competitive.
"Our membership is very supportive," said Charlie Meola, assistant professional at Fairview CC in Greenwich, Conn., who finished T-40. "They subscribe to that old idea that the pro is the club, that he represents the course."
Bill Harvey, a local Albuquerque pro who shot two-over 144 to make the cut on the number, averages more than 1,000 lessons a year and at age 48 has hopes for the Champions Tour. This year he won both the Sun Country teacher of the year as well as earning player-of-the-year honors. After the second round, Harvey was racing off to run a ladies' clinic. "They knew what time I was teeing off, so they wouldn't let me cancel it," joked Harvey. "I never try to impose my own swing thoughts on my students. Some pros only know their own swing, and that's what they teach. I just teach athleticism."
Small, too, is not without successes in guiding others. This past season he skippered Illinois to its first Big Ten Conference championship in 20 years. The last time that happened for the Fighting Illini Small was actually on the team, playing alongside future star Steve Stricker. In fact, Small enjoyed one year of PGA Tour membership himself, in 1999.
Seated by the Walter Hagen Cup, Small noted the significance of the date. Under NCAA rules, July 1 is the first day coaches are allowed to start telephoning rising high school seniors. "I didn't make any calls today so I guess I'm doing a bad job," he said with a grin. Small rarely plays with his golfers. "When I'm out on the course, I'm focused on making their games better, not mine."
In defeat, Sheftic exhibited what a lot of the players in this unique field have: perspective. "I used to be trying to make the PGA Tour," said Sheftic. "Now I have a dream job and a great family, and I don't have to worry about playing well to pay the bills. To me now, getting a student to hit a good shot is just as rewarding as hitting a good shot myself."
But the best story of the week may belong to Grant Sturgeon. Playing in his first PGA Professional National Championship, the Oakmont CC assistant shot 79 the first day, then in the second round rebounded with a 65 that included a hole-in-one with a 7-iron on Santa Ana's 169-yard sixth hole. He made the cut on the number and finished T-8. Now, this August, he will play in his first ever PGA Championship.