Equipment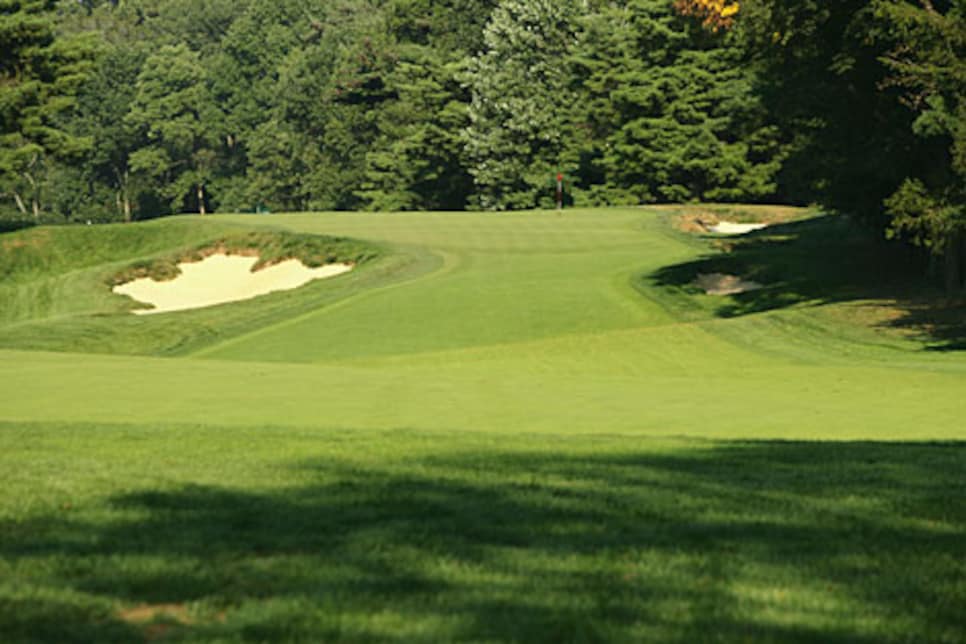 The huzzahs on the eve of venerable Merion Golf Club's hosting of the 2009 Walker Cup ring through the air like those accompanying the first reading of the Declaration of Independence down the street some 233 years ago. The players are excited about testing themselves against history, organizers are proud of the venue's restored and rightful place on golf's grand stage, and all of golf looks forward to thrilling matches full of epic portent as a fitting preamble to the playing of the U.S. Open there in 2013.
Indeed, all seems ready for Merion's dramatic East Course to fulfill the words of then U.S. Golf Association Championship Committee chairman Jim Hyler in announcing the 2013 U.S. Open site selection three years ago.
"From the standpoint of length and difficulty, Merion Golf Club certainly answered the question of whether it could host a modern U.S. Open during the 2005 U.S. Amateur," he said then. "We have no doubt the East Course will provide a sufficient challenge for the world's best players."
At the risk of suggesting the Emperor has no clothes, though, it still seems fair to wonder whether taking the U.S. Open to a course that measures 6,846 yards is a "sufficient challenge." Saying Merion is short is no revelation, of course. But in an era where the average PGA Tour course is 300 yards longer than Merion and where the length of a major championship venue is pushing the 7,700-yard mark, the question remains: Is Merion enough golf course for the U.S. Open?
Consider the last time Merion was the host for elite level players was the 2005 U.S. Amateur. That doesn't sound long ago, but in golf-technology terms it's nearly as old as "Happy Days" reruns. That was three generations of Ping drivers ago, and the No. 1 driver in the game, the TaylorMade r7 Quad, was barely 400 cubic centimeters. And elite players in 2005, especially top amateurs, weren't having their driver specs dialed in with launch monitors. Nowadays, some of the best players in the world actually own their own launch monitors.
And yet there is no doubt the crop of young amateurs tackling Merion's East Course this week feels it will test them.
"It's everything you want a great golf course to be," U.S. team member Brian Harman told the Philadelphia Daily News. "There's great long holes, great short holes, awesome greens. I look forward to playing them."
His words sound like those of then-USGA president Will Nicholson, who wrote in his welcoming letter to the 1981 U.S. Open, the last played at Merion, "Unquestionably, the fundamental ingredient in the greatness and traditions of the United States Open has been the outstanding golf courses on which it is played -- courses upon which all of the skills of the player are fully and completely tested. There can be no greater evidence of the truth of this statement than this year's setting."
True perhaps in 1981, but is it true today? Will it be true in 2013? Look at the length of the last five U.S. Open venues:
Bethpage Black: 7,426 yards
Torrey Pines South: 7,643 yards
Pinehurst No. 2: 7,214 yards
In fact, Merion is shorter than any course to host a major championship since Pebble Beach in 2000. And it's shorter than all but two courses used on the PGA Tour this year. Those two? The TPC at River Highlands for the Travelers Championship and Brown Deer Park for the U.S. Bank Championship. Average winning score at those two venues: 17-under par. Not exactly U.S. Open numbers.
Conservatively, Merion's East Course will feature 10 holes that will require at most a short iron and very likely a wedge. Right now, the PGA Tour birdie or better average from 125 yards and in is 22 percent. If one of every four players is making a birdie on every other hole, it's probably not going to be the U.S. Open that we've come to know and love. Truthfully, it's barely the Travelers Championship.
Obviously, though, Merion is and always has been about more than its short holes. While players at Merion likely will have to hit a share of mid- and long irons, typically at a U.S. Open players have to hit more than their share of mid- and long irons. Right now, Merion has only three par 4s longer than 440 yards, which is a borderline short hole for many players today. For perspective, Bethpage Black had seven, Torrey Pines South had seven, and Oakmont had six.
Players could always take advantage of Merion's lack of length. Amateur Lee Mackey shot an opening round 64 back in 1950. Its difficulty came from deep rough, diabolical greens and vicious bunkering. Not that it had to be tricked up to present a challenge, but it's never been the brute that we've come to think of U.S. Open venues.
"Back in1950 the USGA had to grow rough ankle deep just to make Merion, short even in those days, competitive," says Ron Whitten, Golf Digest senior editor for architecture. Whitten proposes an alternative plan to toughen up Merion enough for the new generation of bomb-and-gougers. Instead of two par 5s, Whitten suggests turning one of them into a beastly par 4.
"I've been suggesting for years that to make Merion competitive for the upcoming Open they should play it at par 69, with just one par 5, either the second or fourth, or better yet, alternate them day to day. That would make par for the week 276, a hell of a psychological target for most players.
"Give them a bunch of short par 4s and tell them they need to drive a couple of greens in order to shoot under par. When they have to go for it, even the best players start to pucker.
Merion is a grand challenge, of course. It seemed to hold its own during the U.S. Amateur in 2005. It will be interesting to see how it measures up with softened fairways and greens at the Walker Cup over the next two days. And while no one is publicly suggesting the USGA should pull the plug on U.S. Open preparations for 2013, the numbers must give the most ardent Merion fan pause.
Of course, the USGA has been studying a shorter golf ball for the last five years. Maybe trying it out at a golf course nearly 400 yards shorter than its last five U.S. Open sites is just the sort of field test the theory needs.
Forgetting infrastructure, membership policies, climate and any other outside influence, here are five courses Bomb & Gouge feel could stand up to modern technology and are worthy of hosting a U.S. Open.
BOMB: The USGA likes to see players endure a little bit of suffering, so why not put them on one of golf's ultimate torture chambers?
GOUGE: How good would the Media Day be for that one?
GOUGE: The USGA needs a few more West Coast venues to overcome its East Coast bias. Nice counterpoint to the everyman public track at Torrey Pines. Sort of like Winged Foot and Bethpage Black, no?
BOMB: Back when I could actually play golf I shot 73 from the tips here and felt like I broke the course record. It's a shame the membership doesn't want an Open because the course is more than up to the challenge.
Cog Hill #4 BOMB: Honestly I don't know what the USGA is waiting for. Medinah and Olympia Fields have pretty much outlived their usefulness as challenging major-championship layouts in the midwest. The changes to Cog Hill, however, make it big-time ready. With the USGA's recent affinity for public-access courses, it's time for Cog to get the nod.
GOUGE: A fair suggestion, but I don't like playing major championships on PGA Tour venues. Show me something I don't see every year. If it's middle America we're after, how about Sand Hills (they could add 500 yards in about 15 minutes) or Erin Hills or blast from the past Butler National?
GOUGE: I like Sweet Tea. I like big holes and big greens. And Rees Jones is really good at restoring the hulk of his father's best tracks.
BOMB: It's beefy enough at over 7,400 and since an Open will never be played on Augusta National, this is the next best thing. Plus it would be a fitting tribute to Bobby Jones.
BOMB: When the LPGA left Bulle Rock it gave up on a wonderful venue. If Pinehurst is good enough for the women to play an Open on then this track is more than sufficient for the guys.
GOUGE: GOUGE: The Slope Rating is 147 even when they're not playing a major there. And the 18th hole at nearly 500 yards with death all the way along the left side might move to its rightful place among the game's best finishing holes.