News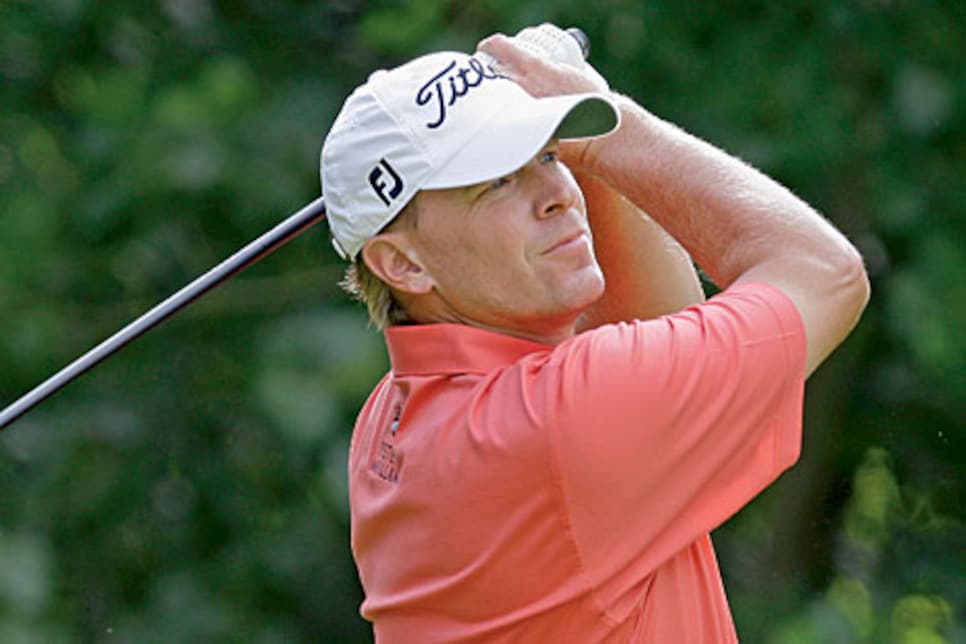 Turnberry sendoff: Stricker's sixth PGA Tour win was built on weekend rounds of 61, 68 and 64, the last two coming on Sunday.
Rare does a Sunday dawn on the PGA Tour when every player can win, but that was the case at the John Deere Classic. Discount Saturday-night leader (at 13 under) Darron Stiles, the all-time Nationwide Tour money winner who, coming in, had made only one of 11 big-boy cuts this season, and the remaining 64 players were all within six strokes. Compound that with the fact the entire field was going to play 36 holes (a thunderstorm in Silvis, Ill., had rendered Friday a washout) and the already tight spread tightened by a power of two.
"Anyone who gets in a good groove in the morning and then keeps it going in the afternoon can win," said Lee Janzen on the eve of the marathon, then nearly fulfilled his own prophecy by shooting a five-under 66 early before fading with 73 to tie for 23rd.
"The leader could be behind us, in front of us. You don't know where they can come from," said Steve Stricker, who established his presence Saturday with a course-record-tying 61 at TPC Deere Run.
The most dramatic demonstrator of the open opportunity was Brett Quigley, who made the cut on the number (four under) and then by early Sunday afternoon found himself atop the leader board at 17 under. Local favorite Zach Johnson had also been in danger of missing the cut, but a hot, 12-under Sunday (64-66) landed him the first in the clubhouse at 17 under. Because there wasn't time to re-pair for the fourth round (some players barely got 20 minutes for lunch) this provided for the unspectacular television risk that the winner might finish two hours early, and possibly on the ninth green.
But with the course rain-softened, not everyone clustered at the top could slip backward. In the end two horses emerged, Stricker and Tim Petrovic. Both were in the final threesome with Stiles, and despite the weather hiccups, there was finally a real golf tournament to watch.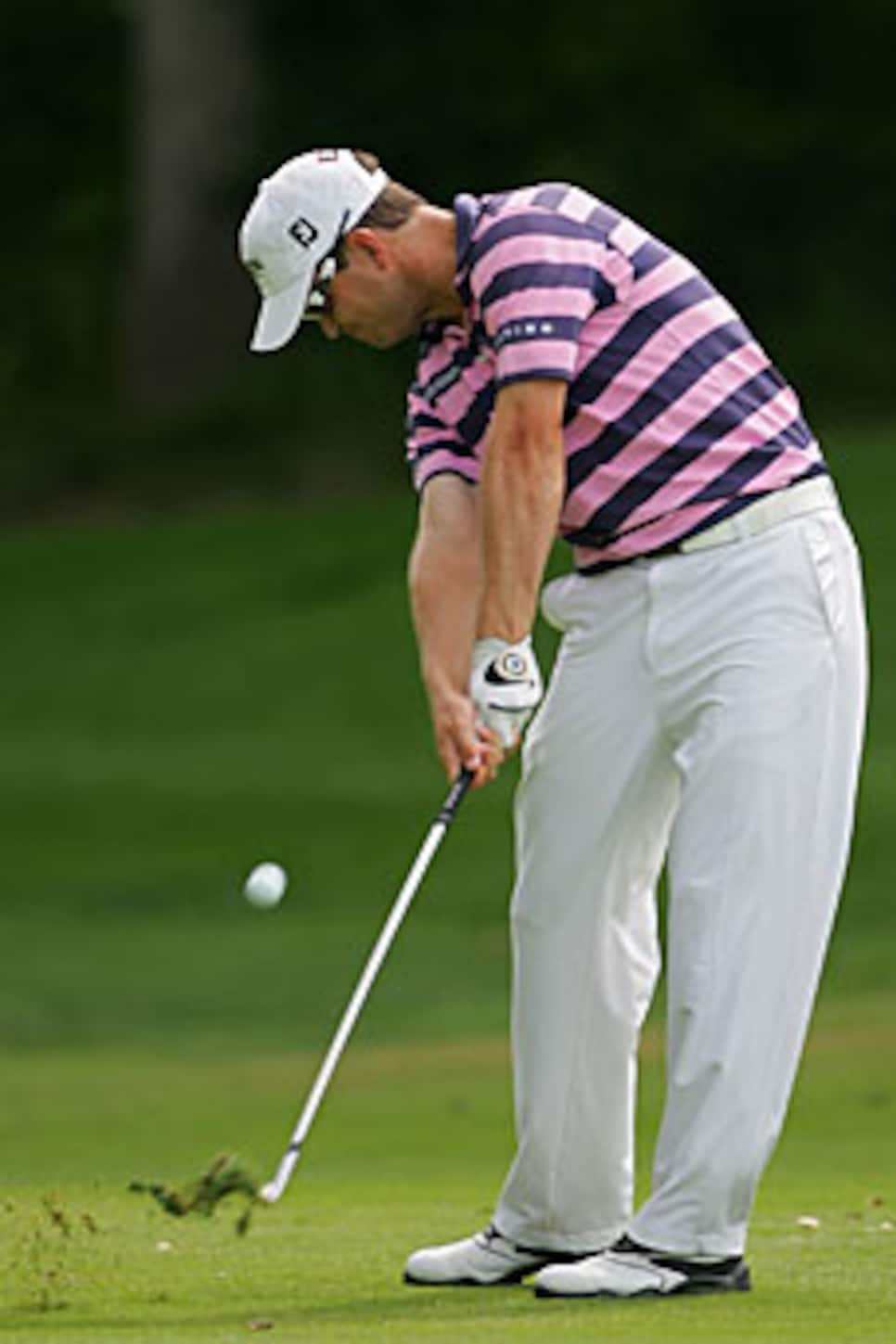 The crowd, sporting more John Deere trucker caps than an Ashton Kutcher groupie convention, was clearly behind Stricker, the Wisconsin native and University of Illinois alumnus. It's not that they weren't applauding Connecticut-raised Petrovic's laser-like iron shots, but one sensed a reluctance to cheer his name due to an uncertainty on how to say it. Incorrect pronunciations were circulating through the midwestern gallery like H1N1.
Stricker's Saturday 61 involved a 93-yard hole-out for eagle at the par-5 17th, and his fourth round was jump-started by a 117-yard hole-out for eagle with the same 54-degree wedge at the par-4 sixth, which vaulted him into a tie for the lead. The ball bounced once and grazed the flagstick two feet above ground, then cascaded into the cup as if it had a static cling with the stick. "When you do something like that it almost seems as though it's your week to win," Stricker said.
Though it hadn't necessarily felt that way on the practice range for the now six-time winner. "I was fighting a few things in my swing," said Stricker. "The club's been passing by me, and my ball has been starting out on line and then turning left, not starting right of the target and then drawing back like it's supposed to." But the real key to his week was a minor putting adjustment discovered during Friday evening's practice session when play was officially suspended. "It was my ball position," said Stricker. "It's been creeping forward on me a little bit, and I just moved it back. … The ball seemed to come off with a lot more spin. You know, it was rolling better." Stricker needed only nine putts on the back-nine 29 of his 61.
With his second win of 2009 (the Crowne Plaza Invitational at Colonial was the other), Stricker moved to second place in the FedEx Cup standings, just eight points shy of Tiger Woods. That there's now an argument to mention his name among the sport's A-listers is a surprise to a man who suffered swing demons before winning two consecutive Comeback Player of the Year Awards (2006, 2007), something that will likely never happen again.
"I don't know where my place in the game is," he said. "My goal at the start of each year has always been to win a tournament. I guess next I'd like to win a major." That Stricker won with commanding, aggressive final-round play—as opposed to backing into a victory as he did at Colonial after Tim Clark's late mistakes—is surely a confidence boost and a reminder that he is capable.
It should be noted Stricker's final-round 64 and 20-under 264 obscure how close the race with Petrovic (69, 16 under) really was. On holes 14, 15, and 16, Petrovic just missed makable birdie putts that would have drawn him level with Stricker. On the final hole, down by two after Stricker birdied the 71st, Petrovic took dead aim at the back-left pin guarded by water. His approach hooked severely, nearly striking the buoyed John Deere lawn tractor to which Stricker ultimately won the keys, leading to a double bogey.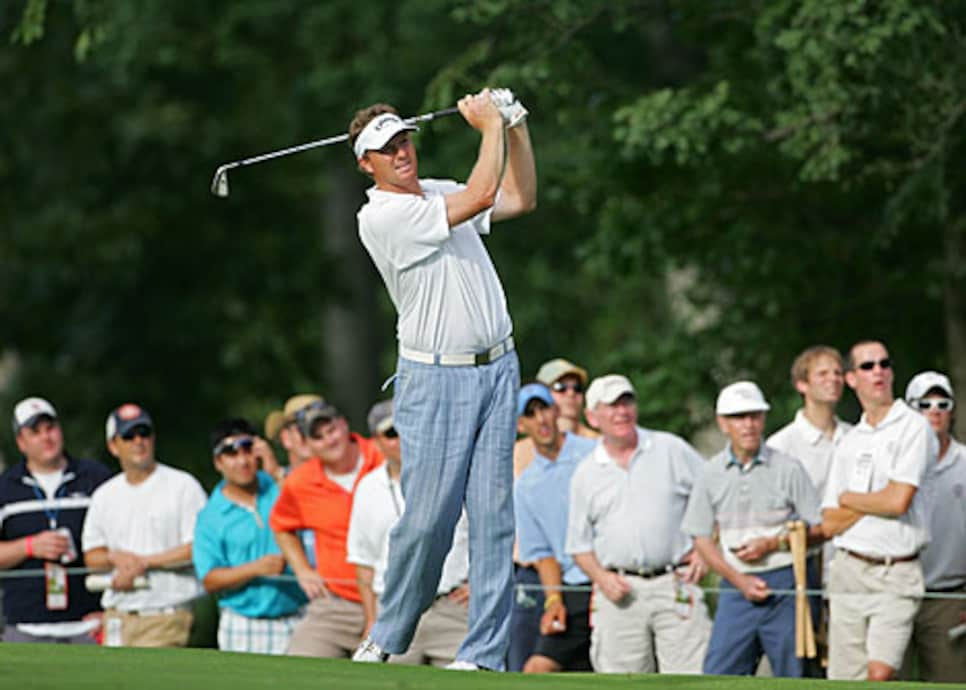 This bravery of not playing for second, reminiscent of Sean O'Hair's quad at TPC Sawgrass' island 17th in a late effort to catch Phil Mickelson at the '07 Players, cost Petrovic more than just $307,450 in the fall to T-5. Had he played safe and made par, he would have won a spot in the British Open. The private jet to Scotland organized by John Deere Classic officials, which famously departs just hours after the tournament ends, perennially has a vacant spot for the top finisher in the top five not already exempt into the British.
"It makes it so convenient," said Carl Pettersson, who finished T-55, one of 23 John Deere Classic contestants who already had their spot on the jet solidified. "I've lost my luggage before trying to connect in London. This goes direct to Prestwick without any customs hassle. [The jet] has really improved the strength of this field. If it weren't for it, I probably wouldn't come here."
Petrovic won't experience this ease of travel, nor will Brett Quigley, who finished T-2 along with Zach Johnson and Brandt Snedeker, both already exempt. After a frantic search to locate his passport (it was in Florida, a situation that likely could have been rectified), Quigley declined the offer.
"It was a dilemma," Quigley said. "But I've decided I will travel with my family and play Milwaukee next week." Quigley also cited a pro-am obligation the following day, as well as Beth Smith's funeral (wife of tour player Chris Smith who died tragically in a car accident) as reasons. "If I heard another guy saying this, not playing in a major, I'd think it was crazy, but I know if I get over there my heart's not going to be in it."
The spot does not transfer to the next eligible finisher from the JDC. Instead, it goes to the next player in the World Ranking not eligible (in this case it's Thomas Levet, ranked 82nd).
Quigley has the dubious distinction of being the tour's all-time money winner among those without a win. So as the Rhode Island native headed to Milwaukee to make his 354th PGA start in the watered-down field of the U.S. Bank Championship, Stricker tried to catch some sleep on the flight to Scotland. If both can play like they did in Silvis, each just might fill the big hole in his career.