News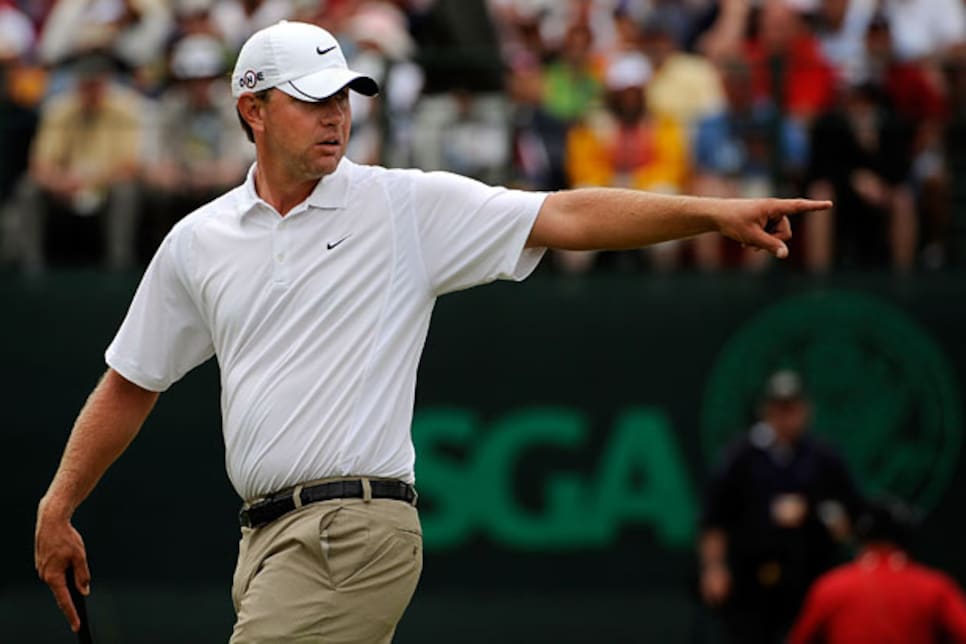 The Glove wants you to put him in your fantasy lineup this week.
Welcome to another edition of Fantasy Fix, where we help you set your fantasy golf lineup and cheering from the press box is allowed. Where to begin? Oh right, Bill Haas. Unless you live under a rock or you're not allowed to watch the Golf Channel in your office during a workday (probably the latter), you know by now that the rising star from Wake Forest finally broke through to win his first career PGA Tour title at the Bob Hope Classic. With his father Jay, another former Demon Deacon, watching, Haas birdied the 18th hole to defeat a trio of players by a shot. It was almost enough to make this fellow alum want to type in black-and-gold font.
But I digress. The real reason why I'm bringing Haas up is that I picked him as one of my sleepers. OK, so maybe that was for the Sony Open, but it was more of a general, season-long prediction (Side note: A co-worker picked Haas in our one-and-done league that week and got burned when he missed the cut. He then watched in dismay as Haas finished some 38 shots better this week. Talk about being cursed. Also, my boss wasn't too pleased to see Matt Kuchar's name near the top of the board the week after he foolishly went against my advice and picked him at the Sony. Live and learn, kid. Live and learn. Side, side note: If I'm not here next week, you can probably attribute my absence to that last sentence).
Other predictions last week included Tim Clark,Bubba Watson and Mike Weir. What gems do I have in store this week for the Farmers Insurance Open (formerly the Buick Invitational) at Torrey Pines? Read on to find out.
The big story this week is the return of Phil Mickelson. However, I'm looking at another lefty as one of my top picks. Bubba Watson looked fantastic last week and made me look good in the process as well. The big bopper was near the top of the leader board throughout the entire event (Something John Strege says is definitely a good thing for the PGA Tour in his Monday Qualifier column) and if not for a double bogey on 18 Sunday, he might have walked away with his first career win.
Watson has always been known as someone with all the shots, but what I liked in watching him at the Hope was the fact that he seemed to be keeping things more simple. Watson's got plenty of momentum heading into this week and a T-7 at this event last year will only add to his confidence.
Speaking of guys brimming with confidence ... I think you know where I'm going here. In all seriousness, though, Haas did finish T-11 at Torrey last year.
Next up, I'll turn my attention to a couple of young Americans (not named Haas), who have surprised many by only having one PGA Tour apiece at this point in their careers. Let's begin with Ryan Moore, who has two Top 10s in his first two tournaments. In fact, in his nine rounds thus far in 2010, his worst score is a 70. Moore has actually missed the cut at this event in three of the last four years, but I just think he's playing too well right now to overlook.
Like Phil Mickelson,Hunter Mahan will be making his 2010 debut this week -- just with slightly less fanfare. If you're worried about rust, don't be. Mahan usually waits until February to kick off his season (In part because he's only earned his way to the winners-only event in Kapalua once) and he finished T-11 here last year. He's also about as solid as players come, remarkably only missing one cut all of last season.
Wondering where other big names like Anthony Kim, Camilo Villegas, who finished T-3 here last year, and Kenny Perry are? Check out Tim Rosaforte's column on how many players are going overseas to serve their own needs instead of helping out the PGA Tour during the absence of Tiger Woods.
Never fear, though,Lucas Glover is here! The 2009 U.S. Open champion put up a T-3 last year and also racked up a T-4 at Torrey Pines in 2006. The Glove has been less-than-stellar since he opened the season with rounds of 66 and 65 at the SBS Championship, but I like him more in tournaments like this where you don't get lapped by the field if you shoot even par.
This may shock you, but I'm not banking on Mickelson this week. Yes, he's won this event three times in his illustrious career and yes, he comes into this year on a high after winning both the Tour Championship and the HSBC to close out 2009. Sometimes picks just seem too obvious. So while everyone is expecting Lefty to waltz onto what is essentially his home course and just start piling up birdies, I'm going to go against the grain.
Actually, unconventional picks, or non-picks like in this situation, can be more beneficial in terms of picking up ground in your league if they pay off. Of course, they can be a double whammy as well if they go wrong and everyone else your playing against profits.
In the past, including last year's MC at the FBR followed by a T-42 at Torrey, Mickelson hasn't always gotten off to great starts to the season. After some time off and with everyone expecting him to take over the Tour in Tiger's absence, it might be smart to let him get into a flow before jumping on the bandwagon.
In another somewhat unorthodox move, I won't be taking Nick Watney in either of my leagues this week, despite the fact that he is the defending champion (Pat Perez didn't completely let me down last week, but I'm over that trend for now). Before the breakthrough last year he had missed the cut in two of his other four trips to Torrey.
Stay away from Steve Marino as well. He missed the cut in this event last year and his absence from the Tour thus far gives no evidence of how he's playing right now.
I hate to go back to the well, but that's exactly what I'm going to do with Chad Campbell. He probably didn't event beat pro-am participant Kenny G in round one when he shot a 79, however, he did respond with rounds of 70, 69 and 64 to narrowly miss the cut. That 64 may have gone for naught, but it was a telling sign that the Texan is on his game.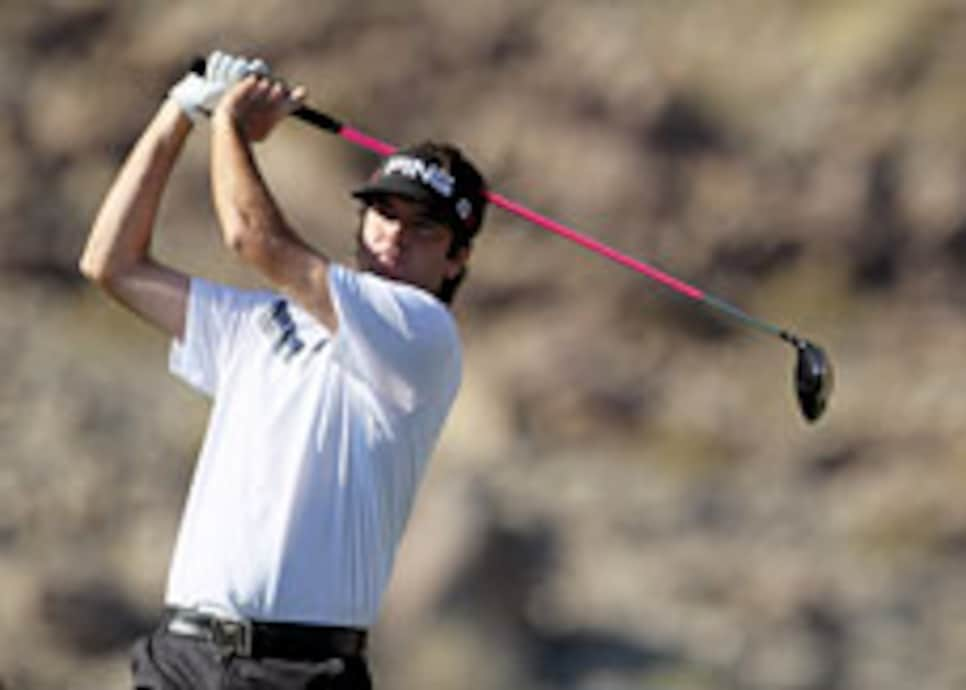 close to breaking through for his first win.
By the way, is there another event where someone could shoot those scores and miss the cut? It makes about as much sense as a co-worker's recent explanation that the reason he ordered two burgers at lunch was because the sandwich station was out of turkey (Side note: I really want to dub this guy "Two Burgers" and then watch the natural nickname progression play out as it gets shortened, first to "Burgers" and then to simply "TB." Why am I getting excited about this?).
Want a real flyer? Think about Matt Jones. Not to be confused with fellow Australian__Brendan Jones__, a.k.a. the guy who lost to Tiger in his return from knee surgery at the WGC Match Play Championship last year, Matt is better known as the guy with the same name as former Arkansas quarterback Matt Jones. Okay, so that name isn't as catchy as "Two Burgers", but what did catch my eye was his brief, but impressive record at Torrey Pines. He finished solo fifth last year and in 2008, his only other appearance, managed a T-23. Apparently, he also finished T-8 at the Hope. Who knew?
Finally, Aaron Baddeley has never missed the cut in six tries at Torrey, including a T-11 last year. And besides, don't you just feel like this guy is due after a couple of so-so seasons? Sort of reminds me of a certain previous sleeper pick...
-- Alex Myers is a contributing editor at GolfDigest.com.