News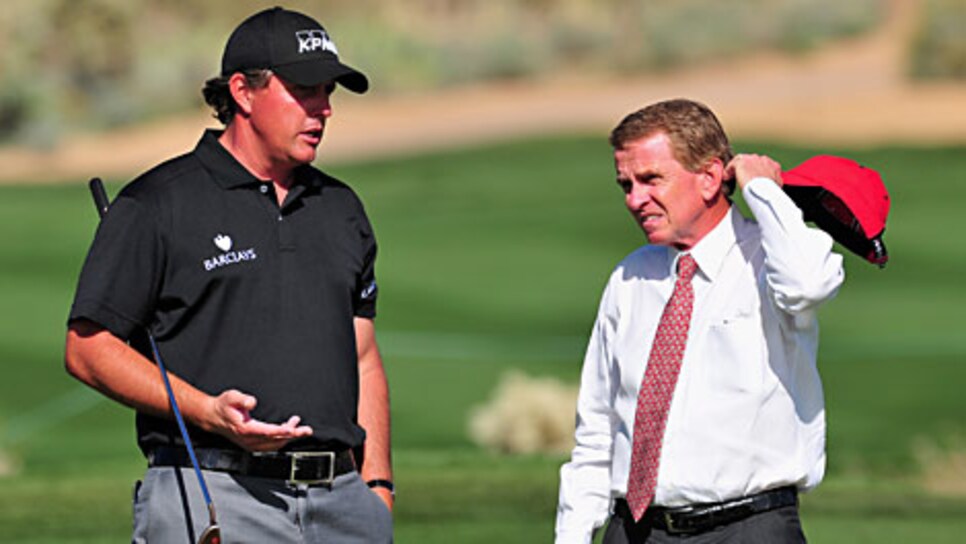 Tim Finchem consulted with players on the groove issue, but ultimately, the decision was his to implement a new condition of competition for 2010.
PGA Tour Commissioner Tim Finchem abruptly ended questions surrounding implementing the U.S. Golf Association's new groove rule in 2010 with a single sentence during a teleconference Tuesday afternoon.
"It is our intention to move ahead and utilize the condition starting on Jan. 1, 2010," Finchem said.
Another sentence, just a couple of hours later, confirmed that Finchem's decision probably was the right one.
"I think it's great," said Tiger Woods, in his pre-tournament press conference for the AT&T National at Congressional Country Club.
"We've had plenty of time to make our adjustments," Woods continued. "We've known for over a couple years now what this decision was going to be, when it was going to come down, and we've had plenty of time to make our adjustments."
Finchem's announcement came after a meeting of the PGA Tour Policy Board, which Finchem said decided to not take action and, following historical precedent, leave the decision on conditions of competition in the hands of the commissioner.
Finchem said he made the decision to implement the rule as previously scheduled in 2010 because he believed delaying implementation was not in the best interest of the PGA Tour.
"We're late in the process," Finchem said. "I think there's been a lot of reliance on the schedule by individuals, by equipment manufacturers, by other tours, by other golf organizations in taking steps to prepare for this schedule.
"It candidly probably would be an easier transition if we waited, but a lot of people in the industry are down the road. This is something new so players need to spend more time focused on it, and our fans need to get educated. We just think waiting maybe cut against putting the energy behind that education."
Finchem said he would relay the PGA Tour's position at the meeting of the International Federation of PGA Tours in Turnberry in two weeks, encouraging them "to take similar steps during the remaining months of the year."
When the USGA and the Royal & Ancient Golf Club of St. Andrews announced the rule change last August, it was with the intention that the new groove specifications would be less effective in creating spin for shots out of the rough. The rule was stipulated as a condition of competition for the USGA's open events in 2010, but would not apply to amateur events until 2014. Golf's worldwide tours and organizations, including the PGA of America and Augusta National had all endorsed the change and implementation date as well.
The groove rule specifications applies to all clubs manufactured after Dec. 31, 2009, but clubs with the old groove are still considered conforming to the rules of golf and therefore for average golfer handicap posting purposes until at least 2024.
That staggered implementation process has caused some concerns for manufacturers, several of whom had advocated the tour delaying the rule change. John Solheim, CEO of Ping, even had gone so far as to suggest the PGA Tour should abandon the groove rule entirely. Ping had been successful in lawsuits with the USGA and PGA Tour over the grooves in its irons two decades ago.
While standing firm, Finchem acknowledged there are still some concerns with the new groove rule process. Specifically, he said the tour will embark on "a full-court press" with players to help them adjust to the equipment change, including providing access to courses adjacent to tournament sites where players can practice with 2010-groove clubs.
"We certainly have some work to do with respect to how the condition should or shouldn't be applied to qualifiers," he also said. "We take note of the fact that the USGA and the R&A are evaluating the use and the condition as it relates to qualifiers."
But Finchem called for "just bringing to bear the same kind of energy on engaging this transition to new groove requirements that we brought to bear on testing driver heads some years ago or with bringing online anti-doping measures last year."
Several manufacturers contacted by Golf Digest said they anticipated no problems in getting players prepared for the change, but the industry seems split on whether there might be contentious issues going forward. Some suggest that the adjustment process for players will be complicated and difficult, and that adequately servicing all players who attempt to compete on the PGA Tour will be problematic.
In a lengthy statement released only minutes after Finchem's teleconference concluded, Joe Nauman, Executive Vice President, Corporate and Legal at Acushnet, parent company of Titleist, Cobra and FootJoy, decried the decision not to delay implementation by a year.
"We believe, and players have confirmed, that the conversion process will not be a simple exchange of existing wedges with new grooves," Nauman said.
"Making a change of this precedential significance requires that the conversion process be conducted in a thorough, deliberate manner taking the interests of all constituencies into account. Regardless of how much research and thought went into the development of the rule change, as with any significant change, there are unforeseen issues and complexity, particularly at the point of implementation and adoption. There is no way to predict many of these issues and they only surface during the actual conversion process. While no one is to blame for these circumstances, the major logistical issues of implementation still need to be taken into account."
Others in the industry see no cause for alarm, however.
"We're very happy they took the decision to move forward," said Benoit Vincent, chief technical officer at TaylorMade. "The USGA had a pretty set schedule, and we have been working to develop solutions within the new rule, so there was no rational reason for us to want to postpone implementation for a year."
"Now we will not always have the personal relationship with all the people that are trying to qualify for a PGA Tour event. Those people will have to rely on the publications from the USGA and our own internal communication about our new products. But we've done that in the past through every new product and rule change, and you know what? People are doing their homework in this area. I think the system works pretty well."
Toward that end, the USGA is nearly finished developing a system for testing grooves in the field that is similar in time, expense and simplicity to its field test for determining the spring-like effect in drivers.
"We're using it right now," said Dick Rugge, senior technical director at the USGA. "We're working with the tour, and we are getting ready to finalize the software."
Rugge said he expected a list of wedges and irons that already conform to the new rule would be published by mid-August.
While the groove issue had developed a fair amount of intensity in recent weeks as players voiced their concern over its implementation, there seemed little doubt after Tuesday who was in charge.
"The way the PGA Tour works is the commissioner is authorized to manage competitions, and that includes the use of a condition of competition that's in the Rules of Golf," Finchem said.
"The board had a thorough discussion of the issue and did not take action, which by default means that it is left up to the commissioner and staff to make the decision," Finchem said. "I had come to a conclusion as to that decision, and I made that clear to the board, and they nevertheless left it up to me to move forward, and that's what I am relating to players today.
"We do think there are some challenges here. We are comfortable that we can meet the challenges, and we have great faith in our players. We just felt that generally speaking, or I concluded, that delaying at this point in time probably was not in our overall best interests. But the good news is that there continues to be wide support for the rule itself."