News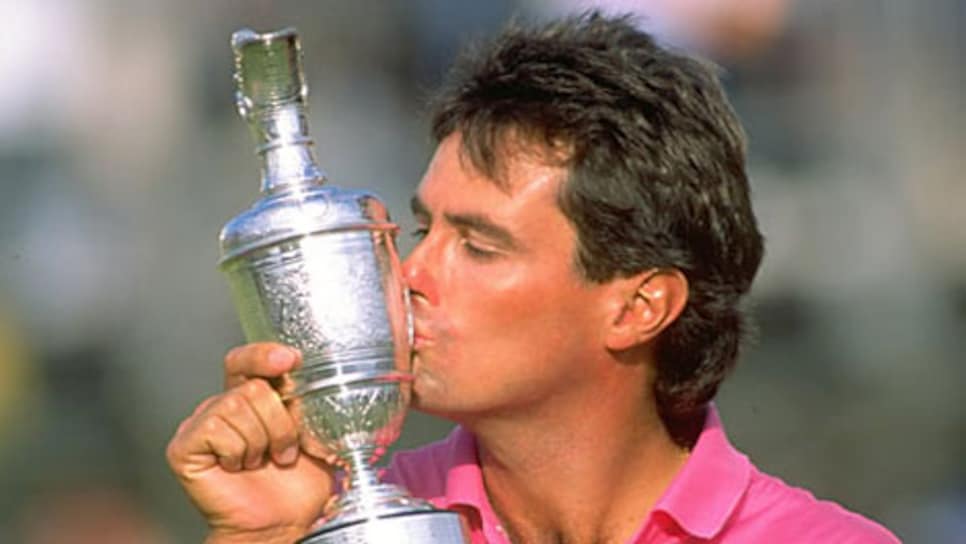 Eighteen years after his win in the British Open, Ian Baker-Finch said he is content now with his life as an announcer.
Ian Baker-Finch didn't want to turn his week at Colonial into a media event, but that's kind of what it's become. The reasons for the CBS broadcaster coming out of the booth to compete in the Crowne Plaza Invitational were fairly simple, and had nothing to do with a comeback: It was the 20th anniversary of his victory at one of Ben Hogan's stomping grounds, his daughter is going to Southern Methodist University nearby and his producer, Lance Barrow, is a director at the club.
"I should have entered 5 p.m. Friday, just gone and played," Baker-Finch was saying last Sunday morning after a workout and before his duties with the CBS golf team at the HP Byron Nelson. "Everyone else is making this more of a story than what it is. It's always the same. It's why I stopped playing. It became, especially in Australia, the 'Ian Baker-Finch Watch.'"
And true to form, an Aussie film crew has arrived in Fort Worth, monitoring Baker-Finch's return to professional golf for the first time in eight years. This wasn't like the circus following Annika Sorenstam around Colonial six years ago, but as of last Sunday I was Baker-Finch's sixth one-on-one interview, and he was heading into the press room at the Four Seasons in Irving for No. 7 with Melanie Hauser of PGATour.com.
"I was thinking, 'Let's go there nice and relaxed, see how it goes, I may have eradicated the reason I left the game,' " he said. "Now I go to the first tee and I'm right back where I was."
And where was Baker-Finch? Right there atop the list of modern-day players who fell victim to analysis paralysis syndrome: From the British Open Championship at Royal Birkdale in 1991, when he went out in 29 and shot a final-round 66, to not being able to hit the first fairway at St. Andrews in 1995, nobody bottomed out as hard and as fast.
The story is sadder in the sense that Baker-Finch, in the words of close mate Robert Allenby, "is one of the nicest guys we know." You'd never know, either, when stepping on the back tee with him at one of his clubs, or by his day-to-day demeanor, that he is still battling the competitive demons.
"I'm always just trying to tell him, 'Don't worry about what everybody else is thinking, it doesn't matter at the end of the day. Just go play golf,' " Allenby said. "He's listened to so many coaches, telling him to try this, try that, if he would just go out, keep it simple, play golf like he does most of time around home, he can play well."
Whether he's at the Bears Club, the Ritz-Carlton GC, the Fox Club, or on the days when he's a guest at Seminole, McArthur, Jupiter Hills or the Medalist -- and he's such a good guy that everybody wants him in their foursome -- Baker-Finch never fails to shoot mid-to-high sixties. With the guys he usually plays against, whether that's Allenby or Luke Donald, or hockey player turned celebrity golfer Danny Quinn or former Walker Cupper Eoghan O'Connell, or his caddie this week, Lance Ten Broeck, he has to shoot that number or he gets taken to the cleaners.
"He's always shooting anywhere from three to six under," says Allenby, "and he does it easily."
"He's been up here quite a lot this year," said O'Connell, who runs the Fox Club. "He plays with Louis Oosthuizen, Mike Goodes, Lonnie Nielsen, and he always ways to play off the back tees. He's playing really well, shooting in the 60s every time."
As Baker-Finch points out, this was the case five, 10, 15 years ago. "People think I shot 80 every time I played," he said. "It's a fear thing." Asked the dumb question about seeing a sports psychologist, he responds, "I've worked with them all."
His game around the greens, according to Allenby, is pro caliber. "And he has the silkiest putting stroke there is in golf," said Allenby. Off the tee, where Baker-Finch had the driver yips, there's a level of consistency and a new ball flight that keeps him in the game. "He looks like he can hit that fade whenever he wants," says O'Connell.
The turnaround is a direct result of the work Baker-Finch has been putting in with his CBS teammate, Peter Kostis. They've been working for 18 months, starting on the fundamentals with a change to Ian's grip that Kostis says eliminated much of the timing factor and the wildness off the tee.
"When he was at home with his buddies, there was no pressure, no worries, he could time it," Kostis said "But he was always having trouble when there was pressure on to time the release. I think he's going to find out that he has a golf swing that will allow him to react better to the stress. It wasn't mental. It was a physical thing. He had bad fundamentals, pure and simple. I would not be the least bit surprised, in fact, I expect him to make the cut."
Kostis was given credit by Paul Casey almost immediately after the Englishman won the BMW Championship on Sunday at Wentworth, but getting Baker-Finch to the weekend at Colonial would in many ways be a greater accomplishment. When Baker-Finch steps onto the 10th tee at 10:02 Thursday morning, it'll be the first time he's had a pencil and a scorecard in his back pocket at a tour event since missing the cut at Colonial in 2001. It's not Annika on that same tee in 2003, swinging for the first time against the men, but it is like Rick Ankiel coming back and trying to pitch for the Cardinals. "He hasn't played a tour event in eight years, that's a lot of years," O'Connell said. "That would be his disclaimer anyway."
The key, says Quinn, is Ten Broeck, the veteran caddie. Just two weeks ago, Ten Broeck filled in at the Valero Texas Open and while he didn't make the cut, he did beat his player, Jesper Parnevik. And since they play together here in the Palm Beaches, Lance knows IBF's game.
"He's definitely capable of making the cut," Ten Broeck said. "Hopefully he can rid himself of the anxiety of not having played competitive in a long time. That's the key. He's got to relax."
At 48, there's the misconception that Baker-Finch is using this as a test for the Champions Tour. While he's telling friends that a reduced schedule like the one enjoyed by NBC's Gary Koch would be nice, for the record, he's happier in the tower with a microphone than over a tight tee shot in the Horrible Horseshoe.
"I think I'll be able to do and have a good time, just as long as everybody else in the media doesn't make it into more than it needs to be. I'm a CBS announcer, hopefully until I retire. I love the gig. I love the team. I love every day I go to work