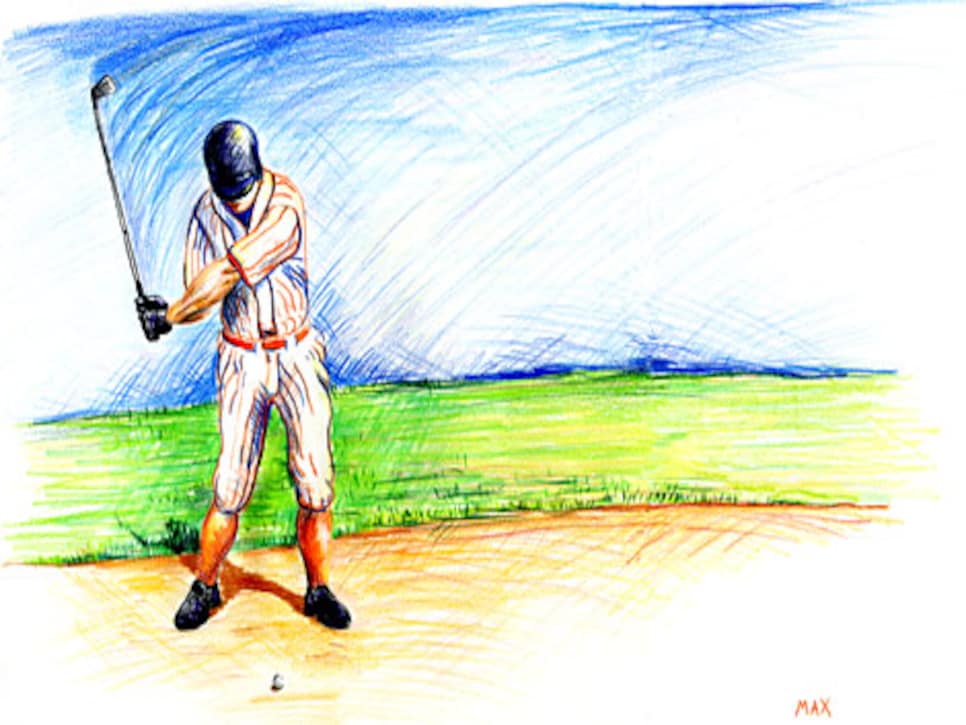 For those ballplayers who won't play in next week's All-Star Game, there is an upside: more time for golf.
Several players on the 1986 San Francisco Giants were sitting around in spring training, tackling one of their favorite subjects: golf. The conversation turned into a friendly debate about the world's greatest course, prompting veteran pitcher Mike Krukow to tout ultra-exclusive Cypress Point, even though he hadn't played the famed layout. Mike Aldrete, a young first baseman/outfielder, offered to get Krukow on Cypress -- Aldrete, who grew up in Monterey, had a connection.
"So now we're all praying this little rookie makes the team," Krukow recalled.
Aldrete not only made his major-league debut that May, he backed up his promise. One day later in '86, ignoring general manager Al Rosen's rule prohibiting golf during the season, Krukow and several teammates made the drive down the coast. They could barely believe their good fortune: They were playing Cypress Point! The magical day became even more memorable when Krukow smacked the ball onto the green at No. 3 ... for a hole-in-one.
Soon thereafter, Krukow's name appeared in the San Francisco Chronicle, alongside other local golfers to collect aces. The next day, the newspaper clipping was pasted to his locker at Candlestick Park, with a handwritten message attached: "See Al Rosen."
Krukow nervously went to the GM's office, where Rosen launched into a red-faced, vein-popping tirade. "You're a leader on this team!" he screamed. "How could you do this?!" His temper still hot, his voice still loud, Rosen didn't skip a beat as he completed his brow-beating by asking Krukow, 'What'd you hit?'
Upon learning it was a 7-iron, Rosen told Krukow not to let it happen again and sent him on his way.
Major-league players covet a spot in the upcoming All-Star Game, no question. They eagerly eye a trip to the World Series, the game's Holy Grail. But many players harbor another grand ambition, often sequestered from public view: They want to play as much golf as humanly possible.
Their devotion leads them on countless Krukow-like odysseys to prestigious courses -- and not always with management's blessing. Former pitcher Tommy John took his clubs on the road by hiding them in a teammate's bat box. Randy Johnson, before his back surgeries, was addicted to golf: He routinely connected with pros at well-known country clubs, dropping his name or offering to leave tickets to the ballgame. Johnson described his "best off day" in baseball as the time he and several Arizona teammates played Blackwolf Run and Whistling Straits on the same day, before a series in Milwaukee.
Smoltz is the only guy I know who tried not to let his job get in the way of his passion,' -- Don Sutton
Johnson and Curt Schilling waged a perpetual duel during their Diamondbacks days, with the loser buying the winner a pricey golf shirt from the host club. If Schilling won, he strutted into the clubhouse wearing the shirt and conspicuously draped it over his chair, so his teammates knew the outcome of that day's match.
The Oakland A's were so full of voracious golfers at one point -- from players and coaches to the club's radio and TV broadcasters -- equipment manager Steve Vucinich watched baggage handlers marvel at all the golf bags streaming down the conveyer belt, off the team's charter plane. "Man, I thought this was a baseball team, not the PGA Tour," they would say. If the A's were struggling, Vucinich sometimes replied, "We play golf better than we play baseball."
Still, the modern standard for golf-crazed major leaguers remains former Atlanta Braves pitchers John Smoltz, Greg Maddux and Tom Glavine. Smoltz, who detailed his fanaticism in a recent Q&A with GolfDigest.com, led the Big Three to the course as often as possible, and the games were hardly casual 18-hole strolls. They became fiercely competitive.
"Smoltz is the only guy I know who tried not to let his job get in the way of his passion," said Braves broadcaster Don Sutton, a Hall-of-Fame pitcher and himself an avid golfer. "It created a bond for those guys. The competition on the course turned them into blood brothers on the bench."
Here's how much the Big Three craved golf: When Atlanta won the 1995 World Series, they convinced then-team president Stan Kasten to install a putting green inside Turner Stadium (after the Braves moved there in '97). The artificial-turf green covered 360 square feet, included four holes and was surrounded by a floor-to-ceiling, panoramic mural of Augusta National.
Sadly, the green disappeared last year when the Braves built a new, high-end restaurant behind home plate. But that doesn't mean golf has fallen off the radar for the 2009 Braves, even with Smoltz, Maddux and Glavine no longer around. Outfielder Jeff Francoeur, a 4-handicap, played Merion on one visit to Philadelphia and Butler National on a stop in Chicago. And during his team's April series against the Pirates in Pittsburgh, he also found his way to storied Oakmont Country Club, figuring the course's history might override team rules.
"You're not supposed to play the day of a game," Francoeur said, smiling sheepishly. "But I got three hits that night, so everything was OK."
Most position players, weary from the major-league grind, seldom play golf during the baseball season. They don't have the time or energy of starting pitchers, who typically take full advantage of their once-every-fifth day schedule. Pitchers generally avoid the course the day before and the day of their start, leaving them three days to sharpen their games.
Some teams are more accepting than others of players' fixation with smacking around the little white ball. Former Angels manager Gene Mauch was a 2-handicap, but he focused so intensely on baseball during the season that he banned clubs on the road (hence, John's habit of hiding his) and fined players $500 for violating the rule. Braves manager Bobby Cox actually encourages his pitchers to play, provided it's not on the day they start. The Big Three, in many ways, helped make it cool to mix golf and baseball.
"With the Cubs, we were allowed to stay out all night drinking until 3 or 4 in the morning," Maddux once said. "But if you got up at 8 to take your golf clubs out, it was, 'Whoa, don't do that.' I never understood it, but that's kind of the way it was."
Baseball players' passion for golf dates back many decades, from Babe Ruth and Ty Cobb to Willie Mays and Willie McCovey. One of Ruth's teammates, Sam Byrd, retired at age 30 and subsequently won six PGA Tour events (and twice finished in the top five at the Masters). Among players of more recent vintage, pitcher Rick Rhoden has earned more than $340,000 on the Champions Tour.
Mays and McCovey formed a star-powered golfing tandem as Giants teammates and later as amateurs in the Bing Crosby-turned-AT&T Pro-Am at Pebble Beach. McCovey, now 71 and unable to play because of debilitating knee injuries, said he "misses golf more than anything." He initially was reluctant to play the game during his baseball career, but manager Alvin Dark's arrival with the Giants in 1961 -- Dark was an enthusiastic golfer --changed the landscape in San Francisco.
"At one time, they thought it would mess up your baseball swing to play golf," McCovey said. "I found out that wasn't true. That was a myth."
Fellow Hall of Famer Mike Schmidt thought golf actually helped his baseball swing. There clearly are many parallels between the games: spending several hours outside, hitting a round ball with a long, thin object and grinding away in relative solitude. "The mental part of golf is similar to playing baseball," said former major-league infielder Mike Gallego, now the A's third-base coach. "It can be very lonely on a baseball field, just like golf."
Then again, as Sutton said, "There are similarities (to pitching) in that you stand alone in golf, but there's nobody to dive and correct your mistakes."
"With the Cubs, we were allowed to stay out all night drinking ... but if you got up at 8 to take your golf clubs out, it was, 'Whoa, don't do that.'" -- Greg Maddux
Baseball players' attachment to the game has led many major-league teams to create charity golf events -- not surprisingly, players happily mingle with fans and sponsors if they know there are 18 holes involved. But the best example of the link between the games might be Baseball's World Series of Golf, an annual event in which baseball players relinquish their most prized possession -- money -- to gather on the Monterey Peninsula each fall.
The event was created by former pitchers Tom Browning and Rick Mahler, along with Jamie Warren of Carmel, Calif.-based Creative Events, Inc. The idea, initially, was to bring two players from each major-league team and have some friendly competition on acclaimed golf courses. The event evolved over the years, and now one major-league player brings an amateur partner -- father, neighbor, whomever -- and up to 32 foursomes convene for four days of pure golf (plus a few card games) at Pebble Beach, Spyglass Hill and Spanish Bay.
The 20th edition of the event will take place in December, and Warren expects another strong turnout, steep price (starting at $3,995) and all. A partial list of major leaguers to play in Baseball's World Series of Golf resembles an All-Star roster: George Brett, Robin Yount, Paul Molitor, Roger Clemens, Jeff Bagwell, Phil Nevin, Bret Boone, Richie Sexson, Xavier Nady, Smoltz, Glavine, Maddux. They all roll into town and cause little nighttime havoc, knowing morning tee times await.
"They come here and want to play golf," Warren said. "I wouldn't say they're serious about their game, but they're passionate about it. They love to come to Pebble."
(Former shortstop Spike Owen momentarily loved the time his tee shot on No. 7 at Pebble -- the famously short, downhill, oceanfront par-3 -- settled into the cup for a hole-in-one. That cost Owen some money in the Tap Room.)
It helps to have access to these great courses, but not all golf outings unfold as planned, even for major-league ballplayers. This brings us back to Krukow, now a Giants broadcaster who had just come from a round at San Francisco Golf Club on the day he spoke to GolfDigest.com. (Krukow, a member of San Luis Obispo Country Club, carries a handicap index of 4.3).
He also told the story of one year when the Giants lost more than 90 games, stirring early visions of an offseason on the links. In Krukow's last start of the season, one hitter sent a searing line drive back to the mound. Krukow instinctively raised his hands to protect his face -- and the ball broke his hand.
"I couldn't play golf for six weeks," he said. "I was pissed."
*Ron Kroichick covers golf (and occasionally baseball) for the San Francisco Chronicle. *