News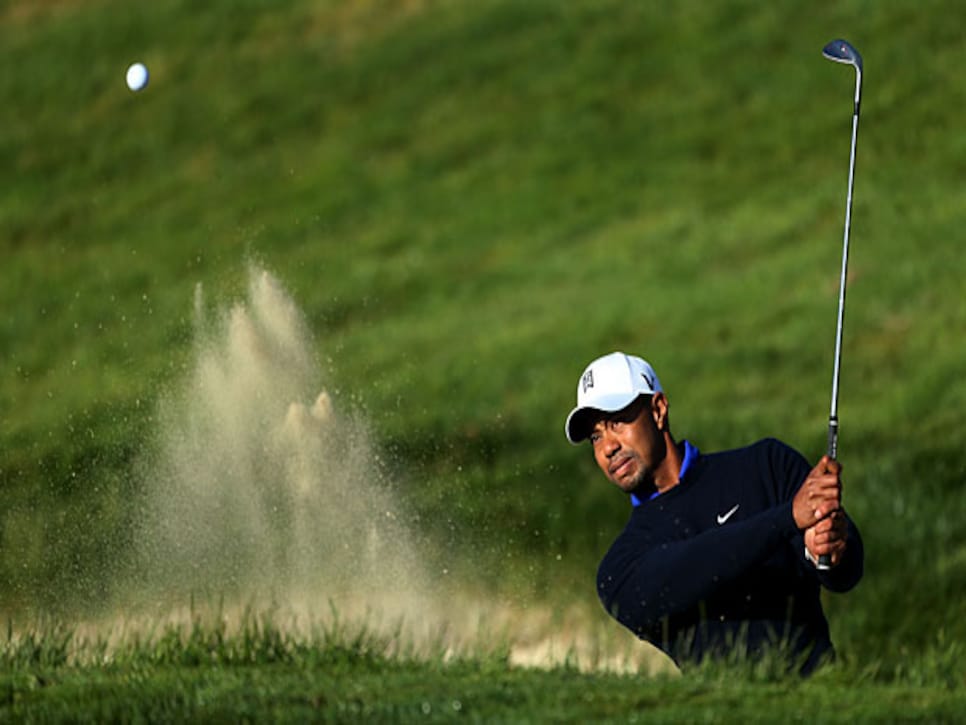 When Tiger Woods tees off Thursday at Olympic, it will be alongside a motivated playing partner.
SAN FRANCISCO -- Tiger Woods stood with arms folded on the 18th tee at Oakland Hills CC in the 2004 Ryder Cup and watched as his alternate-shot partner, Phil Mickelson, drove the ball off the planet, pretty much guaranteeing the U.S. would lose that match to Europe. The blank stare on Woods' face spoke volumes.
There was no gesture of support toward his partner, no comforting words, just a purposeful stride off the tee toward the ball, which ended up against a fence. Tiger looked at the ball in disgust and quickly took an unplayable lie drop. You wondered if he were playing his own ball if he would have tried to play it left-handed, or somehow figure out how to advance it.
That snapshot pretty much sums up the relationship between Tiger and Lefty -- it always seemed as if Mickelson wanted to make it work and Woods had no interest. That was certainly the case at Oakland Hills, where in one of the most block-headed coaching moves in the history of coaching, U.S. captain Hal Sutton paired Woods and Mickelson not once but twice, both losing efforts.
Throughout it, Mickelson smiled and Woods stared. The two made oil and water look like a perfect match. Nothing that happened at Oakland Hills -- or since -- dispels the common belief that the two men don't exactly exchange Christmas cards, although rumors of a severe dislike for each other might be overstated.
On Thursday morning, Woods and Mickelson will be paired again, not as teammates but along with Bubba Watson, in the first round of the U.S. Open at the Olympic Club. In a way, Bubba is the third wheel on this blind date -- a chaperone for a couple in no danger of embracing.
"It's fabulous," Mickelson said about being paired with Woods the first two days at Olympic. "First of all, I get excited to play with Tiger, I love it. I think we all do. He gets the best out of me. I think when it's time to tee off on Thursday I'll be ready to play. One of the issues I've had this year I've been a little mentally lethargic on Thursday and Friday. I won't be this week."
So that takes care of the motivation part of our Tiger-Phil quiz. Now what is the impact of this paring on the actual competition? Mickelson, a five-time runner-up in the U.S. Open, has that scoped out as well.
"The one player I'm most concerned about if I play my best golf that may have a chance to beat me is Tiger," Mickelson said, swatting away the other 154 players in the field. "And the fact that we are on the same wavelength, I'm always in favor of. Sometimes we'll get a huge advantage in tee times, based on weather conditions or whatnot, if we're in the same wavelength, neither of us will have a distinct advantage."
No one finds motivation in more places than Tiger; just ask Rory Sabbatini or Stephen Ames. On Tuesday he already had his game face on and, unlike Mickelson, pretty much dismissed any importance in their being in the same group.
"I don't think we're going to talk about a lot," Woods. "This is a major championship. We've got work to do. Any extra motivation? No. I'm just trying to get out there and position myself for Sunday. This is a long grind."
Earlier this year, at both the Humana Challenge and the Farmers Insurance Open, Mickelson seemed to have little passion for golf. After more than two decades on tour and with recent health challenges for his wife, his mother and himself, Lefty seemed to be at low energy.
Then, on the Sunday of the AT&T National Pro-Am at Pebble Beach, Mickelson was paired with Woods. The result was the best round Lefty had played in years a 64 that dusted Woods by 11 strokes and won the tournament. It seems that at this stage of his career, there are two things that motivate Mickelson -- winning majors and beating Woods, with beating Woods perhaps leading.
"The feeling and the excitement I got when I found out I was paired with Tiger the final round at Pebble got me excited and focused," Mickelson said. "And I felt a similar feeling when I found out we were paired together here. And I'm looking forward to the pairing."
Professional golf is a fraternity of shared struggle. For the most part, there is a lot of understanding and compassion among the competitors. "I put my arm around his shoulder and said, 'Arnold, I'm sorry,' and I truly was sorry," Billy Casper said Tuesday about coming from seven strokes back with nine holes to play to beat Arnold Palmer in the 1966 U.S. Open at Olympic Club.
"You know, we have such empathy for each other," Casper said, evoking the image of the hug Nick Faldo gave Greg Norman after the Shark blew a six-stroke lead in the 1996 Masters. It's hard to imagine that kind of moment between Mickelson and Woods. Ever.
"I think they will be used to playing with each other," said Matt Kuchar, who has the same agent as Woods. "I think they have probably been paired together a fair bit in final rounds, not so much early rounds but I think it will certainly make for exciting TV for those guys that are sitting at home watching."
Steve Stricker, who has known both Woods and Mickelson for more than 15 years, agrees that as a fan he loves the pairing, although he does think it could distract both players.
"They're going to have to try to focus on what they're doing and on their own games and worry about what they're doing and not really focus on what anybody else is doing," Stricker said. "And they're such good players and been around playing competitively for so long that's what they're going to do."
According to Woods, the very nature of the U.S. Open discourages any interaction while play. "It's such a test playing in this championship," he said. "I think this is one of those championships that I think the guys talk the least to one another because it's so difficult. There's no shot you can take off, so to speak."
Enough said. Play away gentlemen.