News
What Bubba Can Learn From Ben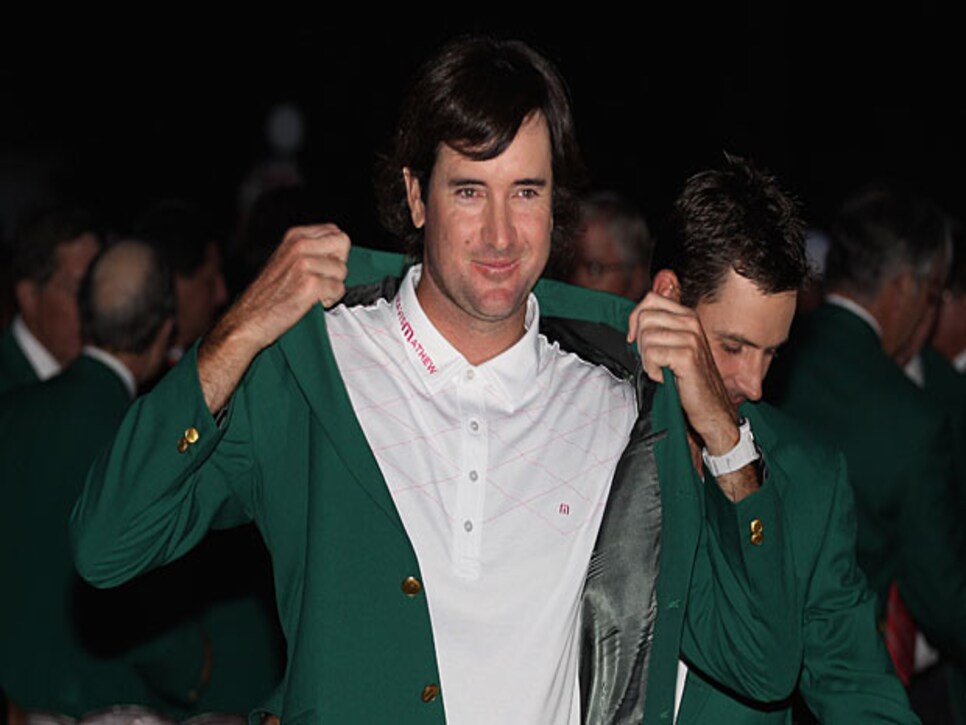 Expectations are high for Bubba Watson after his thrilling Masters win.
Bubba is back! Well, to competition anyway. After a whirlwind week following the Masters during which he hauled the green jacket to every TV show this side of "Up With Chris Hays," and then took some time off, Bubba Watson returns to his day job this week at the Zurich Classic of New Orleans. Hopefully, he returns with the priorities of his profession in proper place.
All Bubba needs to do is study the guy who won the Valero Texas Open on Sunday to see how easy it is to get distracted by success. Ben Curtis got his major in 2003 at the British Open and validated that title somewhat with two more PGA Tour titles in 2006. Then Ben went 0-for-118 before winning at TPC San Antonio last week. What was that all about?
Now Bubba is no Ben, he brings a much stronger set of skills to the table. Curtis is the kind of grinder who doesn't hit the ball very far, minimizes mistakes and does well on courses where par is a good score. Bubba can make magic with a golf club, as he did on the second playoff hole at Augusta National, and he has the power to overwhelm a golf course.
Curtis, Todd Hamilton and Paul Lawrie are not the major championship winners from whom Bubba needs to learn a lesson. When those guys won a major, the trophy came loaded with less expectation than for some others.
Watson needs to look at the careers of Fred Couples, Davis Love III, Steve Elkington, Paul Azinger and Corey Pavin. They are all guys who, when they won a major, most thought they'd win another, if not several more. When those guys won a major it was assumed to be the beginning of something, not the end.
So here's the question for Bubba: What can he learn from the one-major-and-out guys to keep from becoming one of them? It's elementary, my dear Watson. There are two huge temptations that must be juggled after winning a major in order to build upon success.
One of the distractions that come with winning a major championship is the off-course opportunity in the form of business deals, TV appearances and the like. The other distraction is the almost instant financial freedom to do whatever you like.
Curtis pretty much fell into that camp. His success on the golf course -- $10.2 million in career earnings coming into this season, despite not having won in six years – enabled him to spend more time with his wife and children and build a large home in Ohio. And how can you begrudge a guy that sense of priorities?
But as a result, Curtis practiced less, leading to an inevitable falloff in his performance, missing eight cuts in 2010 and 13 in 2011. Since finishing T-2 in the 2008 PGA Championship, Curtis has played nine majors and missed the cut in five without a top-10 finish. Last year he qualified for only the British Open, and that's because he's a past champion.
For Bubba, the first temptation will more likely be the issue, although you could definitely see him wanting to just tool around in the General Lee rather than practice. But Bubba is a very marketable guy and his endorsement opportunities are going to spike upward. The challenge there is that with each deal a player signs he exchanges time for money.
For a multimillion-dollar contract -- and even lesser ones -- a player gives back two to three days of his life a year to shoot commercials, pose for print ads and appear at corporate outings. If you have 10 deals, that could mean giving away a month of your life each year. And that cuts into practice time, especially if you are trying to also maintain a family life
When you ask virtually any player the biggest challenge brought on by winning a major championship, among the first words out of their mouth is always "time management." Learning how to say "no" is an acquired skill, especially when saying "yes" brings with it such great financial rewards. But it is a skill necessary for continued success. The best ones master it.
One of the reasons Jack Nicklaus and Tiger Woods were able to pile major upon major -- beyond the fact that they had enormous talent -- was that winning never got old for them. And it was never about the money. They kept their focus on practicing and preparing in the ways they needed to win golf tournaments. Some might argue that Woods has strayed from that discipline in recent years, having not one a major since the 2008 U.S. Open.
Winning major championships is the gold standard in golf. While everyone wonders whether Woods will get the five more professional majors he needs to break Nicklaus' record of 18, virtually no one asks if he will get the 11 victories he needs to pass the all-time mark of 82 held by Sam Snead. The majors are what it is all about.
When you look at the arsenal of shots at his disposal, it seems like a no-brainer that Bubba will not be a one-major-and-out guy. But who at the 1992 green jacket ceremony thought that Masters title would be the only major for Couples, like Watson a natural player who likes to relax as much as he does work on his game.
So this week we will get the first glimpse of the post-Masters Bubba Watson. This week we will get the first look at how much of a first-major hangover he is hauling around with him.
The other Watson to win a major ended up with eight of them. Will Bubba end up being more like Tom or more like Freddy? This week's Zurich won't provide an answer but it will help refine the question. We'll see if Bubba returns with fire in his belly -- raging to win.
Remember, Woods took a month off after winning his first major at the 1997 Masters before returning at the Byron Nelson. And he won it. Welcome back, Bubba. Let's see what ya got.