News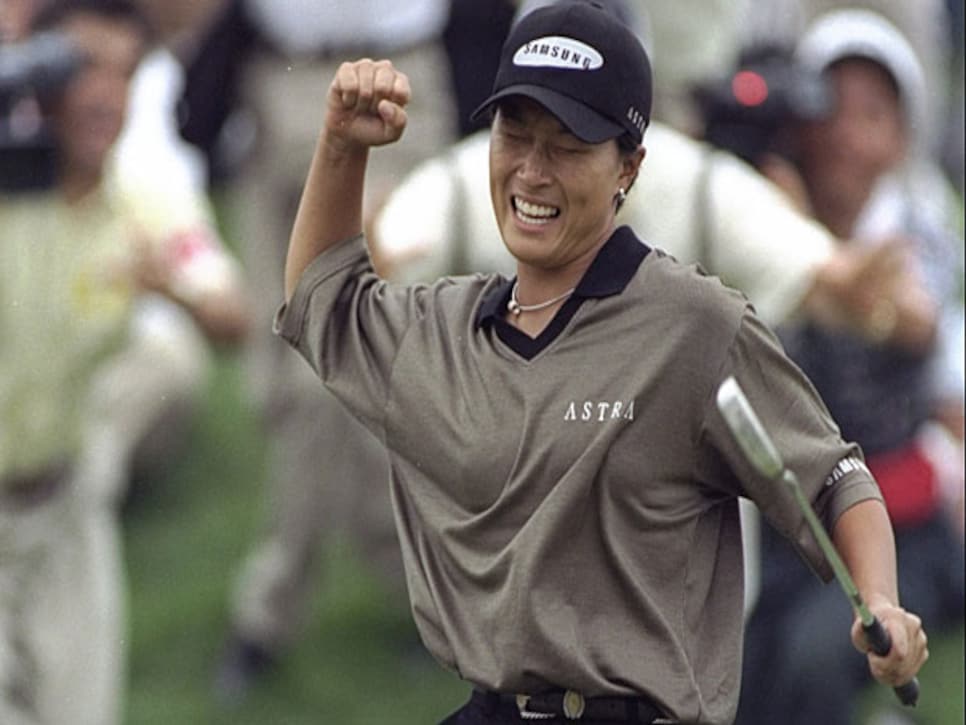 Pak's win at the 1998 U.S. Women's Open caused girl's golf in Korea to flourish.
KOHLER, Wis. -- When the U.S. Women's Open was played at Blackwolf Run in 1998, there were virtually no Koreans on the LPGA. Ok-Hee Ku had become the first from that country to win on tour in 1988 and Woo-Su Ku won once each in 1994 and '95, and that was pretty much it. Then along came Se Ri Pak.
When powerful 20-year-old from Seoul won the LPGA Championship in May of 1998 and then followed it with a second major title at Blackwolf Run in July -- which was televised back to Korea -- well, you could say the U.S. Women's Open opened floodgates for girl's golf in Korea.
Since Pak burst on the scene, 30 different Koreans have won a total of 93 LPGA events, including 13 majors, five of those by Se Ri. There is, however, evidence the Korean momentum is ebbing, just not in the U.S. Women's Open, where they have won three of the last four and four of the last seven in large part because their accuracy off the tee and consistency on the greens fits well with USGA course setups.
In the first 10 years of this century -- from 2001 through 2010 – Koreans won 78 times on the LPGA, an average of 7.8 per year. Last year, they won just twice, albeit one of those was the U.S. Women's Open by So-Yeon Ryu in a playoff with Hee-Kyung Seo, another Korean.
The lone Korean win this year has been by Sun Young Yoo, also in a major, the Kraft Nabisco Championship, after I.K. Kim, also from Korea, missed a putt inside two feet for the win. In all fairness, the Koreans are winning less because other countries are winning more, including the Americans.
Yani Tseng of Taiwan has three wins this year, but has not contended in her last six starts, while Ai Miyazato of Japan, who won last week in Arkansas, has two. Azahara Munoz of Spain, Phatlum Pornanong of Thailand and Shanshan Feng of China each have one. Feng, the only player on tour from mainland China, picked up that country's first LPGA win in the Wegman's LPGA Championship, the second major of the year.
And then there is that American resurgence. Stacy Lewis has won twice this year with Jessica Korda, Angela Stanford and Brittany Lang picking up one each. In fact, Lewis leads the Rolex Player of the Year race as she tries to become the first American since Beth Daniel in 1994 to capture that honor. Lewis also trails Miyazato by only $136,000 and Tseng by 106,000 on the money list, which no American has topped since Betsy King in 1993.
Birdie Kim got the Korean run in the Women's Open started when she holed an improbable bunker shot on the 72nd to win at Cherry Hills in 2005. Last year it was Ryu at the Broadmoor. Paula Creamer won at Oakmont in 2010, Eun-Hee Ji captured the title at Saucon Valley the year before that and Inbee Park won at Interlachen in 2008.
Park is part of a fascinating class of Korean kids who watched in wonder as television brought Pak's 1998 victory into their homes half a world away. Among those Korean girls who were 10 years old at the time are Inbee Park, I.K. Kim, Song Hee Kim, Na On Min, Il You Oh, Jiyai Shin and Eun-jung Yi. Shin, with a victory at the 2008 Ricoh Women's British Open, joins Park as a major championship winner. Pak inspired them to become pro golfers.
The week before that 1998 U.S. Women's Open, the tour stop was the ShopRite LPGA Classic in Atlantic City. So much Korean media was on hand to do preview stories for Blackwolf Run that officials had to run out and get signs made up that said, "Quiet" in Korean.
Korean media were walking the golf course chatting away on their cell phones, giving updates back home on how Pak was doing in the middle of her round. Golf was a new world for them and the learning process was slow, but the growth of the game among females in Korea was rapid.
But despite the volume of players with relative success, Pak remains the only truly dominant player from Korea. She has won 25 LPGA events, Mi-Hyun Kim and Jiyai Shin are second among Koreans with eight, and three of Shins were as a non-member. Of the 32 Koreans who have won on tour, 15 have just one victory and eight others have two.
Pak remains the only multiple-major winner among Koreans. Grace Park, Jiyai Shin, Birdie Kim, Inbee Park, Jeong Jang, Eun-Hee Ji, Sun Young Yoo and So Yeon Ryu have one each. It's difficult to assess what to make of the one-and-out phenomena by the Koreans.
Certainly Pak has been one of the few from her homeland with the power to be a dominant player. Remember, Annika Sorenstam didn't become the full ANNIKA until she started to hit it longer, leading to her incredible run from 2001-06. And power is part of what made Lorena Ochoa No. 1.
The number of long clubs she has to play into greens, for example, hampers a player like Shin. When you play from behind like that on every hole -- sometimes 60 yards behind a player like Tseng -- there is simply no margin for error, no room for mistakes. You have to be nearly perfect to win.
There are also those who feel that the intense family pressure on the Korean players to win creates a letdown after victory finally comes. It's sort of the David Duval effect. After he finally got a major at the 2001 British Open, he never won again.
It's almost as if when you work so hard to achieve something you develop a feeling that reaching your goal will change your life. Then you wake up the morning after and realize you feel the same as before. Duval has admitted as much. It's sort of a post-victory letdown.
Part of what made Jack Nicklaus, Tiger Woods and Sorenstam special is that winning never got old for them. When they picked up one trophy, they wanted another. Se Ri Pak had a lot of that in her. So far, there has not been another Pak.
Na Yeon Choi, who has five LPGA wins at the age of 24 and is No. 4 in the Rolex Rankings, seems like the best current prospect to be that Korean star. Still seeking her first major, she could take a big step toward being "The Next Se Ri" with a victory this week. But the bottom line is this: 14 years after Se Ri Pak won the U.S. Women's Open at Blackwolf Run, Korea is still waiting for the next Se Ri.