News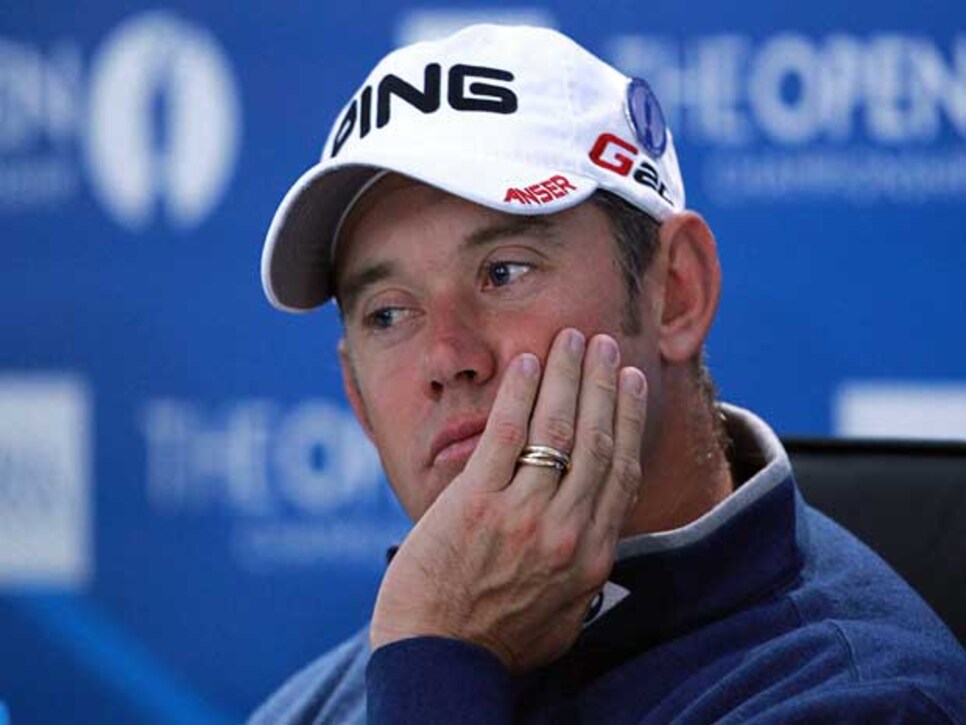 Tired Discussion: Lee Westwood is just one of many to hold the No. 1 position in Tiger's absence.
As we move solidly into the Post-Tiger Woods Era -- or perhaps more accurately, Act II of the Tiger Woods Era -- it becomes increasingly clear there is no No. 1 player in men's golf but rather a rule by committee. There are at least a half-dozen players who can stake a claim to being the best in the world, and Woods is one of them.
The question this raises is the distinction between parity and mediocrity. Do we have a lot of really talented players right now, or a bunch of guys who simply can't take that step from great to special? What this situation should do is make us appreciate even more fully those guys who have dominated in the major championships, like Woods and to a lesser extent, Phil Mickelson.
Going into the Open Championship at Royal Lytham & St. Annes, the last 15 majors have been won by 15 different players (Woods has not taken home a big title since the 2008 U.S. Open). Of those 15 major winners, a dozen have won only one title, with Mickelson (4), Padraig Harrington (3) and Angel Cabrera (2) the exceptions.
Simply put, no one has stepped into the Tiger void and staked an unassailable claim to being the best player in the world. Rory McIlroy, Luke Donald, Lee Westwood and Martin Kaymer have all been No. 1 since Woods was toppled. And they have a combined two majors. Have any of them really behaved like the best player in the world?
Another measuring stick of the inability of anyone to stick their competitive head above the crowd is to be found in the Official World Golf Ranking. Of the top 25 in the OWGR going into Lytham & St. Annes, 13 have never won a major and 10 have just one major title, the exceptions being No. 4 Woods and No. 16 Mickelson.
And of the top 50 players in the OWGR, 34 have not won a major and 13 have just one title, Ernie Els joining Woods and Mickelson as the only multiple major winners in the top 50. Think about that: Only three multiple major winners among the current top-50 in the OWGR.
Perhaps the takeaway from this is not so much to slam those who have not won a major or have taken home only one title, but to appreciate more fully those who have won multiple majors. Those guys are the cream of the crop.
Since Woods won the first of his 14 majors at the 1997 Masters, the only other multiple major winners are Mickelson, Els, Padraig Harrington, Retief Goosen, Mark O'Meara, Vijay Singh and Angel Cabrera. Lee Janzen, Payne Stewart and Jose Maria Olazabal also won majors in the Woods era to go with one they captured before Tiger was on the scene.
Going into Lytham, No. 1 Donald and No. 3 Westwood are a combined 0-for-88 in the majors, yet they have to be considered among the favorites to take home the claret jug, along with McIlroy and, of course, Woods. Jason Dufner, Matt Kuchar, Justin Rose and Hunter Mahan join Donald and Westwood as top-10 players looking for their first major this week.
Tiger will most likely attack Lytham in the same manner in which he won at Royal Liverpool in 2006, when he hit driver only once all week. That stinger 2-iron will serve Woods well as he tries to avoid the 205 bunkers at Lytham.
One of the differences between links golf and golf on most courses in the United States is that in the U.S. you worry about your ball when it is in the air and on a links course you start worrying after it has landed and starts rolling on the firm, fast fairways.
This is a fascinating period as we wait for the next Tiger Woods to come along. And it could very well end up being that the next Tiger Woods is Tiger Woods. It wasn't that long ago we thought it would be McIlory, or Bubba Watson. Remember him?
If Tiger wins this week, giving him four wins and a major this year, he would once again be the best player in the world. In fact, he probably already is. Really, who else has stepped up to take the title from him?
In fact, No. 1 was never taken from Woods; he simply handed it away in part because of injury, swing issues and off-course distractions. And it just may be that he is back in a place where he can reclaim his crown.
But, after winning at Bay Hill, Tiger was T-40 in the Masters, and after winning at Muirfield Village, he was T-21 in the U.S. Open. The part of his game he has struggled with the most is from 150 yards and in, and that weakness has been exposed in the majors.
So the revolving door starts spinning again Thursday at Royal Lytham. Who will come out the other side as the champion golfer of the year is more of a mystery now than at any time in the recent history of major championship golf.
Parity or mediocrity? Doesn't really matter; it's compelling nonetheless. And if it does turn out to be Woods who wins, then once again he is the best player in the world. Really, who else is there?