News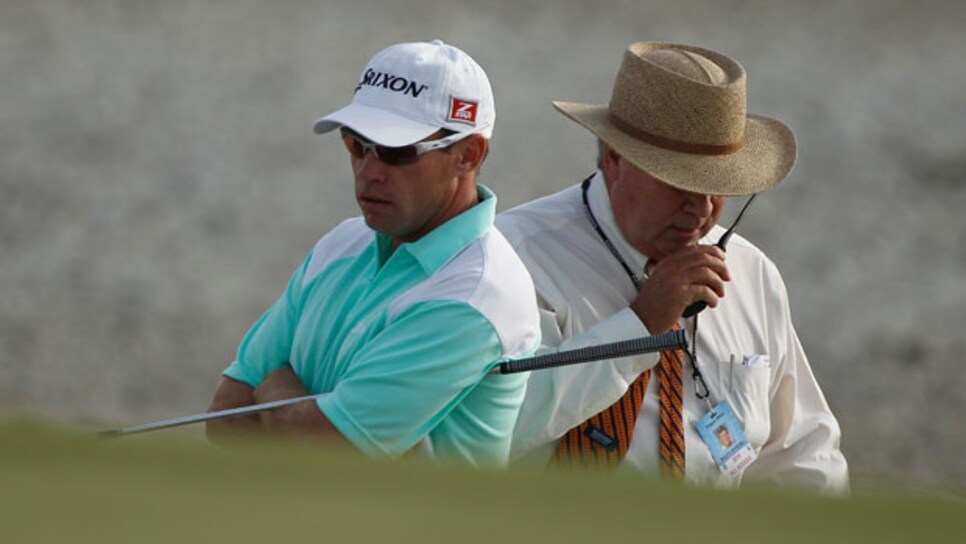 Brian Davis won more fans in defeat than he would have if he won.
When a player calls a penalty on himself, we are ritually reminded that it happens more often than we know and as such does not qualify as remarkable. Bobby Jones set the standard with his rejoinder that, "you might as well praise a man for not robbing a bank."
Yet as often as golf is portrayed as an honorable game, one of a kind, even, in that players police themselves, isn't it also likely that players deliberately overlook possible rules violation more often than we know?
So indulge those who were moved by England's Brian Davis, who on the first playoff hole at the Verizon Heritage on Sunday summoned PGA Tour rules official Slugger White and reported a potential violation. Davis was playing his third shot from a hazard, the beach adjacent to the 18th green at Harbour Town Golf Links in Hilton Head, S.C., when on his back swing his club brushed a reed. Ultimately it was ruled to have been a loose impediment, resulting in a two-stroke penalty that deprived him a shot at extending the playoff with Jim Furyk.
It's difficult to blithely dismiss a show of honor, whatever the frequency of such acts, when you're watching it play out on national television and the player reacts without hesitation, with a tournament hanging in the balance and the likelihood that no one, even the television audience, noticed the infraction.
Davis didn't rob a bank on Sunday. Good for him, we note with sincerity and all due respect to Jones.
What is it about a star turning 40 that seems to rejuvenate him? Does it psychologically provide him the impetus to make one last push at burnishing his legacy?
When Jack Nicklaus turned 40, he was coming off the first year in his career when he had failed to win and he responded with victories in the U.S. Open and the PGA Championship.
Furyk's victory at the Heritage on Sunday was his second this year, after having gone the better part of three years without winning. Furyk turns 40 in three weeks. Ernie Els has also won twice this year, his first victories in more than two years. He turned 40 last October. Phil Mickelson, who turns 40 in June, won the Masters.
A player's best work generally is behind him come 40, the de facto start of the countdown towards irrelevance. In Furyk's case, it could be the stretch drive that culminates in enshrinement in the World Golf Hall of Fame.
As good as he is and as often as he contends, it seems improbable that he won't reach 20 career victories (he's at 15 and counting), at least one of which will have been a major. Those numbers are the equivalent of 3,000 hits or 300 wins, either of which guarantee Hall of Fame induction.
The demise of the Western Open, which exists now in the form of the vagabond BMW Championship, is the only evidence necessary to conclude the importance history plays in the security of a tournament. Nothing is sacred.
The Heritage has been played since 1969. Its winners include Arnold Palmer, Jack Nicklaus, Tom Watson, Johnny Miller, Hale Irwin, Nick Faldo, Bernhard Langer, Greg Norman and Nick Price, each of whom is in the World Golf Hall of Fame.
Yet now the tournament moves into that murky area of uncertainty; Verizon's run as sponsor of the event ended on Sunday and a replacement is not standing by.
In his inimitable way, Boo Weekley articulated (using the word loosely, of course) what the PGA Tour ought to do to help prevent the demise of the Heritage.
"It's the top five longest, one that's been around or whatever, top three, whatever, as long as this tournament has been running, the PGA to be a part of," he said, just getting warmed up. "As a player it stinks that the PGA can't help them out. That's my feelings. Why can't the PGA Tour? They help everything else out, why can't they come in here and say, 'we're going to help you all raise enough money to do this'? We are in a crisis right now with all of our -- the way the market is. Why can't we come back and say, 'hey, look, we're going to cut back on some prices on this or cut back on the cash.' It would be fine, just so we can help keep the tournaments around. To me it's about playing the game. It ain't about how much money you can make in the game, you know?"
So says Lee Westwood, who despite his No. 4 world ranking claimed the mantle of No. 1 in the absence of his ability to ascertain evidence to the contrary.
"I'm playing the best golf of anyone," he told the Guardian. "It's hard to argue for anyone else. If you are [the best] you might as well say it. It builds confidence."
Westwood inarguably has been the most consistent of the top players in the last eight months, having finished second in the Masters and T-3 in both the PGA Championship and British Open preceding it.
It would be easier to support his contention were he to have won one of them. Suffice it to say that he'd trade his consistency for Phil Mickelson's inconsistency, if the latter included a victory in a major.
When Davis and Furyk appeared to be dawdling on the 10th green on Sunday, CBS' Gary McCord said, "We've settled down now to a glacier pace here on the 10th hole."
They were playing twosomes on Sunday at the Verizon Heritage and it still took more than four hours to complete play.
Golf in China can be trying for players accustomed to a certain decorum. The game is relatively new to Chinese fans and media, whose knowledge of the etiquette of the game is in the vicinity of nil.
Korea's Y.E. Yang, rather than lament the intrusions, chose to embrace them instead, the payoff coming in the form of a victory in the Volvo China Open on Sunday.
He wrote on Twitter: "On friday had some women taking pictures on the 3rd fairway when i was trying to tee off, today a ton of cameras going off, some people...walking up to me this morning to ask for autographs before tee off at the putting green..
"The differences in how people approach situations is what makes the world so much more fun and intriguing. for every culture, a new delight...
"A chinese reporter asked me if such things bothered me, she felt ashamed of it, but isn't it all bout havin fun? love China, proud 2B Asian."
WAS CHOI A VICTIM OF YANG'S SUCCESS?
Here, via Twitter, is an interesting perspective from Nike staff player Stewart Cink on why former stablemate K.J. Choi no longer represents the company: "...they were paying big $$ for number one profile Korean player. When Yang won PGA it rendered the big $$ unjustifiable."
CHRISTINA KIM: CHARACTER OR CARICATURE?
In the first round of the inaugural Mojo 6 in Jamaica last week, Christina Kim played Angela Stanford. In the third round on Thursday, Kim played Stanford's friend Kristy McPherson. On Thursday evening, Stanford posted this on Twitter:
"I would like to take this opp to thank my parents for raising me to respect the game...I may get criticized for not showing enough emotion"
"Or not smiling enough but at least I don't disrespect the game or the ppl I'm playing against"
"But at least I don't look like an idiot out there"
Later on Thursday night, Kim posted this on Twitter:
"My apologies, I had a sit down with @Angela_Stanford and KMack I showed a lack of respect twice to KMack-which was uncalled for My apologies"
It's obvious that the person to whom Stanford obliquely was referring was Kim.
The game needs more characters, of which Kim assuredly is one. At times, though, Kim seems to descend into histrionics that move her precariously close to caricature (see the Solheim Cup).
To her credit, she apologized in one Tweet, then followed with another, addressed to McPherson and Brittany Lincicome: "Thank you for helping me be a better golfer and human being!"
Jerry Rice, a Hall of Fame wide receiver, wasn't as adept at hitting a ball as he was at catching one, as his performance in the Nationwide Tour's Fresh Express Classic at TPC Stonebrae demonstrated. Playing as a professional, Rice shot 83 and 76 and missed the cut by 19 strokes ... South Korean amateur Byeong-Hun An, who at 17 became the youngest ever to win the U.S. Amateur, made the cut for the first time in a professional event at the Verizon Heritage. An, now 18, finished T-59 after having missed the cut in the Arnold Palmer Invitational and the Masters ... Another strong tournament from rookie Rickie Fowler, who tied for eighth at the Heritage. Fowler has finished in the top 10 in five of 14 starts as a professional ... Mark O'Meara must be wondering if he'll ever win a Champions Tour event. He started the final round a stroke behind Bernhard Langer, then birdied the first hole on Sunday to move into a tie, when play was suspended and ultimately canceled because of inclement weather, negating the birdie. Langer was declared the winner ... Ricky Barnes has made the cut in 10 of 11 events, has finished in the top 10 in three of them and has finished T-10 at the Masters and T-5 at the Verizon Heritage ... Stuart Appleby tied for eighth at the Heritage, his first top-10 finish in more than a year.
From Paul Azinger: "by the way Phils shot was the best I've ever seen at Augusta mostly because of the taters it took to try it!"
PGA Tour: Zurich Classic of New Orleans at TPC Louisiana in Avondale, La. Defending champion Jerry Kelly. Champions Tour: Liberty Mutual Legends of Golf at the Westin Savannah Harbor Golf Resort & Spa in Savannah, Ga. Defending champions Bernhard Langer and Tom Lehman.
Ken Green returns to the Champions Tour for the first time since the tragic RV accident in June that claimed the life of his girlfriend and brother and resulted in his having his right leg amputated. Green will partner with Mike Reid.
"Brian Davis, going to be a whole lot of people are going to be a fan of his after what you just witnessed, a moment of honor." -- CBS' Jim Nantz
Mickelson's stirring victory at Augusta National provides a timely reminder that the game will survive the Tiger Woods' scandal, that it will in fact survive Woods. That was always the case, of course, though Woods' dominance at times seemed to overwhelm the game, setting it up for one long, painful hangover once he was through.
Mickelson isn't the game's salvation, but he is contributing to it. He's is too frustratingly (albeit entertainingly) erratic, the 18th at Winged Foot and the 13th at Augusta National providing the parameters, to depend on to rescue tournaments on a routine basis.
He's dependable only after a round, when he dutifully signs every autograph request and connects with people in a way that Woods never will. Could the wildest imagination conjure an image of Tiger wearing his green jacket and driving through a Krispy Kreme?
That Woods' dollars are no match for Mickelson's doughnuts is a pretty good barometer of the game's long-term health.