News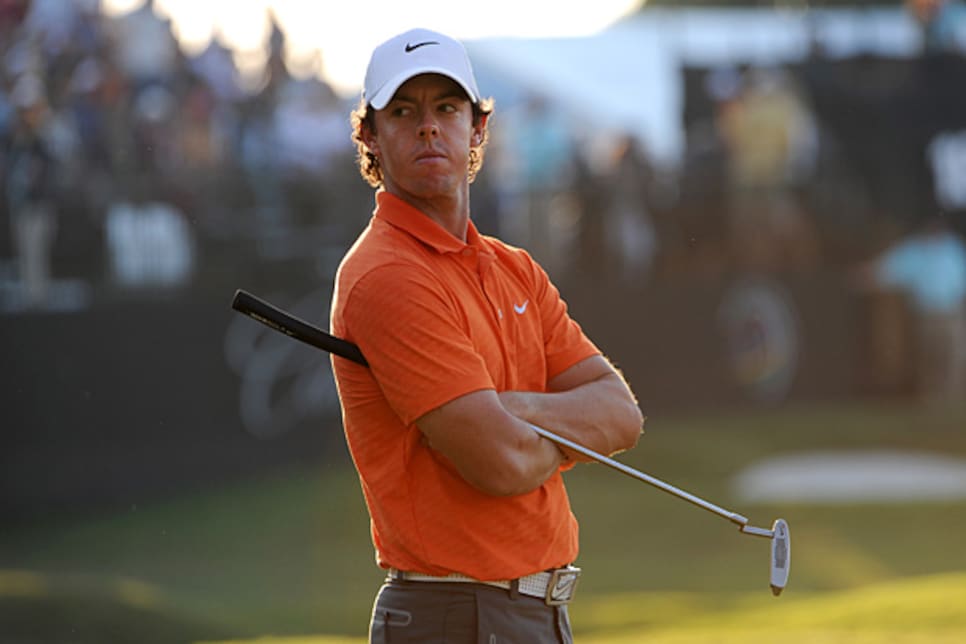 Rory McIlroy hasn't carried over the success he had late in 2012 into this season.
OK, Rory McIlroy, to borrow an expression from your girlfriend Caroline Wozniacki's sport, the ball is in your court.
Your good bud Tiger Woods yanked the No. 1 spot in the Official World Golf Ranking from you while you were beating balls on the range and watching Caroline lose in the Sony Open to someone by the name of Garbine Muguruza.
What do you do now? Do you have what it takes to retaliate?
McIlroy, who has played only three PGA Tour events this year and one on the European Tour, returns to action this week at the Shell Houston Open in what is his last tuneup before the Masters. Woods ended his final competitive test before Augusta with a two-stroke victory in the Arnold Palmer Invitational
But Woods did more at Bay Hill than win for a record-tying eighth time in the same PGA Tour event: He was busy sending messages. It was his second win in a row, third in five PGA Tour starts this year and sixth in his last 20 tries. Oh yeah, and the long-missing intimidation factor seems to be back. Just ask the guys who folded like a poker hand with no pairs in the final round.
This is the reply young Rory needs to respond with this week in Houston: "Yes, Tiger, I saw what you did at Bay Hill and I am not afraid, I will be ready to take you on and take back No. 1 when we get to the Masters."
the game. And if there is a concern coming out of Bay Hill, it is that we might be back to where we once were, wondering exactly who is tough enough to stand up to Woods?
At his peak, I thought Woods was the best in the game not just because of his physical skill, intelligence and mental toughness, but also because he had that unteachable ingredient that makes a great athlete truly a special athlete: He wanted to win more than anyone else. Jack Nicklaus had it. Michael Jordan. Derek Jeter.
That is not to say that others DON'T want it; it is merely that Woods wanted it MORE and that he has the skill to back up that desire.
The elements that unfolded in the two-day final round at Bay Hill indicated that the honeymoon is over for McIlroy. If young Rory is to be No. 1 again it will be against the real Woods and not a cheap, physically and emotionally damaged imitation.
And if not Rory, who? I'm not sure there is another contender for the top spot on the horizon right now. Of the 10 players who started the final round at Bay Hill within four strokes of Tiger's lead, none scored better than Woods over the closing 18 holes; and only Justin Rose, now a major-less No. 3 in the world, matched his 70.
Over the opening six holes of the final round, which include two very gettable par 5s, Woods began three under. Rose, one of three guys who started the last round two strokes behind Woods, played that stretch one over par, while of the other two, John Huh was three over and Rickie Fowler a shaky even par.
No one really put pressure on Woods and when Rose finally came alive with a 34 on the back nine, Tiger, playing in the group behind Justin, responded with a 177-yard 8-iron out of a bunker over water on No. 16 to 35 feet for a two-putt birdied that sealed the deal while Fowler was making a watery triple bogey.
McIlory, who was eight years old when Woods won his first of four green jackets in 1997, has been dominant at times -- winning both the 2011 U.S. Open and 2012 PGA Championship by eight strokes -- but he has also been vulnerable, as when he closed the 2011 Masters with an 80
after entering Sunday with a four-stroke lead.
, an act for which he later apologized.
There have been times during his young career when it has appeared as if Rory was not all that comfortable with the pressure of being No. 1.
The glimmer of hope came at the Cadillac Championship when McIlroy closed with a 65 on Sunday -- his low round of the year by four strokes -- to sneak through the back door for a T-8 finish. Arnold Palmer was among the many surprised that Rory did not try to ride that momentum into Bay Hill, choosing instead to practice and watch Wozniacki play tennis
indicates a lack of desire by McIlroy as much as it hints at a desire to live as close to a normal life as possible. But it does bring us to Houston. We don't so much need to see a victory this week from Rory to feel good about the Masters, but we do need him to send some sort of message that he is up to the task of staring down Woods.
There was a time not that long ago -- right after that overwhelming win in the PGA Championship last August followed by triumphs in the Deutsche Bank and BMW Championships and a strong Ryder Cup -– when it appeared as if the torch had been passed to a new generation and that in McIlroy we had found the successor to Woods as the game's best player.
Now it appears as if the successor to Woods might be Tiger himself, who has leaped back to the top of the World Ranking for the first time since October 2010. Throughout Tiger's career, when he has bolted from the pack, no one has gone with him. Will Rory this time? Does he have a closing kick?
While we won't get a real test until the Masters kicks off the major championship season next month and Tiger and Rory go head to head, the Shell Houston Open should serve as an interesting pop quiz for McIlroy.
At Bay Hill, Tiger blistered a volley to Rory's baseline. Does he have what it takes to return it? The ball is in Rory's court, and we are all watching with great interest.