The Loop
Why golf fans should root for Richard Sherman in the Super Bowl
Richard Sherman has made it clear he believes he's the NFL's best defensive back, but when it comes to golf, he's much more humble. At least, for now.
Since his brash/controversial/overblown interview following the Seattle Seahawks' win over the San Francisco 49ers in the NFC Championship Game, Sherman has been arguably the most talked about player as Super Bowl XLVIII approaches. But has anyone been talking about his golf game?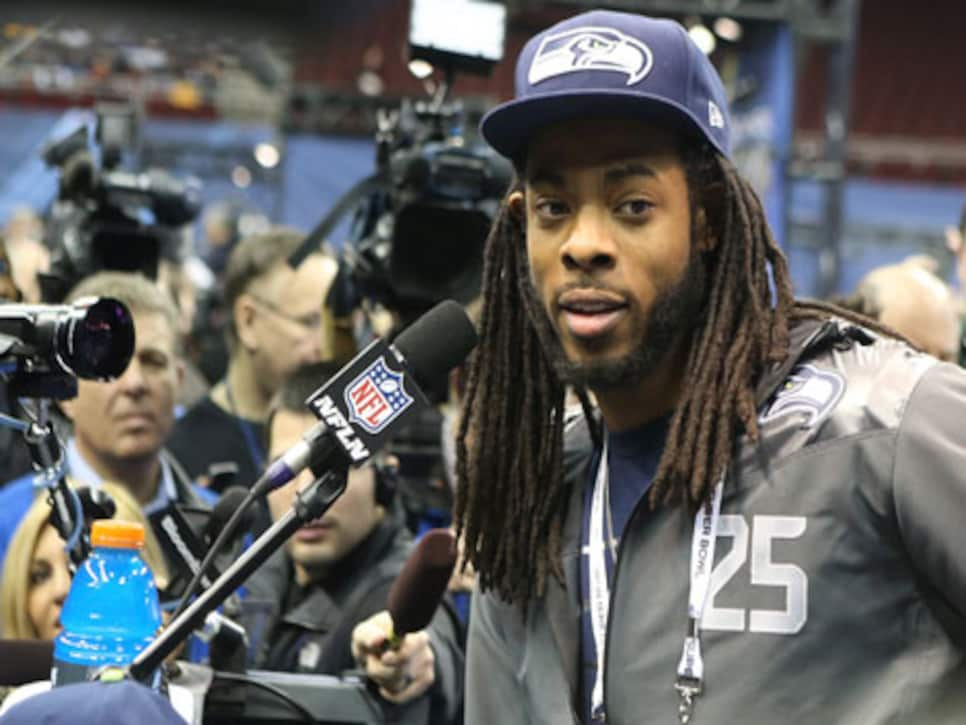 It appears that Sherman caught the golf bug this past summer playing in charity events run by Kam Chancellor and Brandon Browner, fellow members of the Seahawks' vaunted "Legion of Boom" defense. At least, that's what they claim "L.O.B." stands for when they say it or tweet it. Perhaps it's actually a reminder that they all need to work on their short game. . .
In any event, we found a couple videos of Sherman in action at the driving range and on the golf course on YouTube's Follow Channel. The first one, titled, "Richard Sherman, next Tiger Woods?" and published Oct. 13, shows Sherman taking one of his first lessons at a public range at Maplewood Golf Course. Sherman seems as amped to practice golf as he is to cover an opposing wide receiver, excitedly taking a few air swings in his living room before leaving and declaring, "Swing's going to be on today!" Skip to the 2:10 mark if you're not interested in seeing his personal stylist come to his house to do his hair.
Sherman shows promise on the range, but his on-course play is still shaky. But hey, this was a few months ago when he was just starting out. Who knows how much this world-class athlete has improved since? And once again, just as they are after football games, his quotes are fantastic.
"On a scale of 1 through 10, I'm a 112 -- on my competitiveness."
Then, after finally connecting on a couple:
"You can turn your golf game around in a split second. I was just frowning," Sherman said flashing a wide grin. "Now I'm smiling."
We're smiling too. Say what you will about Sherman, but from a golf perspective, you have to like his positive attitude and love for the game. In Sunday's big game, he'll lead a defense trying to stop a Denver Broncos offense run by quarterback Peyton Manning, a fellow golf nut and a pretty formidable player. Perhaps, when it's over, the great cornerback can pick the brain of one of the all-time great quarterbacks. They might even talk a little football.