News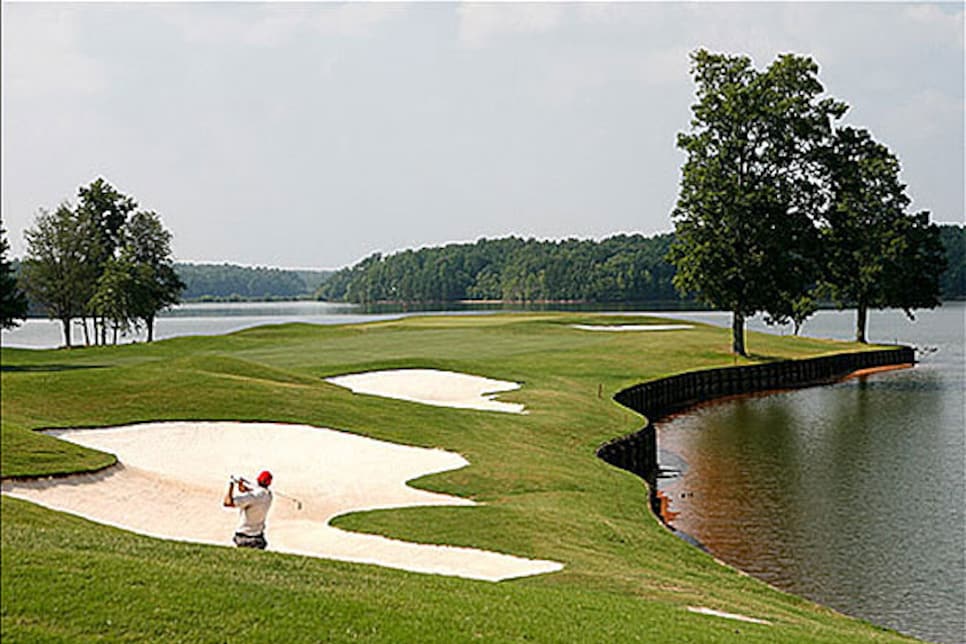 The 472-yard, par-4 13th was one of the many tough holes at Greensboro's Bryan Park.
A delay at the 5th. In the fairway ahead, players and caddies sit on towels. Trundling into view from behind the green, a rule official's cart comes and parks by some woods where someone's evidently hit one way right. Our group is on the tee box, and this moment is our first opportunity to chat since our introductions on the first tee of the 85th U.S. Amateur Public Links Championship, this year held at Bryan Park Golf & Conference Center in Greensboro, NC.
"Jeez. Wonder if we'll be out here five hours," says my caddie, who is also my oldest brother, Nick, who lives in Nashville with a wife and two children. My last name is on a bar of fabric that velcros to the back of his USGA-issue bib. Technically it's our last name, but I can't help feel some poetic justice after all those years wearing his hand-me-downs.
"Five and a half," says my playing partner, Patrick, declaratively and coolly. "There are always a few people who don't deserve to be here, who lucked out and shot a career round to get in. Today they'll shoot 84 and take forever."
The night prior, at the player's reception and dinner at the downtown Marriott, members of the USGA brass stated they'd issued 17 slow-play penalties at the 2009 tournament, and this year their goal was none. Patrick is 19-year-old Patrick Reed, a rising sophomore at Augusta State, who just last month with his teammates won the NCAA Division 1 title. Even though the forecast is for temperatures in 90's, he's impeccably dressed in dark slacks and blacks shoes like a touring professional. If his build and haircut reminds you just a little of anyone, it's Charley Hoffman.
The third player in our group, Andrew Vijarro of University of Oregon, whose Ducks placed third at nationals this year, commiserates with Patrick's prediction for pace of play.
Which leaves me, a golf writer five years removed from his mediocre playing days at a D-III university. Do I deserve to be here? This is my first USGA national championship. And it so happens I shot my career round to get here, going 75-65 (-2) at the sectional qualifier at Country Club of Woodbridge outside New Haven, Conn. All the competition amenities I'm seeing today for the first time as a player -- bags of brand new Pro V1x practice balls at the range, luxury SUV shuttles from town with tournament decals, walking scorers and live leader boards, nice old men in landing areas who stick a wire flag by your ball to help you find it in the Bermuda rough -- all these amenities, while lovely and intended to make your day transpire as smoothly as possible, can put the weak-minded slightly out of ease. All this for my golf game, really? You can't help but feel a little like you're getting away with something.
So does Patrick know? Is he suggesting I am one of those who don't deserve to be here? Or is he including me in their inner circle of elite collegians? I've opened shakily with two pars and two bogeys and so of course my head is crazed with thoughts.
A couple of bad things happen. My swing feels OK and my shots don't look too dissimilar to those of my playing partners, but these bad things happen and a couple of six-footers don't drop and suddenly I card 42 on the front, exactly halfway to Patrick's prophesy. Patrick shoots 34 and Andrew 35.
A new nine: the familiar chance for redemption. There are 156 players in the field, and after 36 holes of stroke play there will be a cut and the low 64 will advance to a match-play bracket, where they then play two matches a day until there are two players left for the 36-hole final on Saturday. Potentially, it's as long a marathon of golf as can be found, nine competitive rounds by the champ and runner-up, but I'm well on my way to making it a short week.
Come on, I tell myself. Turn it around. But it's tough to make birdies out here. Even though this is the Public Links the course does not much resemble the municipal course of which I am a card-carrying resident back home. The USGA has set up Bryan Park at 7,218 yards, par 71, with only one par 4 under 400 yards and one par 3 under 200 yards, fast greens and bastardizing Bermuda rough.
At the dinner the night before, a USGA blazer bemoaned to me in confidence that the Public Links had become a college event. While its intent is to provide a championship for bona-fide public course players, in recent history college golfers, who have access to the crème de la crème of golf facilities through their school programs, have been dominating. This year, seven of the eight quarterfinalists will be college players, including the champion, Lion Kim, of University of Michigan. Sure enough, when my brother and I first made our way to the bar we noticed many kids standing around without drinks, presumably not of age or just in competitive training. Either prospect equally scary. They all wore the mandatory jacket and tie but several showed revolt with highly colorful athletic sneakers. Even in fashion, youngsters spectacularly and ably cutting the corner of a dogleg they weren't supposed to.
On the back nine I make seven pars and two birdies to card 34. I miss two prime birdie chances, greenside at the par 5 12th in two and a six-footer at the par 4 13th after a three-iron approach, but the reader knows better than I that a 76 doesn't warrant a shot-by-shot retelling. At the very least, this mild resurgence makes the next day's round meaningful.
Turns out an even-par 71 would've put me in a playoff to make match play, but instead I follow with a birdie-less 77 to finish T111. On the closing holes, wallowing in the lackadaisical onset of disgust and hopelessness, my brother says to me, "Corny as it is, you have to remember to soak up the experience. You have a job, you play competitively only a few times a year. These kids aren't checking emails on their Blackberry before and after the round like you are. This is all they do and you've hung right alongside them."
Kind words from my brother and caddie; for a second I almost stop hating myself. As I hole out on eighteen my pipe dream of winning the Public Links and receiving the traditional invitation to next year's Masters is officially over.
Patrick misses a short birdie that would've tied him for medalist honors. Instead he shoots 68-66. It's been fun watching him cruise around the course as composed as someone fifteen years older, and hit breathtaking shots like that 240-yard 3-iron to five feet at the par 3 14th. His demeanor, as well as talk of his summer schedule, suggests that this is just another event for him. Even though he is extremely confident, he's a heck of a nice guy, and so I can't help but root for him to win now that I'm out. Of course, Patrick's already played Augusta National twice.
So did I deserve to be here? That's for others to decide, but I like to think so. Now that I've tasted the experience of playing in a USGA event, I sure hope I can play my way back into another one. If the secret to performing better is to act like you've been there before, next time I won't have to act.