The Loop
Golf problem solved: cool sunglasses for people who wear glasses
At the PGA Merchandise Show in Orlando a few years ago, I stopped at the booths of several glasses manufacturers and asked about golf sunglasses for guys who have serious trouble finding their glasses if they're not wearing their glasses, as I do. The responses were depressing. One woman showed me a pair that looked less like the wraparounds you see on tour players than like something you might wear while welding. Here's my prescription:
The stronger a prescription, the harder it is to make it work without distortion in a lens that has a pronounced curve, she said, and her suggested solution was to switch to contacts and wear non-prescription sunglasses over those. I gave up, and bought a pair of distance-only glasses in my regular frames but with gray lenses. When my daughter, who was in her mid-twenties, saw them, she said, "No!"
[I have a picture of this, but I'm not going to show it to you.]
All that was before I talked with Rob Tavakoli, who is a licensed optician and a marketing guy at SportRX, which sells specialized glasses for all kinds of athletic activities. Tavakoli is like a golf nut but about glasses; he told me that he's been obsessed with sunglasses since he was 17, or slightly less than half his life, and that when he was 12 he fudged an eye test so that his ophthalmologist would write him a prescription he didn't need.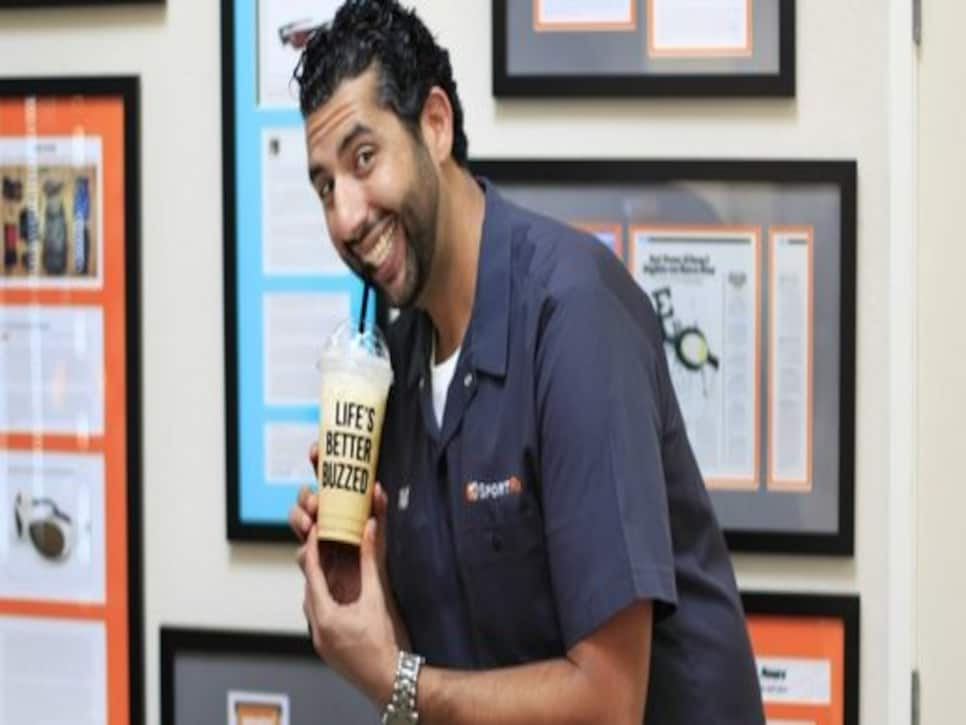 Two of Tavakoli's specialties are sports-specific glasses and sports-specific glasses for people with strong prescriptions, like me. (SportRX employs a technician who specializes in high corrections -- a rarity for companies that sell sports glasses, because getting everything right can be complicated and time-consuming.) Thanks to Tavakoli, I now have two pairs, one by Nike and one by Oakley. Both have lenses that are meant for golf -- especially for ball-tracking and green-reading -- and both are "photochromic," which means that they lighten and darken in response to changes in ambient sunlight levels. The Nike glasses, whose frames are called Mercurial 6.0, have lenses with a rose copper tint, which becomes quite dark in bright sunlight: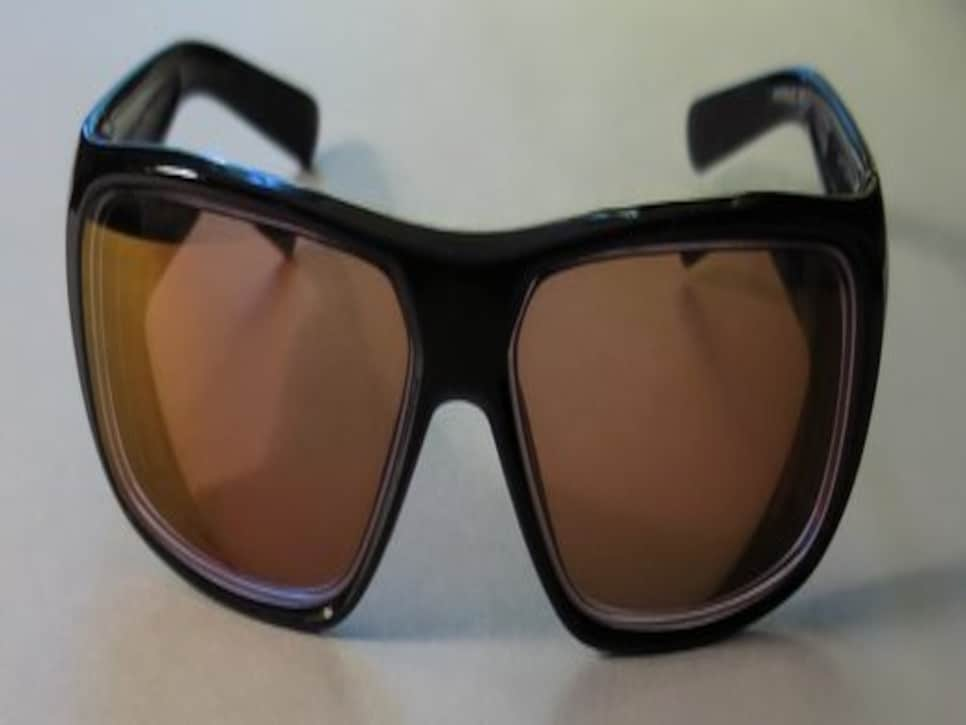 The Oakley glasses, whose frames are called Jupiter Squared, have lenses with a lighter, amber-brown tint, and are meant especially for times when sunlight levels are low: early morning, late afternoon, and in the rain -- although they darken considerably in bright conditions. (Gray lenses are not good for golf, although they're good for fishing.)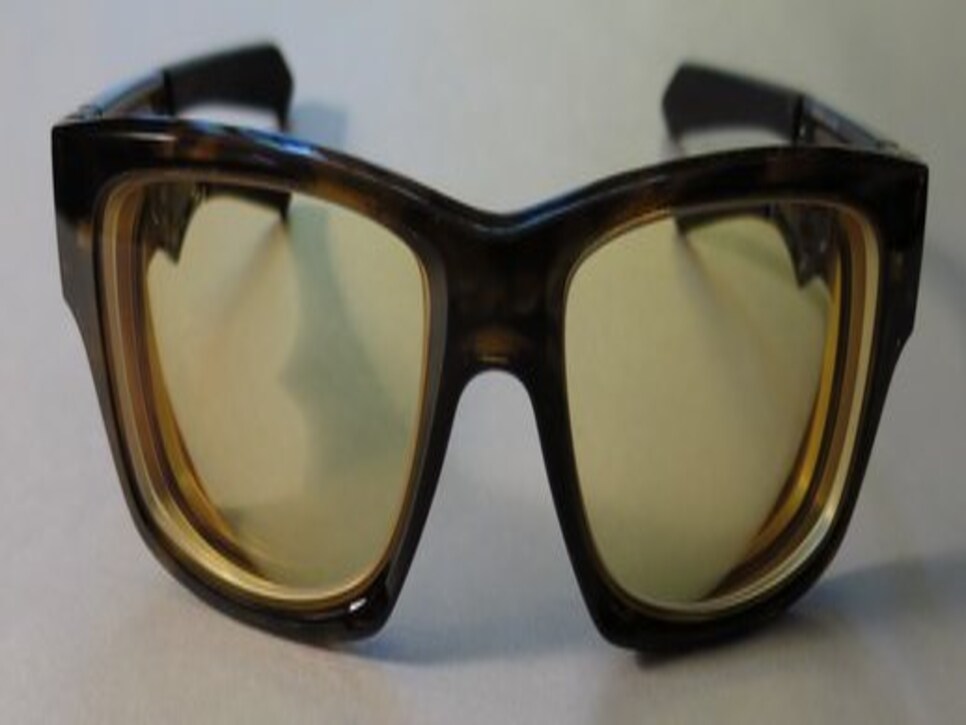 There are other possible frame choices for people like me, and there are many, many additional choices for people whose prescriptions are less daunting. I now consider both my pairs to be part of my golf equipment, and I keep them in my golf bag in hard cases with zippers:
An unexpected benefit of using both pairs of glasses is that they provide much better protection from the wind than my old sunglasses did, so that on that on blustery days I no longer seem to me crying over my terrible shots. I was grateful for that during my recent buddies trip to Scotland and Ireland, where the wind blows almost all the time, and it's also a useful feature here at home, where, at the moment, clouds of pollen explode from the pine trees every time someone shanks one into the boughs. And an unexpected benefit of the darker lenses is that match-play opponents have no idea I'm giving them the evil eye while they're trying to putt. Here I am in my Nike glasses on a sunny day at Machrihanish last month: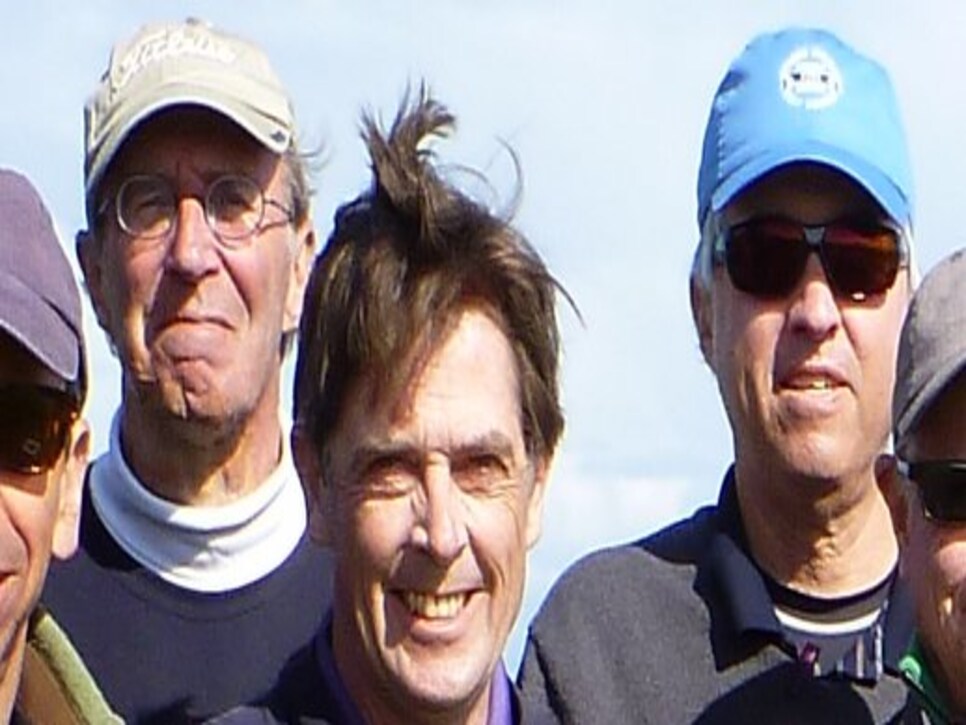 If you have a current prescription, you can order glasses optimized for particular activities directly from the SportRX website, with telephone or online help if you need it. (The website has a helpful "Search by RX" utility, which identifies frames that will work with your prescription -- although if your prescription is high enough you will need to call.) One thing you have to do before ordering glasses with corrective lenses is to measure your "pupillary distance," or the space from eye to eye, but that's easy to do if you have a ruler, a mirror, and a camera or phone: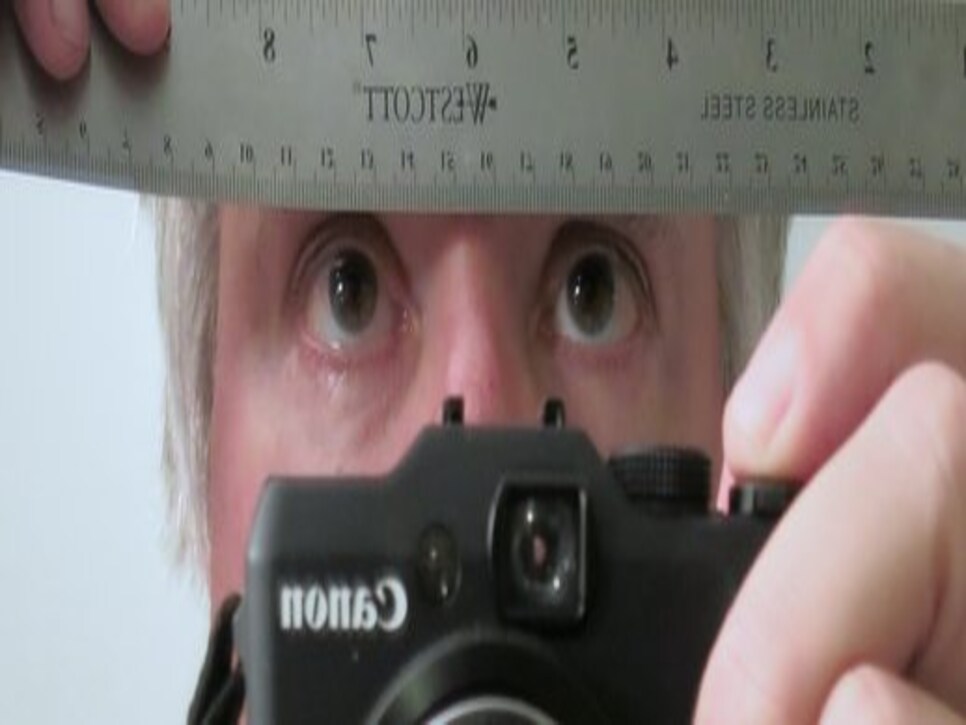 My personal glasses collection is extensive: progressives, bifocals, reading glasses, computer glasses, backup distance glasses, ancient sunglasses just for driving -- plus my two new pairs of golf glasses, which are my favorites and which I would wear all the time if I thought I could get away with it.