News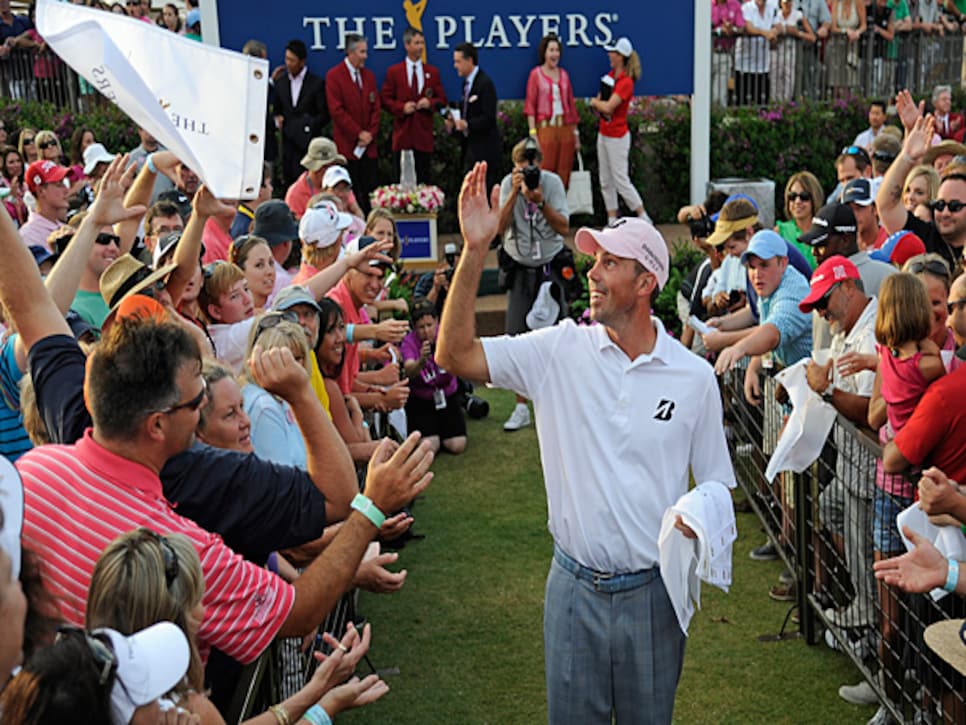 Matt Kuchar became the latest first-time winner at TPC Sawgrass in 2012.
PONTE VEDRA BEACH, FLA. -- One of the hopes when they moved the World Golf Hall of Fame induction from the fall to Players Championship week was that more active players and Hall of Fame members would show up for the ceremony. Not so much.
On Monday night, when Fred Couples, Colin Montgomerie, Ken Venturi, Willie Park Jr. and Ken Schofield were enshrined, only eight WGHOF members were on hand and more caddies attended than active players. Oh, and all eight of the members in attendance were women.
"I know how to get more men to show up at the ceremony," LPGA founder and 89-year-old sage Louise Suggs said at the cocktail party after the induction. "Give them all 250 FedEx Cup points."
Not a bad idea. Suggs, Judy Rankin, Donna Caponi, Carol Mann, Nancy Lopez, Marlene Streit, Hollis Stacey and Beth Daniel were the females with plaques in the WGHOF who showed up at St. Augustine with no motivation other than pride. Gee, remember the time when that was price enough?
Maybe the only way to get more men at the induction is to move the PNC Father/Son Tournament to the Slammer and the Squire course at the World Golf Village and have the ceremony that week. Pretty much that entire field is in the Hall.
Short of that -- or the Suggs suggestion -- there is no solution. Which brings us to the Players, which starts Thursday on the Stadium Course at TPC Sawgrass after a week of brutal rain in the area.
There was a fear by some in tour headquarters that moving the WGHOF ceremony to this week would take attention away from the flagship event of the PGA Tour. Not to worry there.
This remains the best event that doesn't have the designation "major championship," always turning out one of the strongest fields of the year and quite often producing a surprise winner.
And it is played on a course that has matured nicely into a fan favorite, though not one that is loved by all the players, especially the big hitters who struggle here.
Keep this in mind as play unfolds this week: Fred Funk has won the Players as often as Tiger Woods and Tim Clark as often as Phil Mickelson -- once each. And in three tries, Rory McIlroy has yet to play on the weekend.
The Stadium Course is not a grip-it-and-rip it venue. Pretty much the guy who wins here is the guy who is among the leaders in fairways hit and greens in regulation.
That speaks well this week for someone like Henrik Stenson, who won here in 2009, Justin Rose, Brandt Snedeker and McIlroy, all of whom are among GIR leaders this year. Then again, so are Graham DeLaet and Peter Tomasulo.
"The reason why most of us don't play well on this golf course is you drive yourself in trouble and you short side yourself on the greens and you're putting for par a whole bunch," Davis Love III, a two-time winner here, said Tuesday. "You can't be putting for par, you need to be putting for birdies, middle of the greens, playing real patient."
The fact that bombers don't usually do well at TPC Sawgrass doesn't mean long hitters can't win here. Greg Norman and Sergio Garcia join Woods and Mickelson as long-ball boys who've won, and Couples, like Love, has won twice.
What it means is that when a long hitter is putting his tee ball in play, this golf course is very vulnerable. If McIlory, for example, has a driving week here like he did at Congressional in the 2011 U.S. Open, he will win in a romp, like he did there.
Woods, however, who does his best work on a course with a lot of bail-out room right, has had only one top-10 finish since winning the Players in 2001, an eighth-place effort in 2009.
Since the course was re-sodded, made firmer and faster and the tournament moved from March to May in 2007, Tiger has a T-37, a T-40 and two WDs to join that eighth-place finish. Still, Woods has won six times in a little over a year with hints that his old, dominant self could return.
"I think the way I've seen Tiger driving the ball lately, the shots he's been hitting off the tee, he's going to be competitive no matter what the golf course," says Love. "Same thing for Rory; when Rory is driving it in the fairway, he's as dangerous as anybody."
All of the improvements made by Pete Dye to his creation in preparation for the move to May will be helpful this week.
Because a layer of sand was placed under the sod and sub-air was installed throughout the course, the rain of last week -- which, for a day anyway, turned the island green at No. 17 from the isthmus green it really is to a true island -- will be negated.
With no rain in the forecast for the rest of the week, it seems as if tour officials will have the Stadium Course playing at the speed they desire. And that means that attacking the layout will be all about angles. To do that, you need to hit fairways so you can hit greens.
The last three winners here -- Clark, K.J. Choi and Matt Kuchar, the defending champ -- are all grinders. They are the kind of grinders who give themselves many opportunities to score and thus multiple opportunities to win.
And that's exactly what Pete Dye had in mind when he designed this course 33 years ago. Bomb and gouge takes a back seat to placement and precision.
That's become the identity of this tournament, and it's very different than the golf we are used to seeing week in, week out on tour, which is what makes this as close to a major as you can get.