News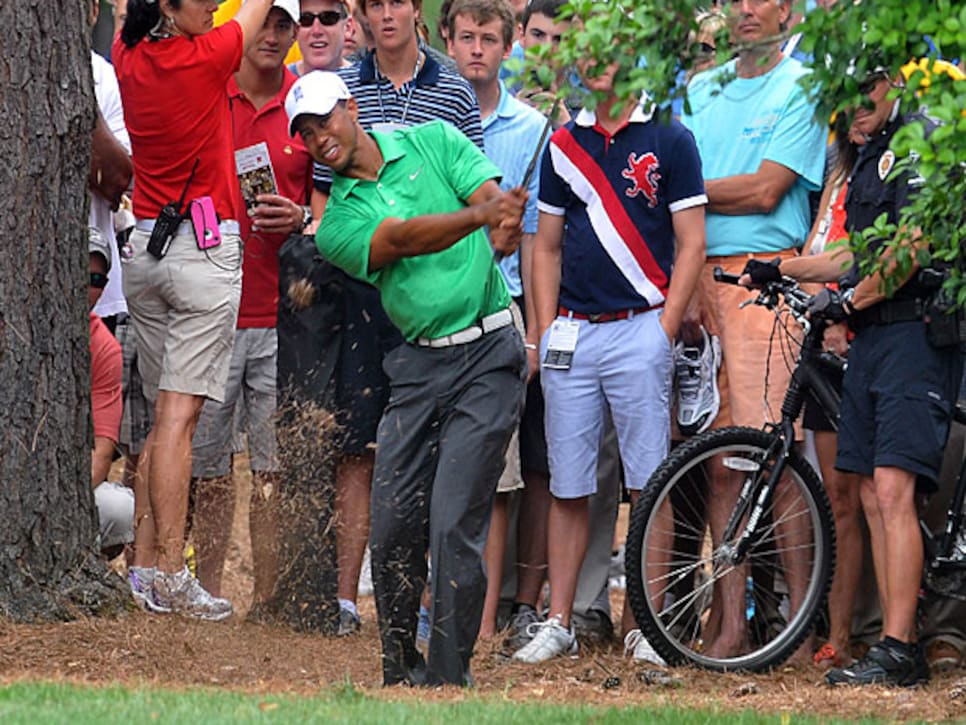 Woods' struggles have many questioning if he'll ever dominate golf like he used to.
PONTE VEDRA BEACH, Fla. -- The PGA Tour is in a period of parity that can be viewed either as a logjam at the top created by an abundance of talent or as a doldrums in which we are waiting for a truly dominant player to sail onto the scene. Perhaps it is a little bit of both.
Well into Season 3 of "Where's Tiger," the game of tag being played for the No. 1 spot by McIlroy and Luke Donald presents a puzzling question for the men's game. Which is better: A dominant King of the Hill or a mad scramble for the top by a bunch of equally talented players? The former No. 1 knows where he stands.
"I liked it when I was up there," Tiger Woods said Tuesday at TPC Sawgrass when asked if it were better for the tour to be ruled by a king or a committee. But the operative word there is "was."
There have been 19 tour events this year, two of which were won by Hunter Mahan. Seventeen different players captured the other 17 and one of those is Woods. And that pretty much sums up where things stand for Tiger. He's just one of the guys rather than The Guy.
In his 28 PGA Tour starts since returning from the scandal that rocked his personal world and clearly impacted his professional performance more than anyone could have imagined at the time, Woods has six top-10 finishes, equaling his number of missed cuts and withdrawals. It is a reality to which many fans and even some players are having a difficult time adjusting.
"As a fan growing up watching golf, I loved that Tiger was dominant and I loved that Phil would come and challenge him for a while and then Ernie and then Vijay and then Duval," McIlroy said at Sawgrass, where the Players begins Thursday, when asked if he preferred a clear No. 1 player or the current parity.
What Woods had when he was at his best was exactly what McIlroy described: a rivalry by committee. There was Tiger clearly on the top with several very talented but just-as-clearly inferior rivals taking turns taking shots at him. At his best, no one was better than Woods. No one occupies that position now.
"I sort of like that as a storyline," McIlroy said. "So it would be nice if a few people separated themselves from the rest. Hopefully, I will be in that group at one stage. I think it just shows how good the guys are now. I think for me if I was a golf fan, I'd like to see a rivalry."
This place called parity is somewhere the tour has been before. After Tom Watson won seven times in 1980, no one took more than four tour events in a season until Nick Price grabbed six in 1994. Then dominance returned. From 1996 through 2009, the tour leader in victories had at least four titles each season. Eleven times it was Woods, who won nine in 2000, a number matched by Vijay Singh in 2004.
But Woods has only one tour victory in 32 months and will go into the U.S. Open in June not having won a major in four years. Despite all those wins placed back on the table, no one has stepped up to grab the lion's share, but rather they have been divided relatively equally.
In 2010, Jim Furyk topped the tour with three victories and last year seven guys tied for the lead with two. That's the smallest number of wins for the leader in back-to-back years since 1991-92. Who among those out there now is the most likely to get that win total back to the four-a-year level and truly make a case for being the clear No. 1?
There are those, including McIlroy, who think that person could still be Woods. After missing the cut in the Wells Fargo Championship on the heels of his worst-ever effort in the Masters, Tiger is trying to make his victory in March at the Arnold Palmer Invitational look like the turning point in his comeback rather than a detour into a blind alley.
"I tend to creep back into old patterns," Woods said about his struggles with his new swing since his victory at Bay Hill. "That's what kind of happened. Unfortunately, I had a lot of time on the weekend to work on my game." When pressed on the swing change issue, Woods responded: "Guys, I've done this before. I've been through times when I was where I didn't want to be but had some pretty good runs after that."
But TPC Sawgrass has not been a course on which Woods has had much luck. Last year, he withdrew after playing his first nine holes in 42 strokes, citing injury. In 2010, in just his third event back from his scandal-imposed exile, he walked off the seventh tee on Sunday.
"You just can't fake it on this course," Woods said. "You have to hit the ball well." Which means the degree to which his swing change has taken hold will get a good test this week.
Woods won here in 2001 and was second a year earlier, back when the event was played in March. But since that lone victory, Woods' only top-10 finish in the Players was an eighth-place effort in 2009. In 14 appearances at the Players, Woods has been outside the top 10 on 10 occasions and failed to make the top 20 seven times.
And Woods enters not on his best form and with some, most vociferously announcers Nick Faldo and Brandel Chamblee, questioning his confidence. "I find it interesting since they aren't in my head," Woods said about his doubters. "They must have some kind of powers I don't know about."
Among those who have won this year other than Mahan, Woods, McIlroy and Fowler are Donald, Mickelson and Justin Rose. Masters champion Bubba Watson is still taking time of to be with his newly adopted son Caleb and won't be at the Players. Lee Westwood, after joining McIlroy in a boycott last year, is back.
"I still expect Tiger to come back and do some great things," McIlroy said. "But I think it was great for the game of golf that Rickie won. It's great to have characters like that playing well, and he engages with the fans really well, and he's a really popular player out here."
How about a Rickie-Rory-Tiger rivalry? Now that might be entertaining. Throw in Bubba, Lefty and Luke and you have something bordering on a Runyonesque cast of characters. As a committee, it's not bad. And who knows, it might even produce a king.