The Loop
Mickelson's Practice Rounds Anything But Ordinary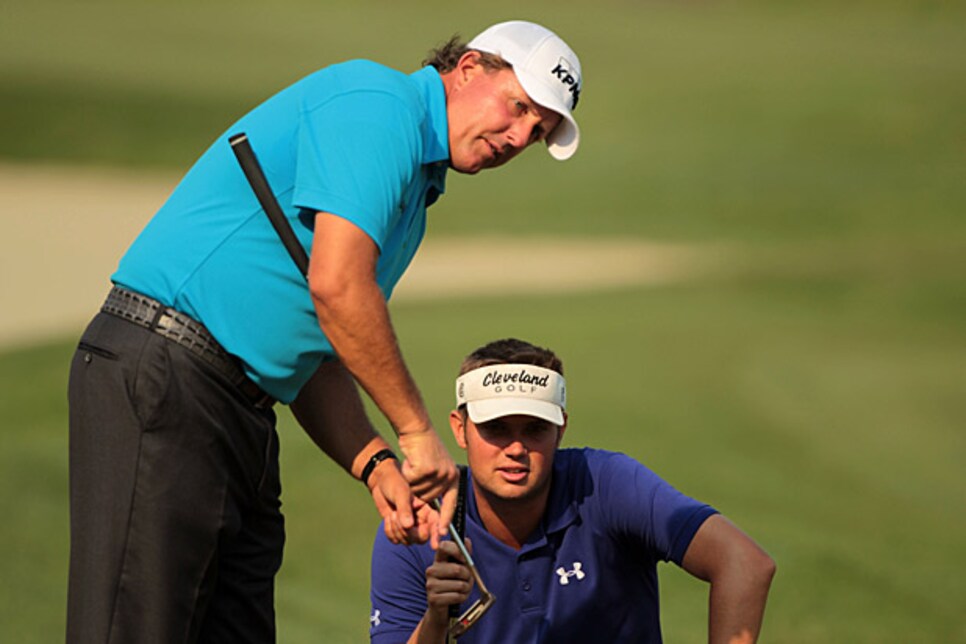 "Like he always says, 'If you can't make a putt for a couple of hundred bucks, how can you make a putt for a million?'" Steele said of Mickelson.
DUBLIN, Ohio — With everything riding on the final hole, Phil Mickelson found a gap in the trees and hooked a wedge that caught the left-to-right wind, hopped along a ridge on the green and rolled to 15 feet away from an impossible pin.
It was vintage Mickelson, taking on a high-risk shot when the stakes were high. All that remained was to make the birdie putt, and when it dropped into the center of the cup, well, you would have thought he had just won another major.
Except this was only a practice round at The Players Championship.
"I don't remember fist-pumping on Tuesday very often," Mickelson said with a grin, the details still vivid a month later. "My brother saw it on the Golf Channel and said, 'What are you doing? This is Tuesday!' But that was a massive game."
That's usually the case when Mickelson is involved.
Dustin Johnson was on the losing end of that match, standing off to the side of the green, cursing under his breath, knowing how it would end as Mickelson stood over the putt. Asked if he was more bitter about losing to a miracle birdie by Mickelson in a practice round or getting a two-shot penalty from the bunker on the 18th hole at Whistling Straits, it was hard to tell if Johnson was joking.
"I don't know," he said. "That's a tough one."
But then, that's the whole idea. Mickelson wants it to mean something. He wants losing to sting.
Mickelson has been hustling on the golf course since he was in college, if not longer, and his victims include Tiger Woods from long ago. It's a way for Lefty to stay sharp, to face shots that are meaningful instead of going through the motions of an ordinary practice round.
Over the last few years, his practice rounds have served another purpose.
Mickelson started his career playing money games with Paul Azinger, the late Payne Stewart, Mark Calcavecchia and John Huston. Now he's playing with Johnson, Steve Marino, Hunter Mahan, Jeff Overton, even rookies like Keegan Bradley and Brendan Steele.
"The idea is, I want guys playing match play and getting ready for Ryder Cups and Presidents Cups," Mickelson said. "We play best ball and individual games, 18-hole matches. I haven't said this to the guys, but that was my thinking when I started playing these matches. And if you'll notice, most of them are young guys who one day are going to be representing the U.S."
Mickelson paused to reach into a brown bag of french fries at a "Five Guys" restaurant — he is part of a franchise ownership group in southern California — and then he smiled.
"Every now and then," he said, "I have some meaning to my madness."
"Has anyone ever gone back to the tee after losing his ball in a practice round?" Mickelson said just loud enough to be heard by Nick Watney, who was desperately searching for his ball in the rough left of the 17th fairway at St. Andrews last summer.
This was stroke play, the loser paying the winner. Mickelson rallied for a two-shot lead going to the final hole, and with out-of-bounds to the right along the road, his tee shot went so far left that even he laughed at his conservative play. He would be the winner again. All that remained was to see who paid him.
Johnson and Watney both made birdie to tie. Watney meekly approached Johnson and suggested they split the bill.
"I don't split," Johnson said.
Mickelson sent them off to the Valley of Sin for a chip-off, and at one point, they had to wave another player through, another rarity for a practice round at a major. Johnson eventually won with a birdie. Watney had to pay.
"You'd have thought he had a heart attack," Butch Harmon said. "Tour players are very spoiled. It's their nature to be pampered and cuddled. This is an in-your-face kind of game. There's good ribbing that goes on. There's good competition, and there's more shotmaking, especially down the stretch. And that's a good thing. It gets guys in a competitive mode on Tuesday or Wednesday of a major.
"And I like the fact," said Harmon, the swing coach of all three, "that Phil is getting the young guys involved."
The amount of money is not outrageous, certainly not like it was a few generations ago, when some players made more during practice rounds than in the actual tournament. It's not even close to what gets wagered at some country clubs.
"I want it be enough where you feel it, but it's not going to affect you," Mickelson said.
For Mickelson, equal enjoyment comes from the banter.
The needling starts on the first hole, and the other players are not afraid to give it back. There have been a few quiet days, like the round with Woods in 1998 before the L.A. Open. They were at Valencia on a windy day when they came to a par 3 late in the match. Mickelson had a 7-iron in his hand and said to caddie Jim "Bones" Mackay that he felt some wind in his face.
"I said to Bones, 'Gosh, I think I've got to really step on this 5 to get it there,'" Mickelson said. "So he hit 6-iron, jumped it and flew 30 yards over the green. We were playing stroke play and I ended up flipping him on all these presses."
Mickelson said he took the $100 bills from Woods and made a photocopy of them. He then made smiley faces on the copy and wrote, "Just wanted you to know Benji and his friends are very happy in their new home."
"I left it in his locker," Mickelson said. "That was the last time we played."
Steele and Bradley were invited to join Mickelson for a nine-hole round at Sawgrass this year. They thought it was going to be a regular practice round. They quickly learned otherwise.
"It was pretty cool," Bradley said. "We got on the tee and he said, 'Here's the game we're playing.' It wasn't like, 'What do you want to play?' It was 'Here's what we're playing.' It gets you thinking. It's better to be playing than just messing around. And he was great. He was open to any questions, and he did more teaching than anything."
That stopped when they got to the final hole, the par-5 ninth.
"I was one shot down to Phil and Keegan," Steele said. "They hit it out to about 15 feet with their chips, and I hit it to about a foot from the front bunker to put the pressure back on them. Keegan missed. And then Phil, for the first time all day, started to grind. He got Bones in for the read, he looked at it from all sides. He got into the putt, then backed off and told us to get our wallets out.
"He poured it right in the middle."
Johnson got his first dose of Mickelson in the month before his rookie season. He went out to San Diego to test equipment, and joined a few of the TaylorMade reps for golf with Lefty at the Bridges of Rancho Santa Fe.
Mickelson and Johnson became fast friends.
"We had just met, and he started chirping," Johnson said. "And I chirped right back. He likes to talk. But he likes it more when you talk back to him. He'll dish it out, but he can take it. Some guys can't handle that."
Johnson got into Mickelson's pocket that day, and it wasn't the last time. By all accounts, he's one of the few who is up on Mickelson.
"It really has nothing to do with what we're playing for," Johnson said. "We want bragging rights. You learn to focus, you get a little pressure on you, and you see what kind of shape your game is in, especially going into a major."
Azinger doesn't understand why more guys aren't playing money matches. The culture has changed. A typical PGA Tour event has a $6 million purse, with the winner getting $1 million or more. That's house money.
That's not what attracted him to Mickelson.
He remembers one game when Mickelson was playing with Ben Crenshaw against Azinger and Stewart. Mickelson was going to win, it was just a matter of how much. The game was called "Hammer," and the payout would be substantially less if Lefty was forced to make the putt. After some persuading, Stewart took the bet. Mickelson poured in the putt, then looked up at Azinger and simply smiled.
"If you can't play for your own money, how are you going to play when you have prestige on the line?" Azinger said. "I knew Phil was going to be great because of how he played for his own money."
Mickelson was working on a game for a practice round at Congressional. There was talk of a rematch from last month at Sawgrass, when Mickelson and Overton beat Johnson and Marino, except that Marino didn't make it through U.S. Open qualifying.
"Dustin might have to look for a new partner," Mickelson said.
That shouldn't be hard to find. The Mickelson matches are proving to be high entertainment, from St. Andrews to Whistling Straits, Augusta National to Akron. More than a thick wallet, this game requires some thick skin.
The payoff is more than a little cash. Mickelson believes it's getting players more accustomed to pressure situations, if not for a major than perhaps a Ryder Cup or Presidents Cup down the line.
Steele picked up on that right away.
"It was awesome," he said. "Like he always says, 'If you can't make a putt for a couple of hundred bucks, how can you make a putt for a million?' The one thing he said to us was, 'All games must be friendly. But we must have enough on them to care.'"