News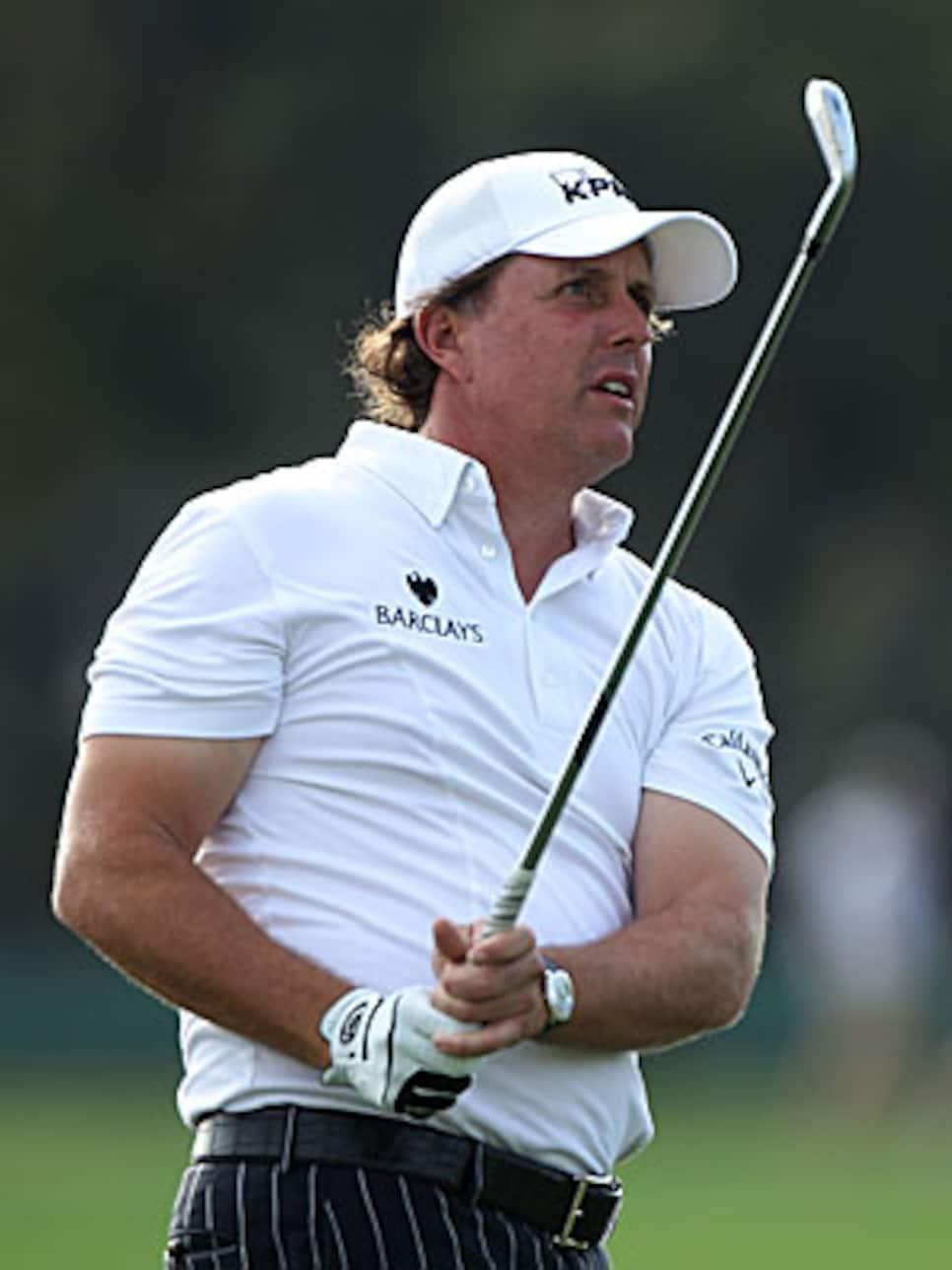 Phil Mickelson has only one top 10 this season, but he may have recently turned a corner.
ORLANDO -- Reminded that Tiger Woods had shot a 59 at his home course at Isleworth CC the week before his 1997 Masters romp, Phil Mickelson broke into a wide smile and a gleam came into his eye.
"I didn't even think of that," Mickelson said Friday afternoon at Bay Hill Club & Lodge, where he had just shot a five-under-par 67 to climb into contention in the 32nd Arnold Palmer Invitational. "I know where you're going with it. And, yeah, I guess that's the reason why I'm excited about these next three weeks."
Indeed, the Masters can't get here fast enough for the No. 3 player in the world. He is brimming with enthusiasm and confidence, chomping at the bit to get to Augusta National Golf Club, where he already has won two green jackets.
That's what a 58 does for you.
With 12 birdies and an eagle, Mickelson carded that magical score in a casual round Monday at Plantation GC in Indio, Calif., near Palm Springs. Former Masters winner Fred Couples consulted with Brian Curley on the design of the 7,042-yard, par-72 layout.
"It's a fun little course," said Mickelson, who joined Plantation GC last year as a backup course for tournament preparation. "Great course, and the practice facilities are fantastic."
Mickelson ventured to Plantation GC because, he said, the greens are firm and fast, similar to those at Bay Hill with the same grass cover, Emerald Dwarf Bermudagrass. He intended to play only 18 holes, but after lunch he and his group ventured out for another nine holes. That was the plan, anyway.
But with an eagle on the 529-yard par-5 ninth hole for an outward 29, Mickelson quickly realized that he was going to have trouble excusing himself. His reaction was genuine shock. "I looked and then thought, "holy s--- I shot a 29!' " Mickelson said, laughing. "It was your basic emergency nine [on the front], and now I'm thinking, 'Now what?' "
Playing with two long-time friends, Harry Rudolph III, who competed against Mickelson in junior golf, and Bobby Schaeffer, the three-time major champion decided, after goading from Schaeffer, to play two more holes. He birdied both. Mickelson, who routinely gave himself looks inside 10 feet, opted to play one more hole. Birdie. Now he had to commit for the duration.
After two pars, Mickelson needed three more birdies to break 60 and tie his personal best of 59 that he posted in the 2004 Grand Slam of Golf at Poipu Bay GC in Kauai, Hawaii.
Instead, he ran the tables -- and nearly came in with a 57. He birdied 15, 16 and 17, and then blasted a prodigious, adrenaline-fueled drive at the 477-yard par-4 home hole. Lefty was left with just a gap wedge into the green from about 100 yards -- after needing a 7-iron in his morning round. The ball landed a few yards past the flagstick and then spun backwards, rolling right over the hole. Mickelson then drilled the 3-foot birdie to "settle" for 58.
Mickelson, whose best round on the PGA Tour is a 60 at the 2005 FBR Open at TPC Scottsdale, bettered the club record by three strokes. Nathan Nouskajian posted a 61 in 2002.
The only other known 58 by a tour player was recorded in 2000 when Shigeki Maruyama accomplished the feat at Woodmont CC in Rockville, Md., during qualifying for the U.S. Open.
Mickelson didn't linger to savor the moment, signing a few scorecards -- one of which the club is planning to put on a display -- before rushing back to his home in Rancho Santa Fe, Calif. He indicated that there was an exchange of what amounted to trash texting between him and Couples that evening, after Schaeffer called Couples with the news of how Mickelson so thoroughly disrespected the layout with a 73.9 rating and 134 slope.
"I'm sure he and Freddie were giving it to each other," said Davis Love III, who is in a four-way tie for the lead midway through the Arnold Palmer Invitational. "But, wow, good for Phil. I've never gone that low, but I imagine that has to do a lot for your confidence."
You be the judge. Woods won that '97 Masters, his first as a professional, by 12 strokes with a record 18-under 270 total. (By the way, here's an interesting coincidence: Butch Harmon was Woods' swing instructor until 2003; he now is Mickelson's swing coach.)
Expected to have a big year after ending his '09 season with a flourish that featured victories over Woods at The Tour Championship and HSBC Champions, Mickelson has instead been stuck in neutral, playing decently, but not up to his expectations. Even his 67 Friday at Bay Hill, which left him a stroke behind the leaders, wasn't quite that satisfying, though he relished the chance of being in contention.
"I came in here really thinking I was going to play even better than I have so far. Been a little erratic," he admitted. "But I'm seeing the signs of what I had on Monday. It definitely sets me up for the rest of the week here -- and the next two weeks as well."
It sure does, if history is any guide.