News
Minor League Training, Big League Careers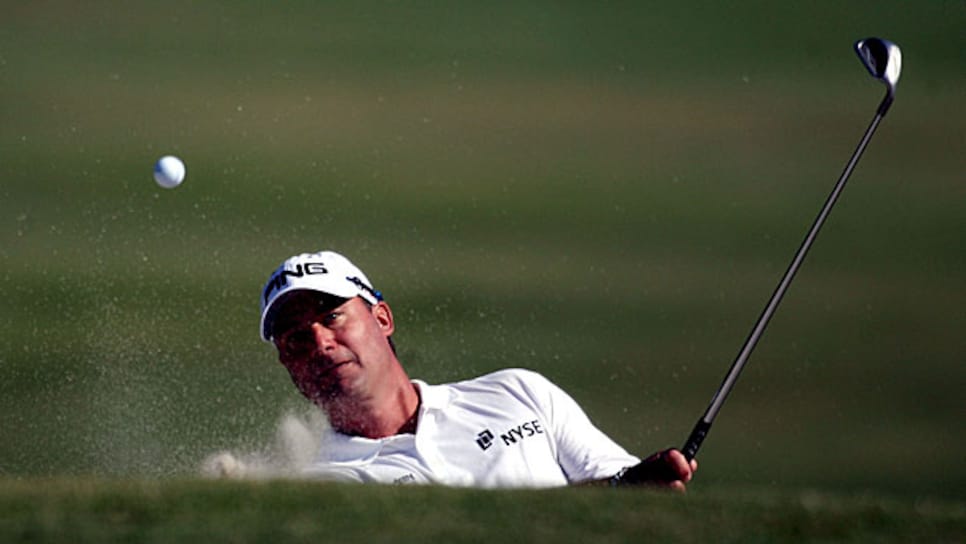 Chris DiMarco's game has tailed off in recent years, but at one point, he was one of the game's elite players.
In the first five weeks of the 2010 season Steve Stricker won his eighth PGA Tour title, Ryan Palmer and Ben Crane won their third and Bill Haas garnered his first. That brings the number of victories by Nationwide Tour alumni -- as the good folks at Ponte Vedra Beach are quick to point out -- to 264.
That list includes championships won by Ernie Els and Jim Furyk, who like Stricker, Crane and Haas, are not graduates of the developmental tour. Els played eight events on what was then known as the Ben Hogan Tour in 1991, which makes him a Nationwide alum by the same measure that Derek Jeter is an alumnus of Michigan. Being a graduate of a university, or in this case of a developmental golf tour, is a different standard. Of the three 2010 winners, only Palmer earned his Nationwide degree, having graduated sixth in his class (on the money list) in 2003.
Michael Sim, who would be considered the valedictorian of last year's Nationwide class by virtue of his leading the money list, is also off to a strong start in 2010 with a runner-up finish at the Farmers Insurance Open. It's too early for Sim to crash the list of greatest Nationwide Tour graduates of all time, But what about Matt Kuchar, Class of 2006, who added a pair of top-five finishes to his two-victory résumé in January? Or Tim Clark, Class of 2000, who is winless on tour but has eight runner-up finishes, including the 2006 Masters? Not quite. The list of the 10 greatest Nationwide Tour graduates is pretty strong. Major champions and tour money leaders dominate the list, leaving Kooch and Clark, and the aforementioned Palmer, on the honorable mention roll.
In our view, the list of the 10 best Nationwide Tour graduates in PGA Tour history should read as follows:
10. Shaun Micheel. Class of 1999. Wins: 1. Majors: 1. Highest World Rank: 34, 2004.
Admittedly the résumé is a little thin, but just as winning one Pulitzer trumps a plethora of local writing awards, Micheel's 2003 PGA Championship win at Oak Hill surpasses Clark's eight tour runner-ups and Palmer's three wins (and even Camilo Villegas' two playoff victories in 2008). Micheel's biggest challenger for the 10 spot might be Jeff Maggert, the three-time tour winner who contended in several majors. Nothing against Maggs, but the nod goes to the major champion. The 41-year-old Micheel no longer has full-time tour status, having finished 180th in earnings in 2009 after suffering shoulder injuries in 2008.
9 . Lucas Glover. Class of 2003. Wins: 2. Majors: 1. Highest World Rank: 15, 2009.
Like Micheel, Glover graces our list because he won a major, the 2009 U.S. Open, but he has clearly produced more during his six years on tour. The major title helped him climb to ninth on the 2009 money list and he has played in three Tour Championships, the first two in 2005-06, prior to the implementation of the FedEx Cup playoffs. Glover went through a downward spiral after that strong start to his career, even distancing himself from the game for a few months late in the 2008 season. But he sparkled in 2009, finishing T-2 at Quail Hollow and T-3 at the Buick Invitational before winning the U.S. Open.
8. Chris DiMarco. Class of 1993 and 1997. Wins: 3. Majors: 0. Highest World Rank: 6, 2005.
It's hard to imagine now just how much game DiMarco had from 2000-2006 given how far he has fallen in the three years since. Unfortunately he was golf's "nearly man" in the middle part of the last decade, finishing second in a major in three straight years, including the 2004 PGA and 2005 Masters, when he became the first person in more than 25 years to lose consecutive majors in a playoff. Given that he should have won the second of those two playoffs -- it took one of the most incredible shots of all time and later a clutch 15-foot birdie putt on the first extra hole for Tiger Woods to defeat DiMarco -- and his impressive performances in the 2004 Ryder and 2005 Presidents Cups, he gets a boost ahead of Micheel and Glover. DiMarco's failure to turn one of his 12 seconds into his fourth victory is what keeps him from climbing higher on our list.
7. Chad Campbell. Class of 2001. Wins: 4. Majors: 0. Highest World Rank: 9, 2004.
As it happens, Campbell was second when Micheel won at Oak Hill, but the 35-year-old Texan has clearly done more with his career. So while we haven't exactly created a standard -- four wins trumps one major -- it's hard to argue that he shouldn't be ahead of Micheel. Campbell's wins include two pretty impressive titles: the 2003 Tour Championship and the 2004 Bay Hill Invitational. Campbell won the latter by six strokes, ending Woods' four-year winning streak at Bay Hill. He also has 11 second-place finishes, including last year's playoff loss in the Masters. He gets no bonus points for having one of the most engaging wives on tour in singer/songwriter Amy Lepard.
6. Stuart Appleby. Class of 1995. Wins: 8. Majors: 0. Highest World Rank: 8, 2004.
A five-time member of the International Presidents Cup team, Appleby hasn't missed a major championship since 1996, having played 52 in a row. That streak is in jeopardy as Appleby hasn't yet qualified for the 2010 Masters, but the streak isn't why he ranks sixth on our list. Appleby's eight wins include three straight Mercedes Championships titles (2004-2006). He also had a near miss in the 2002 British Open, losing a four-way playoff to Ernie Els.
5. Zach Johnson. Class of 2003. Wins: 6. Majors: 1. Highest World Rank: 13, 2007.
Johnson was not a household name when he won the 2007 Masters, which disappointed not just a few who were used to big stars winning the year's first major. But in an era when Woods, Phil Mickelson and Vijay Singh had won six of the previous seven Masters, Johnson snuck through. Three years later he is making quite a name for himself. The Iowan now has six victories, including two in 2009 when he was fourth on the PGA Tour money list.
4. Stewart Cink. Class of 1996. Wins: 6. Majors: 1. Highest World Rank: 5, 2008.
Both Cink and Johnson have six wins and one major. But Cink gets the nod for No. 4. He was in the top 10 on the money list three times in 13 years; Johnson twice in six years. Cink has played on eight Ryder and Presidents Cup teams; Johnson three. Cink is 10th on the tour's all-time money list, and although it's hard to use that as a gauge when determining a player's rank -- Jack Nicklaus is 175th, -- it is a fair comparison when ranking contemporaries. In the last six years Cink has won more than $18.2 million to Johnson's $16.9. It's close, but Cink has a slight edge over the last six years. When you factor in the seven extra years Cink has played, it becomes a no-brainer.
3. Tom Lehman. Class of 1991. Wins: 5. Majors: 1. Highest World Rank: 1, 1997.
Despite having one less win than Johnson and Cink, Lehman ranks higher than the duo by virtue of having one of the best years ever by Nationwide Tour graduate. In 1996 Lehman won the British Open at Royal Lytham and St. Annes and the Tour Championship at Southern Hills en route to the money title, the Vardon Trophy and the Jack Nicklaus Award as the PGA Tour's player of the year. Although Lehman's victory total is somewhat disappointing, he does have 19 seconds and 97 top-10s on tour. His peak value, plus his longevity -- he has had a tour card for 19 straight years -- keeps him in the top three. He is also the only Nationwide Tour grad to captain the U.S. Ryder Cup team.
2. David Toms. Class of 1995. Wins: 12. Majors: 1. Highest World Rank: 5, 2003.
Toms' PGA Tour career began in 1992 but didn't take off until he returned from a year on the Nationwide Tour. Toms finished third on the developmental tour's money list in 1995, and upon rejoining the PGA Tour the following January, has recorded 12 wins, including a major, and has appeared on three Ryder Cup teams. Cink and Lehman have played in more Ryder Cups, but because Toms has doubled their victory he is the more deserving No. 2. In addition to winning the 2001 PGA Championship at Atlanta AC, Toms won the 2005 WGC-Accenture Match Play. Unless he can add another major to his total, Toms will fall short of the Hall of Fame, but his numbers qualify him for the Hall of Very Good.
1. David Duval. Class of 1994. Wins: 13. Majors: 1. Highest World Rank: 1, 1999.
In the Tiger Woods era, only two players have dethroned the greatest player of this generation atop the World Ranking for more than a month. Vijay Singh and Duval. Duval's career numbers may not show much more than Toms', but looking past the victory total, Duval was clearly the world's best player in 1999. Ranking Duval ahead of Toms is the classic case of choosing peak performance over career performance. Years from now Duval's career will be seen as a comet that shone extremely brightly for far too short a period of time. That the 2001 British Open was his last victory is perhaps fitting. He reached the pinnacle and never got back to the mountaintop. But he was there long enough. He is the best Nationwide Tour graduate ever to play on the PGA Tour.