The Loop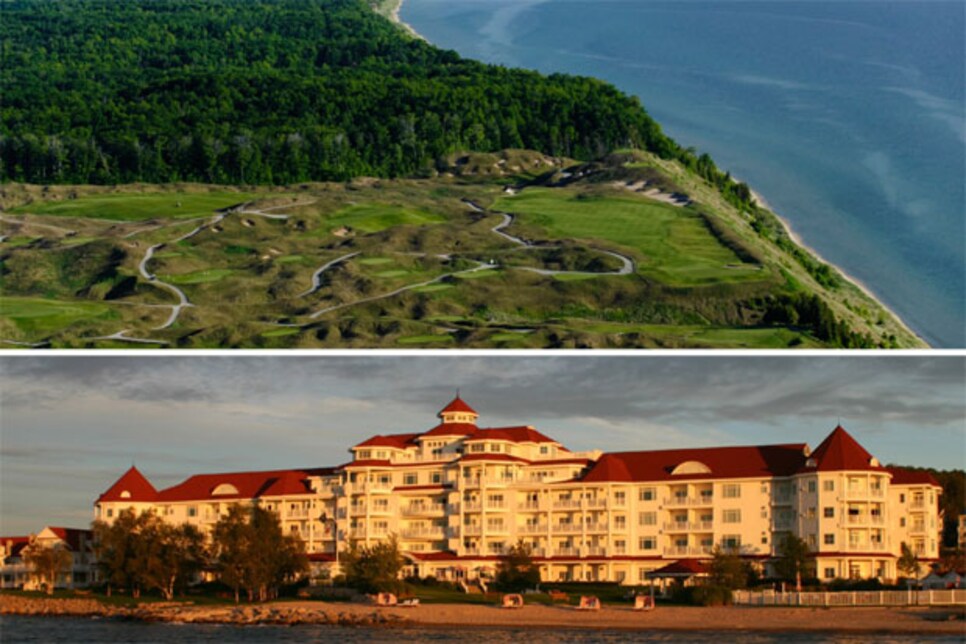 Arcadia Bluffs (top) is a must play. The Inn at Bay Harbor provides water views in the summer and ski-in, ski-out in summer. (Photo courtesy of The Inn At Bay Harbor).
Rick Smith began his pilgrimages to Northern Michigan in 1985, when he opened his first golf academy at the fledgling Treetops Resort in Gaylord, 230 miles north of Detroit. He liked it so much he decided to buy there, but not just a nice three-bedroom golf chalet. Smith led a group of investors in purchasing the entire 4,000-acre resort in 2002. Now, he commutes between homes in Gaylord, Toledo, Ohio, and Naples, Fla., supervising Treetops' operations while also fixing tour swings, designing courses and expanding his academy network in Asia.
Smith's expertise isn't just on the technical side. He qualified for the 1983 U.S. Open and shot a 61 on his playing ability test to qualify for PGA of America membership. Wondering who could possibly clear one of the forced carries in his designs? He can.
I'm definitely biased, but my favorite is the Rick Smith Signature Course at Treetops, one of four championship courses on the property. I spent time in Europe studying the classics before I designed it, and this one has that old style, with great Northern Michigan views. But if you want to turn the fun meter up all the way, try Threetops. It's one of the country's best par-3 courses and takes 90 minutes to play.
Off-campus, Arcadia Bluffs, a two-hour drive from Gaylord, on the west side of the state, is a must-play. You don't have to go overseas to play Scottish golf; it's here on bluffs 120 feet above Lake Michigan. Belvedere GC in Charlevoix is also very cool, a long-time private Willie Watson design now open to the public. It's been one of Tom Watson's favorites since he came on summer visits as a teenager. The best part? Michigan summers have light from 6 in the morning to 10 at night. You can easily play 54 holes in a day -- if you have the legs for it.
Treetops has nearly 250 rooms, ranging from standard rooms to private two- and three-bedroom chalets, and a fantastic spa. Boyne also has some great properties further north and west, at the Inn at Bay Harbor in Petoskey and Boyne Mountain. You can get anything from water views in the summer to ski-in, ski-out on the mountain in winter.
Every summer, Mackinac Island -- which sits between Michigan's Lower and Upper Peninsulas -- is the finish line for two spectacular boat races, the Bayview Yacht Club Port Huron to Mackinac Race (July 17) and the Chicago Yacht Club Race to Mackinac (July 24). There's nothing better than taking the kids to the lake and watching the giant sailboats.