News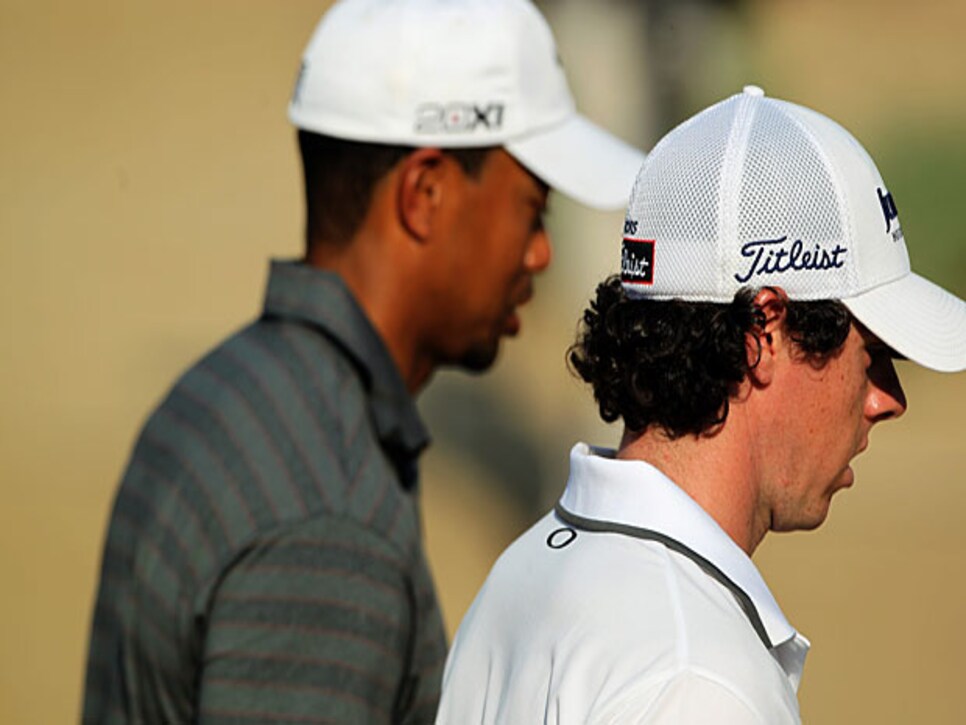 Tiger Woods and Rory McIlroy arrive this week facing plenty of questions.
When the PGA Tour pulled into Dublin, Ohio, for the Memorial Tournament in late May of 1997, all the talk was about 21-year-old Tiger Woods, who had won five of his first 16 pro events, including the Masters by a remarkable 12 strokes. Jack Nicklaus, designer of the Muirfield Village course and the tournament host, was patient that day 15 years ago as he answered question after question about Woods.
As the greatest winner the game has ever known was being asked if Tiger was going to be the new greatest winner the game has ever known, there was a caution in Jack's voice that seemed to say: "Let's have this discussion 20 years from now." Nicklaus, whose first PGA Tour win was the 1962 U.S. Open and last was the 1986 Masters, understood fully the demands of sustaining greatness over time.
As it turns out, perhaps the greatest debt of gratitude that golf owes to Woods is he reminded an entire generation exactly how great Jack was. As remarkable as Tiger has been, he's still five majors short of passing Jack and four years removed from his last major title.
A lot of what Nicklaus said that day 15 years ago has grown in relevance over time, and not just for Woods. Some of the lessons taught by Jack back then should be regarded by Rory McIlroy, Bubba Watson and Dustin Johnson as well. Like Woods, they come into this year's Memorial with questions swirling around them and the four haven't teed it up in the same event in months. They need to listen to what motivated Jack.
"It was never about the money for me," Nicklaus said when asked in 1997 if he wished he had the $67 million in endorsement deals with which Woods started his career. "It was about winning. When I turned pro in 1962, I could have made more money selling insurance than you could make playing on the PGA Tour." In fact, Jack's first check as a pro was $33.33 at the L.A. Open.
Certainly, the fact that it was always about winning is part of what made Nicklaus special. Jack, Tiger and Annika -- all the greatest winners -- compiled their amazing records because winning never got old for them. When they put one trophy on the shelf, that triumph was immediately forgotten and all focus was placed on winning the next event.
Does Woods still have that desire? Will McIlroy and Watson be able to build on their major championship victories or will they grow complacent with success? And can Johnson turn his tremendous talent into trophies, especially the ones that matter most? The Memorial won't be a final exam, but we may get some interesting early answers.
There was another thing Nicklaus said in 1997 about Tiger that applies to McIlroy, Watson and Johnson as well as Woods. "Let's see how he handles it when he has to struggle," Nicklaus said. "So far, it has all been easy for him. It's not always like that. Everyone hits rough patches." McIlroy, Woods, Watson and Johnson are facing different yet similar challenges right now that involve proving themselves.
It took 13 years for Woods to hit a rough patch and he has been pretty much stuck in it since returning from his self-imposed, scandal-caused exile at the 2010 Masters. Since winning the Arnold Palmer invitational March 25 -- his only post-scandal official victory -- Woods has finished T-40 twice with a missed cut sandwiched in between, the only time in his pro career he has failed to crack the top-40 in three consecutive events.
McIlroy, only 23 and with three PGA Tour wins, including last year's U.S. Open, has a first, two seconds and a third on tour this year -- an impressive start. But in the biggest events, he was T-40 in the Masters and then missed the cut at both the Players and the BMW PGA Championship on the European Tour, the last two events he has played. In his 15-year pro career, Woods has never missed consecutive cuts.
After not making it to the weekend at Wentworth, McIlroy admitted that maybe he had not been practicing enough. Some suggested his celebrity romance with tennis star Caroline Wozniacki might be competing for his time. Does Rory want to be great or is he willing to be merely good? When Tiger was at his best, no one wanted to win with a greater intensity than he did.
The fact that McIlroy is going to go the Tiger route this week and not do his pre-tournament interview in the media room but near the 18th green is not a good sign. If he is growing tired of media attention already, the young man has a long career ahead of him. And we don't mean that in a good way.
Watson, who has won five times on tour, reeled off a streak of second, T-2 and T-4 before winning the Masters, but since then has played a total of four competitive rounds in seven weeks and has not played since finishing T-18 at the Zurich Classic of New Orleans April 29.
Bubba's adjusting both to being a major champion and to being a new parent. Learning how to juggle the demands of both while still remaining committed to practicing and playing competitive golf is a transition that has tripped up many a golfer. Will Bubba be a one-and-out guy in the majors like Fred Couples and Davis Love III, or will he win more?
Johnson, also a five-time winner, has gone even longer without competing than Watson. Bothered by a bad back, he has not teed it up since the WGC-Cadillac Championship, where he finished T-35 on March 11. Dustin is one of the most puzzling talents on tour who seems to be waiting for some mysterious missing piece to click in and place him among the world's best.
When Johnson had a chance to win at both the 2010 U.S. Open and PGA Championship and then again last year at the British Open, he appeared to be on the brink of fulfilling his considerable potential. Will this year be the year? Or are the back problems that sidelined him an ominous warning of what is to come?
As Jack said back then, the most important questions are not answered quickly, but over time. However, poor efforts in the Memorial by any of these four guys will only raise more questions -- and create more distractions. As Jack said, it's all about winning. The great ones never lose sight of that.