News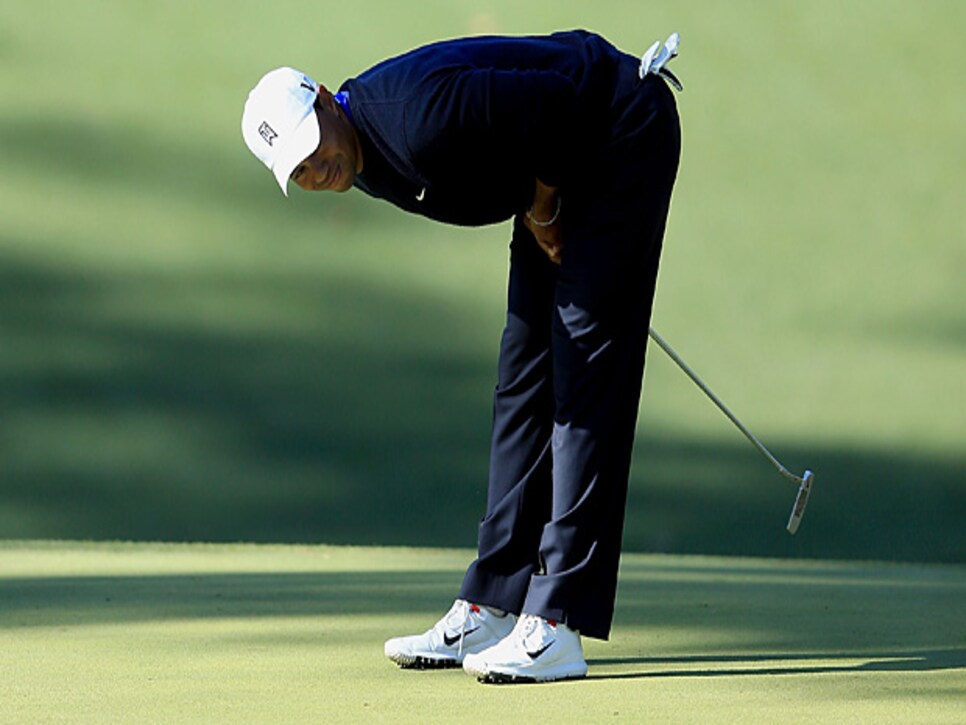 After winning four green jackets in nine years, Woods hasn't won at Augusta National since 2005.
AUGUSTA, GA. -- The first shot I ever saw Tiger Woods hit was on No. 3 at Augusta National in a practice round before the 1995 Masters. He had clipped a tree off the tee on the short par 4 and landed in a crosswalk less than 100 yards down the fairway.
The first remarkable thing Tiger did was to play the ball where it ended up instead of re-teeing, as most would in a practice round. The second nearly unbelievable thing he did was hit a high cut 2-iron off a tight lie from about 240 yards uphill to the shallow green.
The ball soared to the kind of height I had only seen Jack Nicklaus achieve with a 2-iron and it landed on the green with the delicate plop of an 8-iron and nestled about 12 feet from the pin.
As the ball was in the air, Tiger twirled the club with an air of satisfaction I have come to appreciate over the years.
"Oh my," I said to my friend, Jim Litke of The Associated Press, who chuckled, took a deep draw on his cigar and said, "Doc, the dude is special."
Indeed, Tiger was 19 years old, 150 pounds of wiry power and was playing in his first Masters by virtue of having won the 1994 U.S. Amateur, his first of three consecutive victories in that event.
Ben Crenshaw won that 1995 Masters on a tearful Sunday just five days after he was a pallbearer for his long-time coach Harvey Penick. Woods was T-41 and 19 strokes back, but he was the only one of five amateurs in the field to make the cut. The next year, Woods missed the cut.
And then the Tiger Woods Era began in 1997. After playing the first nine holes in 40 strokes, and appearing a bit overmatched in his pairing with defending champion Nick Faldo, the 21-year-old Woods played the last 63 holes 22 under par and won by 12 strokes at 18-under-par 270 -- both tournament records.
Beginning with that 1997 Masters, Woods picked up the green jacket in four of nine competitions and it seemed like the prediction by Nicklaus that "Tiger will win more Masters than Arnold [Palmer] and I combined (10)" would be accurate.
But remarkably, it has now been eight years since Woods has had the defending champion drape a 42-long over his shoulders as he slipped his arms into the sleeves.
Perhaps even more remarkably, if Woods does not win here this week he will go into the U.S. Open at Merion five years removed from the last of his 14 major championships. So how did we get here?
Well, the easy argument in terms of the Masters is that the so-called "Tiger-proofing" of Augusta National worked. The first lengthening of the course -- to 7,270 yards -- occurred in 2002. Woods won two Masters -- 1997 and '01 before -- and two after 2002 and '05.
Then in 2006, six tees were lengthened and Augusta National was stretched to 7,435 yards. Since that happened, Woods has not won here. The record six green jackets by Nicklaus -- once endangered -- now seems safer, as does his professional major mark of 18, which once also seemed certain to fall.
In the case of the majors in general, Woods, one of the greatest closers in the history of the game, has struggled on the weekends and if you want to hang a name on that malaise it would be since he got Yanged at the 2009 PGA Championship.
That year was the beginning of a stretch Tiger seems to be emerging from this year in which his putter let him down. If Woods had putted in '09 the way he putted in 2000, he could have won the Masters, U.S. Open and PGA.
But on that Sunday at Hazeltine National, it was Y.E. Yang who made the big putts while closing with a 70 to the 75 by Woods, who blew the 54-hole lead in a major for the first time in 15 tries.
Since Yang stripped away the mantle of invincibility from Woods his ability to produce weekend magic has diminished greatly.
Last year was another year in which Woods had an opportunity to win at three different majors. He was tied for the lead after 36 holes at the U.S. Open at Olympic Club and finished T-21 following a dismal 148 on the weekend.
He was three back midway through the British Open and finished four off the lead because of a lackluster 143 over the final 36 holes. And he had a share of the 36-hole lead at the PGA Championship then ended up T-6, five back, with an unimpressive 146 on the weekend.
Yes, Woods is coming into this Masters off two consecutive victories, three in his last five PGA Tour events and six of his last 20. But none of those have been in the major championships.
Could it be that the pressure of chasing Nicklaus is taking a toll on Woods? Perhaps.
But remember, since he limped to that last major at Torrey Pines in the 2008 U.S. Open, Woods has gone through knee surgery, problems with both Achilles, a swing change, a sex scandal, a divorce, the loss of tens of millions in endorsement deals and the adjustment to being a single parent with two children.
A perfect storm of distractions, to say the least, and a torrent of turmoil that would throw anyone off their game. The Woods of recent months seems to be coming out from under that cloud of controversy. He apparently has romance in his life in the person of skier Lindsey Vonn
. And he is winning again.
More importantly, while he struggled closing out wins at the Farmers Insurance Open and the Cadillac Championship, at Bay Hill in the Arnold Palmer Invitational there was that old-time sense of inevitability that Tiger would protect and defend his 54-hole lead. And he did.
But the real proving ground for Woods is the major championships. He set that bar himself years ago in declaring his intention to break the Nicklaus mark for majors. And the Masters is the major that always seemed tailor-made for his power game, as it was for Nicklaus.
If Woods wins here this week, the Nicklaus record is back in play. If he doesn't, the talk will turn to why he has gone five full years without a major and the pressure on him will grow.
All I know is I saw this guy hit some shots at Bay Hill a couple weeks back nearly as memorable as that 2-iron I saw on No. 3 here 18 years ago. We've witnessed the rise and fall of Tiger Woods. This week we will learn a lot about what Act III has in store for us.