News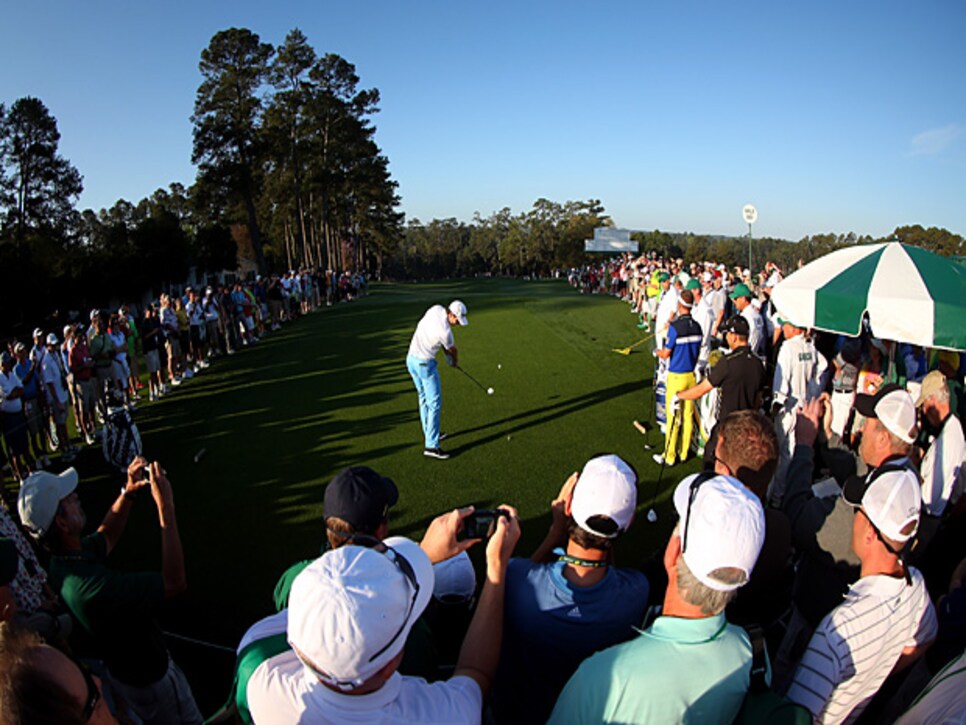 AUGUSTA, Ga. -- "No, no," I said. "You do not want pimento cheese."
"I can't drive a thousand miles to Augusta and not have a pimento cheese sandwich," he said. "It's a 'Tradition Like No Other.'"
Oh, Lord. Pimento cheese AND Jim Nantz. I had fallen in with first-timers. Bob and his wife, Lisa, had driven a thousand miles to Atlanta. They slept four hours, bought a camera at Walmart, drove another hundred miles, paid $20 to park across Washington Road, and walked onto the grounds they'd seen only on television. They had, by the look of them, arrived at heaven's gate.
They loved every pine, every azalea petal, every trinket in the gift shop. Lisa stopped Jim Furyk as he left the eigthth green, said she worked for one of his sponsors, and, "Could we get a picture?" So Furyk posed, smiling. Life on the last practice day before the Masters begins was as fresh and airy as the flowers in bloom under a cloudless sky.
Wait. It is my policy, every April, to warn mankind about pimento cheese. My antipathy for the Augusta delicacy dates to my first bite, taken in Charles Coody's time. I came to think the sandwiches were what happens when Cheese Wiz explodes in the bread aisle. Later, in a moment of culinary clarity, I recognized the taste as wallpaper paste, with a shot of mayonnaise.
"It's really good," Lisa said. "Here, try it."
The Augusta Chronicle scribe, Scott Michaux, has tweeted of a change in the famous sandwich. "Spicier," he said. Then Wright Thompson, gourmand-in-residence at ESPN The Magazine, stopped by my desk this afternoon to say he had a scoop coming -- how the old pimento-cheese maker had refused to pass along his recipe to the new man. (And who doesn't enjoy a nasty pimento-cheese feud?)
So I tried the sandwich offered by Lisa.
"Gmgagh," I said, my tongue rendered momentarily inoperable.
Secretly, I was happy. I want no change here. I want the pimento to be inedible, even spicily inedible. I want to walk onto the grounds after a long, gray winter and walk into a summer of pinks, whites, and greens so vivid they cause a first-timer to ask, as Lisa did along the first fairway, "Is this grass real?"
I want to walk to Magnolia Lane and imagine Arnold Palmer and Winnie coming toward the clubhouse. I want to remember Gene Sarazen on a porch bench and Jack Nicklaus leaving Bear tracks on the 16th green.
There was the year, too, when whacky Mac O'Grady shot his wayh out of contention and explained it uniquely: "It was the biophilia." Loosely translated: the beauty of the place finally undid him. A dragonfly had crossed his line of vision at impact. Biophilia. Yes, we 're all victims of Augusta National's biophilia, some doomed to make triple-bogeys, some given no choice but to write the azaleas, the cathedral of pines, and ... the birds.
Yes, I am here to say, on this soft, summery day, Augusta's birds sang their hearts out. I'd never heard such sweet racket here. Bird sounds on television have long been a fraud, recorded earlier. No need on this day. These birds were in full song. It's possible, and this biophilia victim even likes to believe it's so, that Augusta National imports a few thousand song birds and plants them in treetops.
She'd remember the birds.
"They were beautiful," she said.
On that we agreed. On pimento cheese, we need to talk.