News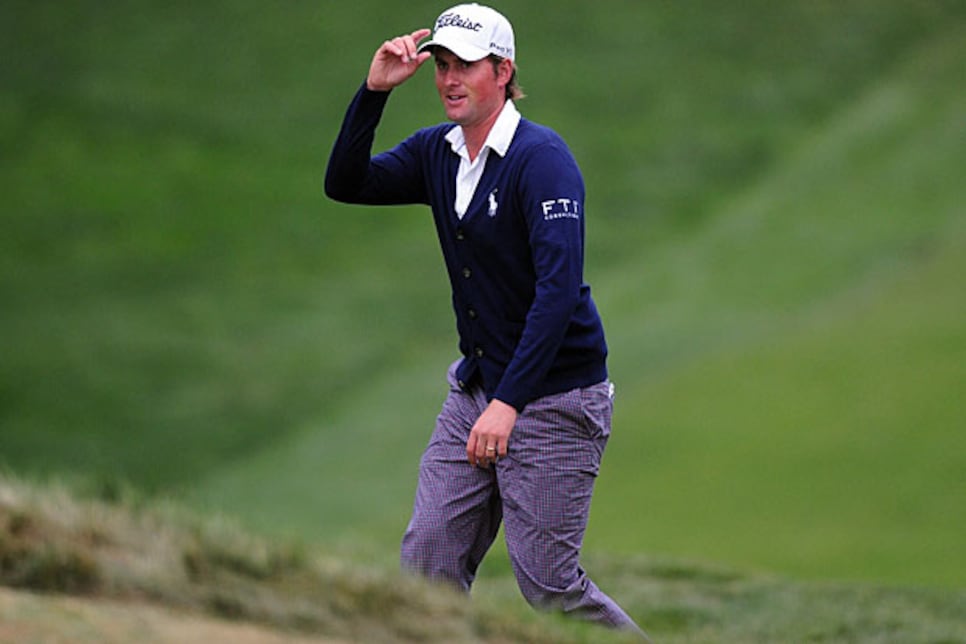 Webb Simpson's U.S. Open win made it nine straight first-time major winners.
When Tiger Woods limped and grimaced his way to a playoff victory over Rocco Mediate in the 2008 U.S. Open then crawled onto an operating table days later, we had no idea how it would change the competitive landscape in golf.
Truly, when it comes to major championships, the last 15 years has had two eras -- When Tiger Was King and Then There Is Now. We are far enough away from the first era to see it more clearly, and deep enough in the second to begin to make sense of it.
Beginning with the 1997 Masters, his first major as a professional, Woods won 14 of the 46 majors played through that 2008 triumph at Torrey Pines. But during that stretch, five others guys also won multiple majors. Four more won once but picked up another title either before Woods started dominating or after.
In retrospect, Woods had much stiffer competition than we thought at the time. We kept waiting for his One True Rival to emerge -- an Arnold Palmer or Tom Watson to challenge Tiger's version of Jack Nicklaus -- but instead he had a rivalry by committee, and an impressive one at that.
Things have been much stranger since Woods went under the knife. Not only has his game dropped off, but so have the games of other top players. Padraig Harrington won the next major -- the 2008 Open Championship -- and followed it with a victory at the PGA Championship. Then things got weird.
Since that '08 PGA, the last 15 majors have been won by 15 different players, with seven of them in their 20s when they won. Of those 15 winners, a dozen have been -- so far -- one-and-out guys, with only Harrington, Angel Cabrera and Phil Mickelson owning multiple majors.
So what are we to make of this? Are we in an era of enormous talent that has created a period of parity, or are we in a void without superstars? Will some -- or even any -- of these young guns who have won majors emerge as consistent winners? Or at least consistent threats?
The 14 majors in 46 tries by Woods is even more amazing when you consider that also winning majors in that timeframe were Mickelson, Cabrera, Harrington, Ernie Els, Vijay Singh, Retief Goosen, Mark O'Meara, Lee Janzen and Payne Stewart -- all multiple major winners.
And then there is now. In the 13 majors since Lucas Glover won the 2009 U.S. Open at Bethpage, the only major winner with more than one major title is Mickelson in the 2010 Masters. It seems as if the Jack Flecks have outnumbered the Billy Caspers.
Following Glover have been Stewart Cink, Y.E. Yang, Graeme McDowell, Louis Oosthiuzen, Martin Kaymer, Charl Schwartzel, Rory McIlroy, Darren Clarke, Keegan Bradley, Bubba Watson and most recently, Webb Simpson at the Olympic Club.
Only a few of those players have emerged as consistent threats since their breakthrough wins. It takes a special kind of player to not be led astray by the spoils of victory. And that is even truer now than it was before Woods helped quadruple prize money on the PGA Tour. It's easier than ever to get rich and lazy.
The distractions that come with winning a major are difficult to juggle: increased media demands, lucrative endorsement opportunities. For some, like Bubba right now, there's also the challenge of trying to balance your professional life with having a family.
Certainly, the high profile and long distance romance McIlroy has with tennis star Caroline Wozniacki appears to be a distraction for both of them. She used to be No. 1 and now no longer is. Same thing with McIlroy.
Is there anyone among the dozen one-time major winners since the 2009 Bethpage U.S. Open who will add more of the important hardware to their trophy case? And is there anyone among the twenty-somethings who has what it takes to be a great player?
Let's put it this way, while it is still early, the early returns on how Kaymer, McIlroy and Bradley have built on their success are mixed, at best. Oosthuizen did lose the Masters in that playoff to Watson while Schwartzel has not done much.
Now that burden of expectation falls on Simpson. He's the newest twenty-something to be The Next Great Thing in Waiting -- replacing Rory, who replaced Kaymer.
Are we in a period as we were in 1986, when we said goodbye to Nicklaus and had to wait a decade for the arrival of Woods? Is the next great player hiding in plain sight, or is it someone not yet even on our radar screen? Could the next great player still be Woods?
What we do know is this: the next great player will come along. He always does. From Vardon to Jones to Hogan, continuing to Palmer to Nicklaus to Woods, greatness always emerges.
Maybe the best thing we can do now is just wait and not rush to proclaim the Next Great Thing -- and embrace and enjoy the confusion. Who's the favorite to win the British Open? Beats the hell out of me, and that's not necessarily a bad thing.