News
Evolving Dimple Technology Puts A Smile On Designers' Faces
Indentations With Intent: Dimples may appear to be straightforward, but their design is often a complicated formula intended to enhance aerodynamics.
For an actor such as Leonardo DiCaprio, dimples are a charming feature that over the years garner attention from adoring fans. But when it comes to golf balls, dimples are far less sexy, although likely more important. How many times have you heard someone say about a golf ball that it's round, it's white and it's dimpled? Such a simplistic view shortchanges one of the most important characteristics of a golf ball.
Years ago, Frank Thomas, then a technical advisor for Golf Digest and the former chief technical director of the USGA, was asked how far a tour player could hit a ball if it had no dimples. Thomas said he had once done the calculation and a perfectly smooth-surfaced ball would go about 130 yards when struck with a 110 mile-per-hour swing speed. Given that the tour average at the time was approximately 285 yards, it's not a stretch to say dimples are worth as much as 155 yards.
The reason for the gap is that a ball with no dimples is akin to a bullet -- it will fly but it doesn't have lift. A dimpled ball creates more spin and climbs into the air more easily because it has lift. But all dimples do not behave alike. According to Thomas, the size, shape, depth, number of, pattern and overall surface coverage of the dimples all influence the ball's aerodynamic lift and drag properties.
What do the Rules of Golf say about dimple design? Not much, actually. In fact, there are only a few formal rules covering dimples, and that has opened the door for some rather unusual dimple patterns as manufacturers worked to make better products and capture the eye of consumers. Remember the Royal Plus Six with its hexagon-shaped dimples? Or the Wilson ProStaff with its "truncated cone" indentations? More recent examples include Wilson's shallow, flat-bottomed dimples and Ben Hogan's "Deep Six" pattern.
There also was the Polara. Hitting the market in 1977, the ball supposedly corrected hooks and slices during flight. The ball had six rows of standard dimples around its equator and shallower dimples around the rest of the ball. Although the ball did not appear to violate any rules, the USGA did not approve it and, in 1980, the association added a rule stating that a ball must be aerodynamically symmetrical. Recently, however, a new version of the Polara has re-entered the marketplace, although the ball is clearly marked as not conforming to USGA rules.
One thing that does conform in all designs is the number of dimples since there are no minimums or maximums. There's also no true standard. Although most fall into the 300- to 450-dimple range, one ball a few years ago claimed to have 1,000.
All of which means that ball designers spend an inordinate amount of time focusing on these indentations. Category-leader Titleist made a dimple change to its Pro V1 and Pro V1x balls for 2011, going away from its ichosahedral-type dimple design it had employed since 1972 in favor of a spherically-tiled, tetrahedral layout that has a different count and a different arrangement of dimples. The intent is to produce a more uniform surface coverage.
"The entire history of dimple development has been one in which we've tried to make the surface of the golf ball more uniform to improve the consistency of the aerodynamic performance," said Bill Morgan, senior VP of golf ball R&D for Titleist. "We think this is a big step."
Morgan is quick to point out that dimples affect trajectory, not spin. "A lot of people confuse the two," said Morgan. "With any particular dimple design, we can have higher or lower trajectory by modifying the dimensions of the dimples in themselves."
That's because dimple patterns are designed to minimize drag (which is the force that opposes the ball's motion) and create lift. In regard to the latter, a rule of thumb is that the larger the total volume of the dimples, the lower the lift. In other words, balls with large or deep dimples are more likely to produce a lower trajectory.
Still, designers continue to seek the holy grail. "Dimple patterns are an area where golf balls will get significantly better in the future," predicted John Rae, vice president of R&D for Cleveland/Srixon. Rae says one potential area of improvement would be to break the relationship between lift and drag and control them independently. The lower drag, he says, would boost distance while lowering lift would benefit a number of areas.
"We would be able to make a ball that spins enough to allow you to stop a 3-iron on a green but doesn't balloon during flight," said Rae. "We also could create golf balls that fly straighter even when a golfer puts heavy slice or hook spin on the ball. With a low-lift design we can give slower swingers more ball speed and not have to deal with the negative effects of too much spin."
For many golfers, that sounds both charming and sexy.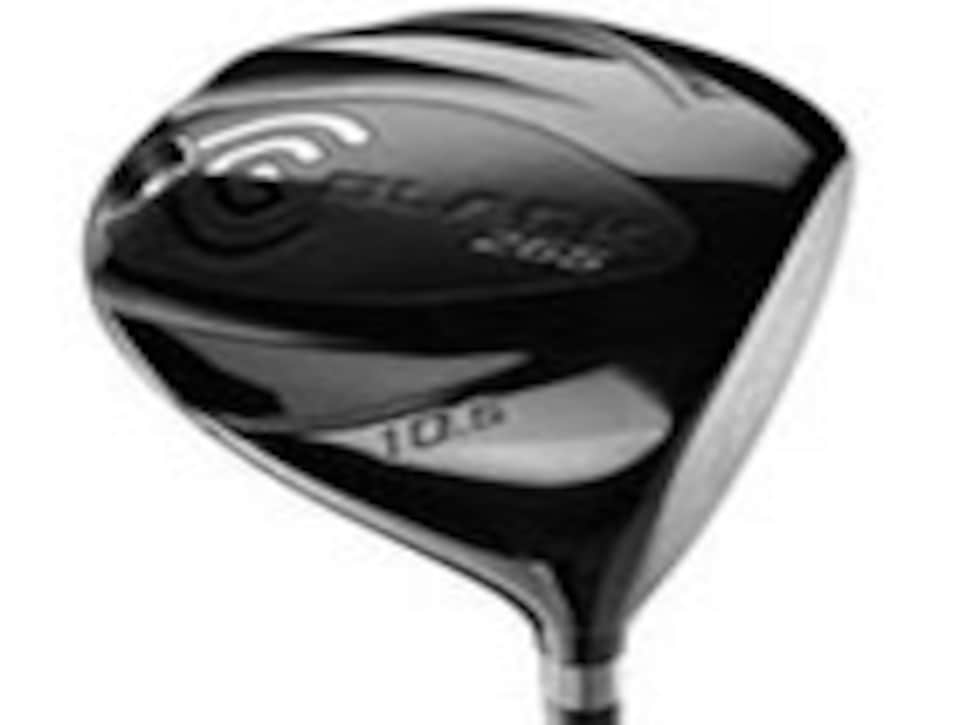 Price: $399 (Lofts: 9, 10.5, 12 degrees)
At 265 grams (thanks to a lightweight Miyazaki shaft and Winn grip) the CG Black is among the lightest drivers available. A new crown design enhances aerodynamics while a variable face thickness reduces weight for more ball speed on mis-hits.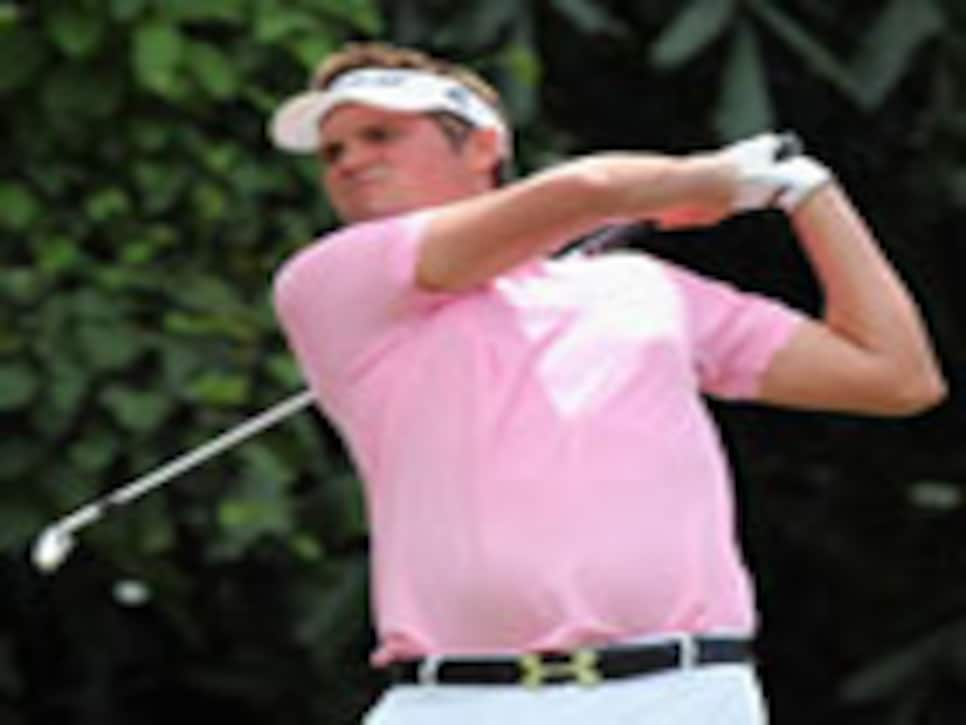 Several players had recent club changes work out for them at the CIMB Asia Pacific Classic Malaysia. Jeff Overton (right), who put Cleveland's new 588 MB irons in play at the McGladrey Classic and finished T-6, also had them in his bag during his runner-up finish in Malaysia... Fredrik Jacobson was among those playing Callaway's new RAZR Fit driver in Malaysia, using an 8.5-degree version of the club to finish third. Stuart Appleby also switched to RAZR Fit (9.5 degrees) and finished T-31... Camilo Villegas used a custom TaylorMade Ghost belly putter this week in the CIMB Asia Pacific Classic. The 42-inch putter has a total weight of 700 grams and has Villegas' regular Florida Gators colors paintfill along with a Colombian flag. Villegas finished T-4, his best finish since a T-3 at the FedEx St. Jude Classic in June... Ryan Moore switched to an Adams F11 driver (8.5 degrees with a Matrix Ozik HD6M3 shaft) but withdrew after three rounds... Ryan Palmer had used an Odyssey Rossie 2 almost exclusively since his college days at Texas A&M but switched two weeks ago to a TaylorMade Ghost 770. Although Palmer liked the shape of the 770, he was reluctant to give up on his trusty putter. He gave the Ghost a try after a first-round 75 at Disney and continued with it in Malaysia where he finished T-7. In the seven rounds since the switch Palmer's stroke average is 67.71.