News
Jim Furyk Finds His Second Wind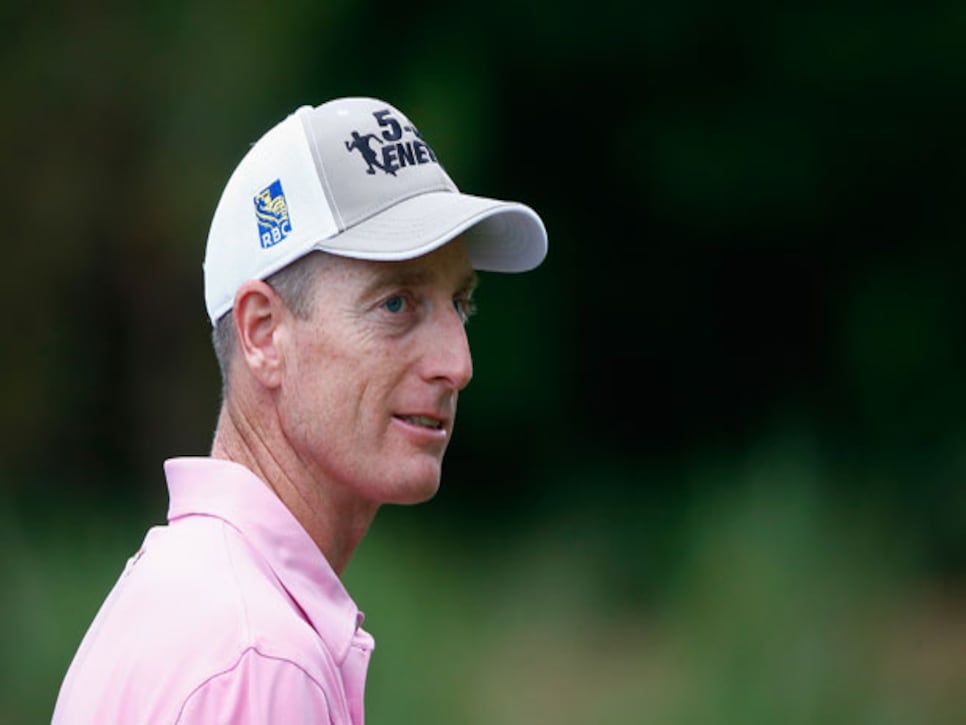 Jim Furyk celebrated his 44th birthday the Monday after the Players Championship by taking the day off. "No surprises," Furyk shared in a text. "Just hung at home with the family. Avoided any work of any kind."
Furyk deserved a day of rest based on the run he's been on, with runner-up finishes at the Wells Fargo Championship and the Players on back-to-back weekends with closing rounds of 65 and 66, respectively. The surprise is that among players in their 40s, Furyk is having the type of season Phil Mickelson or Steve Stricker wish they had going with the U.S. Open approaching in four weeks.
The resurgence is reflected in FedEx Cup standings (10th) and the Ryder Cup points race (5th), as well as the World Ranking, which has Furyk at No. 12 heading into this week's Crowne Plaza Invitational at Colonial. After not making the most recent Ryder Cup (2012) or Presidents Cup (2013) teams for the first time since 1997, Furyk now has one foot on the team plane to Gleneagles.
Furyk has found new life because he is taking more days off, the byproduct of talks he had a year ago with wife Tabitha and sport psychologist Bob Rotella. He hit the wall not during the 2012 season, when he lost the U.S. Open, the WGC-Bridgestone Invitational and a key Ryder Cup singles match against Sergio Garcia, but four months into the 2013 season.
After a 78 on Sunday at Hilton Head, a "burned out" Furyk found himself flashing back to the 1995 season, when he and the veteran Wayne Levi shared second place after the opening round of the Shell Houston Open. "Wayne was talking about how golf is a job. 'It's what I do for a living; it's my occupation,' " Furyk said after his second round at the Players. "I was thinking, 'Man, just shoot me if I ever get to the point where it becomes a job. I might as well quit.' "
Furyk has been stuck on 16 career victories since the 2010 Tour Championship, and there were whispers that perhaps he was through. But instead of quitting, Furyk reevaluated. He tapped into the love he had for golf by watching his children, Tanner and Caleigh, compete in their sports.
"Everything I wanted to do as a kid wrapped around a ball. A baseball, a football, a basketball, whatever season it was," Furyk told me. "I had a glove, a ball, a bat, looking for a pickup game."
Instead of an old 43, Furyk started playing golf again like the kid from the sandlots in Pennsylvania. He led the PGA Championship at Oak Hill after 54 holes before losing to Jason Dufner. He shot 59 in the second round of the BMW Championship and finished third. At the Players the key wasn't the sterling round he shot on Sunday as much as salvaging a 36 on the front nine Thursday when he hit only three greens.
"When things aren't going well, I've been able to kind of keep a peace of mind and a calmness about me," he said. "I've been able to score and get the ball in the hole." That's a young 44 talking.