Golf Is Caroline Hirsch's Off-Broadway Escape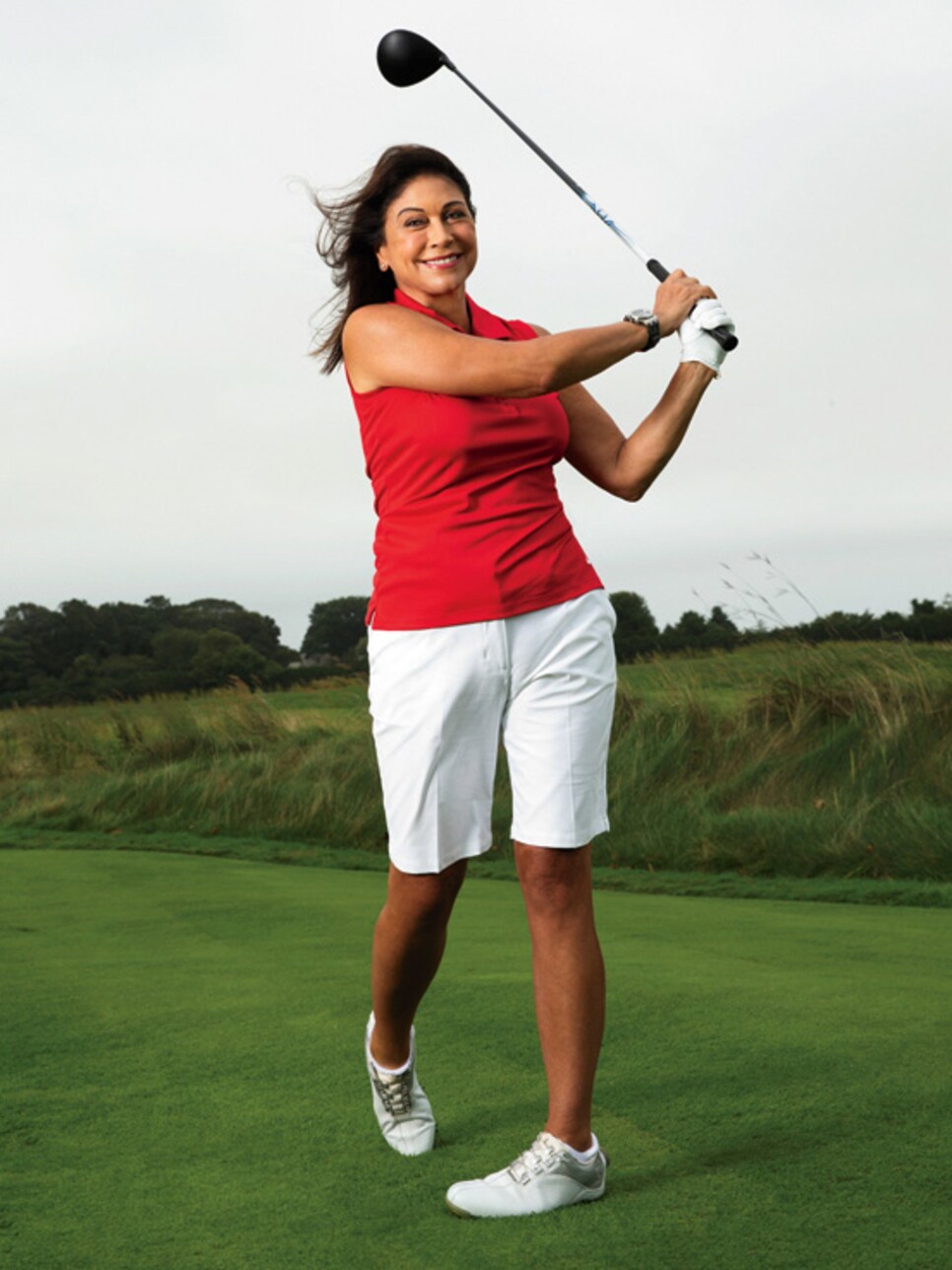 Photo by Walter Iooss Jr.
Caroline Hirsch's business is all about relationships. Her carefully formed connections with agents and comics helped her build Carolines on Broadway into one of New York's top venues for big-name comedy acts—and a launching pad for the careers of Jerry Seinfeld, Bill Maher, Sam Kinison and many more.
Yet this passionate golfer, player of more than 50 rounds a year, isn't looking to strengthen those relationships on the golf course. She's looking to disconnect. "Taking four hours and escaping the stresses of life—that's good for human beings," she says. "It's important to decompress."
Hirsch learned the game in the late 1960s at Brooklyn's Marine Park Golf Course, not far from her home. Nowadays she and her partner, Andrew Fox, have memberships at Noyac Golf Club in Sag Harbor, N.Y., and nearby East Hampton Golf Club. They also belong to Donald Trump's course in West Palm Beach. "The politics this year! Eeeeesh," she says.
Hirsch's usual game is at Noyac. In the summer, she and three women friends tee it up most Saturdays and Sundays at 9:32. These are the first weekend times available to "non-primary" members, a.k.a. spouses or significant others. She's a primary member, and can play when she wants, but not all her friends are. Do those restrictions bother her, a former board member of the Ms. Foundation and part of its "Take Our Daughters to Work" initiative? "I'd like [the rule] to change, and I'm hopeful it will," she says. "Listen, there's a list of things I'd like to change. You pick your battles, I think."
Unlike the comedians on her stage, Hirsch doesn't aim for laughs. She's known as serious and efficient, with a special eye for spotting up-and-coming talent. These are traits that carry onto the course, where she plays quickly and well (16.7 Handicap Index).
She was heading toward a career in retail when in 1981 some "friends who had discos and stuff" convinced her to join them in opening a comedy club. Hirsch bought them out when the friends relocated to Boston. She has moved the club twice, landing near Times Square in 1992.
One thing that makes it different: She books headliners, comics who can deliver an hour or more of material versus the 10- or 15-minute sets by multiple performers you find at other clubs. The first comic she booked was Jay Leno.
Today Hirsch's comedy empire extends to the New York Comedy Festival, a five-day event she founded that puts on shows at six venues throughout the city in early November. It should draw more than 40,000 fans.
She and Fox also created Stand Up for Heroes, an event at Madison Square Garden that features Bruce Springsteen and raises millions for veterans through the Bob Woodruff Foundation. And then she's a producer and underwriter for Stand Up for Madeline, named for the late comic Madeline Kahn, which for 15 years has helped fund ovarian cancer research.
So when the weekend comes and Hirsch hits the golf course, can she really turn off all those distractions? Her friends insist she can—though traces of the weekday Caroline Hirsch are never far away.
"There's only one person who drives the cart: Caroline," says her friend, Brooke Cohen. "It's totally a control thing."
5 COMEDY GIMMES
Don't miss these standouts at this year's New York Comedy Festival, says Caroline Hirsch
▶ Eric Andre
An outrageously hilarious and original performer. His Adult Swim show is a must-see.
▶ Bridget Everett
A staple of the New York comedy and cabaret scene. Bold, brash and fearless.
▶ Michael Che
Smart with a razor-sharp wit. Brings edge to the "Weekend Update" segment on "Saturday Night Live."
▶ Hari Kondabolu
A great writer and gifted performer. A very smart, insightful comedian.
▶ Cameron Esposito
Brave and bright. Great material on LGBT issues that's delivered in a bold and honest way.