News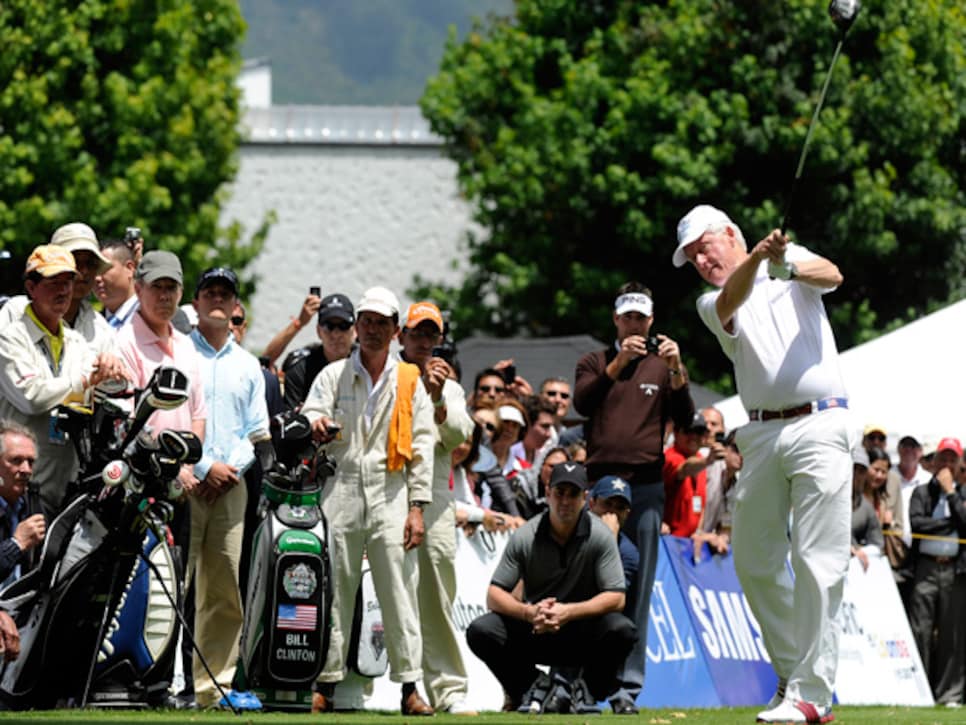 Clinton combines his passion for golf and fitness at the PGA Tour's Palm Springs stop.
LA QUINTA, Calif. -- There was a point Tuesday afternoon when the true importance of the changes in the Humana Challenge hit home. Humana, the health benefits provider, and the William J. Clinton Foundation not only saved what was the Bob Hope Desert Classic, they are busy working with a variety of organizations to save lives. The question is this: Why aren't more players supporting it?
OK, you can make a case for Rory McIlroy, Justin Rose and Ernie Els being in Abu Dhabi for the HSBC Championship. They are trying to meet the minimum membership requirements on both the PGA Tour and the European Tour. But still, this might be an event they want to consider down the road.
And for the pure PGA Tour members -- like Tiger Woods and Jason Dufner -- the snub is a little more baffling. Yes, there is appearance money in the Middle East, but can it make up for the goodwill earned by supporting an extremely worthy tournament? Can it be more important than the good work of the Humana Challenge?
Former President Clinton gave the opening remarks at the Health Matters conference at the La Quinta Resort and Spa on Tuesday. And the sessions that followed were entitled Health Transformation, Access to Healthy Lifestyles, Healthy Communities and Living Healthy before Clinton closed the gathering. The participants were informative and determined.
But it was a painfully personal presentation on Mental Health & Addictions that silenced the 400 people in attendance for the late-day session. This was one segment those players who skipped the Humana should be made to watch on DVD.
Gary Mendell, the chairman of HEI Hotels & Resorts, told how his son, Brian, committed suicide in October 2011 at the age of 25 after years of battling addictions and after 13 months of sobriety in which he still could not find happiness. Watching a father talk about the hanging death of his son was one of the most powerful things I have seen.
"He died of a disease that is preventable, but is not prevented," Mendell said, his voice cracking with emotion. "Addiction is a disease that claims 135,000 lives each year and affects 20 million Americans. We will work tirelessly, in the spirit of loved ones lost and of those we can still help. That is the promise I have made."
to raise money and awareness for the issue. It is with these kinds of organizations that the Clinton Foundation and Humana have partnered to get out the message of healthy lifestyle choices and to set up concrete programs to tackle those problems.
Also on that panel was Vinod Gupta, managing general partner of Everest Financial and a longtime friend of Clinton. Gupta's son failed to wake up one morning after mixing Oxycontin and alcohol. The message from all seven on the panel, including Sen. Chris Murphy (D-Conn.), whose former House seat included Newtown, Conn., was that mental illness and substance abuse are public health issues of the highest order.
In the second year of an eight-year deal with the PGA Tour, it became clear that using this tournament as a platform to advocate for healthy lifestyles is more than mere words. And what began last year with a Health Matters summit and a tournament was much more than a pep rally. Things got done.
Former President Clinton announced Tuesday that 31 individuals and organizations have pledged $100 million for a variety of community-based projects to bring the healthy living messages to as wide of an audience as possible. Among that money is a pledge by the PGA Tour to fund a coordinator between the Clinton Foundation and deserving neighborhood organizations.
"This is the single-most important tournament on tour," nine-time major championship winner Gary Player said Wednesday at PGA West, where the Humana Challenge is played on the Palmer and Nicklaus Course, as well as at nearby La Quinta CC. "If I was a professional golfer, I would make it my business to play here this week because you are helping get a message through to a country that really needs the message."
Player, who is beginning his 60th year as a professional golfer, described his endorsement deal with Humana as "the most important contract I have ever had." A fitness nut who brought exercise to the tour 40 years before Woods and Annika Sorenstam made it Standard Operating Procedure, has in Humana a business partner who believes what he believes
"This country has an obesity problem, and tournaments like this make people aware, " said Player, who says he has been exercising for 68 of his 77 years and that he awoke Tuesday morning at 5:30 to do 1,000 sit-ups before the Health Matters conference.
The changes in the format -- from five rounds to four, four courses to three and three amateurs per day to two with none on Sunday -- as well as the tireless work by Clinton has breathed new life into an event that not long ago had none of the top 36 players in the world, but this year has nine of the 30 who competed in last year's Tour Championship.
In Brandt Snedeker, the FedEx Cup winner, Phil Mickelson, Zach Johnson, Webb Simpson and Matt Kuchar the Humana has five U.S. Ryder Cup team members. Bo Van Pelt, Robert Garrigus, Carl Pettersson and John Senden are the other Tour Championship contestants in the field.
But it could be better. Masters champion Bubba Watson, Hunter Mahan and Keegan Bradley are top-10 FedEx Cup players from 2012 who are playing in neither Abu Dhabi nor La Quinta this week. They should be here. And guys, it's for your own sake. You'd be serving a worthy cause and believe me, you'd have a ball. The energy Clinton brings to the event is off the charts.
In May, Sports Business Journal named the Humana Challenge the 2012 Event of the Year over Super Bowl XLVI, the 2011 NBA Finals, the 2011 Carrier Classic and UFC 129. That's a heady group of events for a golf tournament to beat out.
Clearly, the Sports Business Journal got it. They understand the importance of the Humana Challenge and the potential role it could play in dealing with issues like obesity, cancer, heart disease, diabetes, mental illness and addiction.
Now, more PGA tour players need to get it. This is an event that not only deserves to be supported, it demands to be supported. As Gary Player said, this event is about more than golf. And no sport gives back to society better than golf.
See you in the desert next year Tiger, Dufs and maybe even Rory, Rosie, Luke and Ernie -- the desert in California, not the one in Abu Dhabi. The Humana Challenge is on a ride you don't want to miss -- a journey to a healthier way of living that will literally save lives.