The Loop
Golf has had its share of 'Super Bowl duds'
After two weeks of hype, the Seattle Seahawks' 43-8 win over the Denver Broncos in Super Bowl XLVIII had about as much drama as an episode of Seinfeld. But that's how sports work sometimes, and golf is no different. We look back at recent editions of the four major championships that wound up fizzling.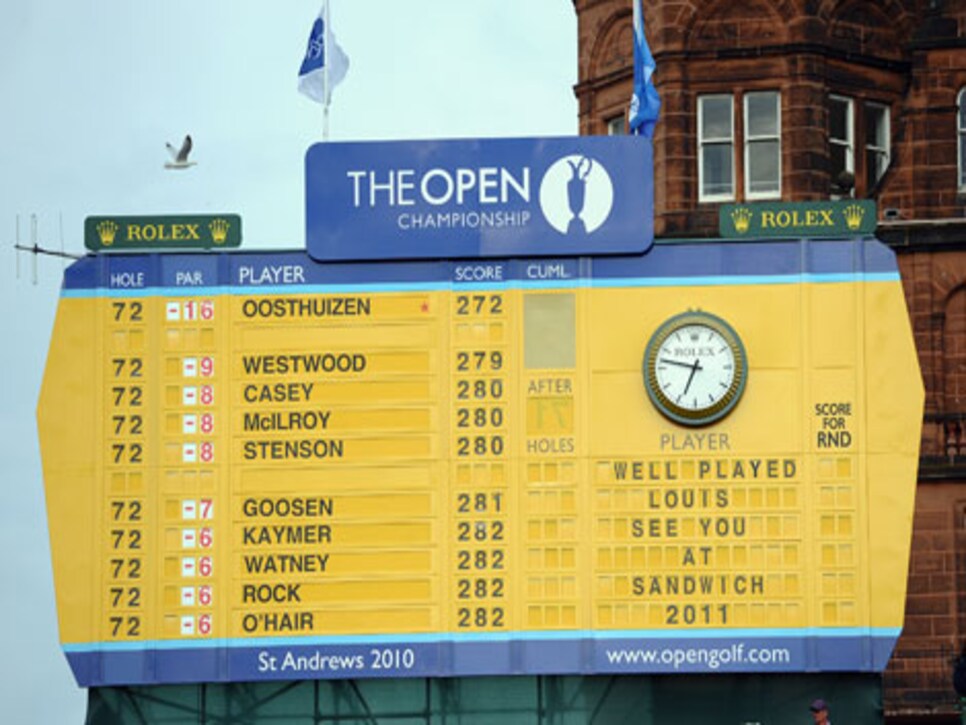 Tournament: 2003 U.S. Open
Redeeming compelling storyline: Jim Furyk captured his elusive first major championship.
Why it was a letdown: To begin with, Olympia Fields didn't exactly draw rave reviews from fans and players. The competition wasn't memorable, either. Furyk was never seriously challenged, beginning and ending Sunday with a three-shot cushion. Don't remember who finished runner-up? That's probably because it was journeyman Australian Stephen Leaney, who rounded out the day's final pairing. Not exactly must-see TV.
Tournament: 2003 PGA Championship
Redeeming compelling storyline: Shaun Micheel's 7-iron approach on the Oak Hill's final hole was one of the best clutch shots in golf history.
Why it was a letdown: Micheel hit the shot. To wrap up a win over Chad Campbell (and in truth, Micheel didn't even need to birdie the final hole since a par would have sufficed). The 2003 PGA remains Micheel's lone PGA Tour title and Campbell, considered a future star at the time, has had a decent but rather ordinary tour career.
Redeeming compelling storyline: Tiger Woods finished runner-up. Technically.
Why it was a letdown: Fans look forward to seeing big back-nine charges at Augusta National, but this time there were none -- not that it was all the fault of big names like Woods lurking on the leader board. Instead, the course played unusually difficult on Sunday, with a 74.67 scoring average that muffled the patrons' roars. Third-round leader Trevor Immelman only managed a 75, but he increased his lead for a three-shot win.
Tournament: 2010 British Open
Redeeming compelling storyline: The world learned about the beautiful golf swing of Louis Oosthuizen, even if it still can't correctly pronounce his name.
Why it was a letdown: The Open Championships at St. Andrews always arrive with more fanfare, but unfortunately, this one also brought with it exceptionally high winds for second round, which was delayed for more than an hour. Rory McIlroy followed up a Thursday 63 with an 80, but Oosthuizen, not exactly a household name at that point, took advantage of an early tee time, played well, and opened up a five-shot lead. Fans of the South African were delighted, but it sucked any excitement out of the tournament for the weekend. Saturday and Sunday were essentially a coronation as Oosthuizen cruised to a seven-shot victory.
During ESPN's broadcast of Oosthuizen's romp, Paul Azinger said he hoped viewers were not "bored to death by the blowout," and Mike Tirico, upon seeing a shot of the town, remarked "the bus on the right is the only thing making a move." Ouch. At least Super Bowl viewers had the commercials to fall back on.