News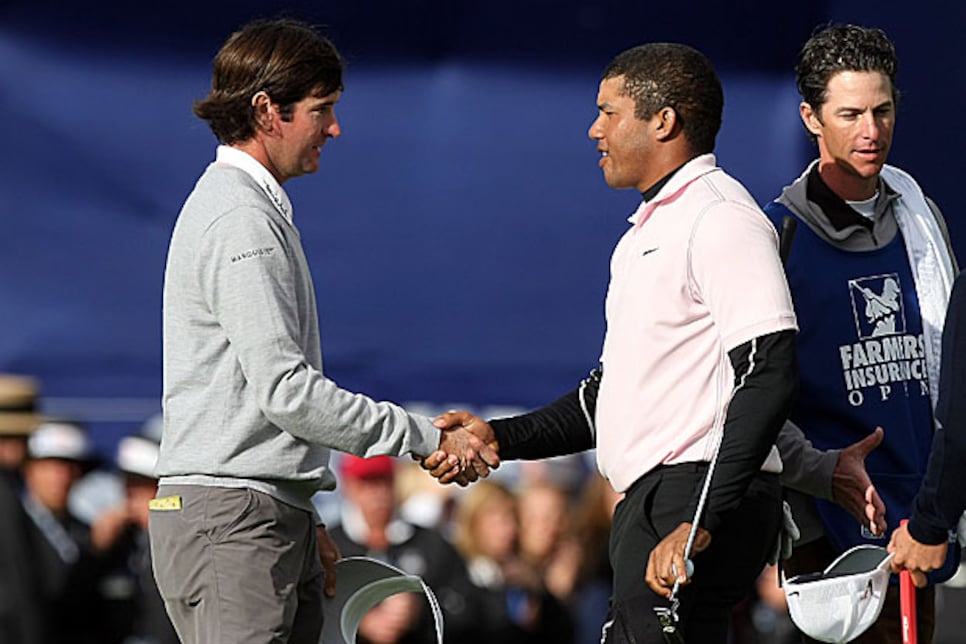 Don't be surprised to see these two heavy hitters back in contention this week.
Welcome to another edition of Fantasy Fix, where we have an odd hankering to go out and buy a pink-shafted driver. After a thrilling week at Torrey Pines, the 2011 PGA Tour season feels fully underway. Unfortunately, most of the world won't even know a tournament is going on this week with that big game happening in Dallas. That doesn't make it any less important for your fantasy teams, though, so let's get down to business.
The PGA Tour heads to TPC Scottsdale for the always exciting, but unfortunately-named Waste Management Phoenix Open. This year, the tournament will have a particularly strong field with the top 19 players from the Farmers Insurance Open planning to tee it up. It's also the site of the famous stadium par-3 16th hole, where approximately 20,000 screaming fans, many heavily imbibed, do their best to imitate the atmosphere of a college football game. Here's a 360-degree look at the action
from last year. Try not to waste your entire day looking for attractive women in the crowd.
Random tournament fact: Aaron Baddeley, the winner here in 2007, is still a member of the PGA Tour.
Hunter Mahan. It was here last year where Mahan finally earned a second career PGA Tour, helping propel him to the best season of his young career. Now he returns off a terrific showing at Torrey Pines. Despite coming up short on Sunday, including a topped shot on No. 1, Mahan seemed very jovial throughout the round. I guess that's the effect of marrying a former Dallas Cowboys cheerleader just two weeks prior.
Phil Mickelson: I've done an about face on this guy since last week after the show he put on at Torrey Pines. Mickelson has missed the cut two of last four times in this event, but he is a two-time winner here and seems to have a lot of energy (Gotta be the meat!) and confidence to start the year. I mean, he had his caddie tend the flagstick from 80 yards out, for crying out loud!
Jhonny Vegas. You never walk away from a hot craps table and you should heed the same advice for a Venezuelan golfer on a roll. The long hitter should love the wider landing areas at TPC Scottsdale, much like two-time champion J.B. Holmes.
Bubba Watson. Could he suffer a letdown after the biggest victory of his life? Yes. Could he also make it back-to-back wins? Yes. Watson will be swinging out of his shoes on tee shots all week. If he can putt anywhere near like he did onthe firm greens at Torrey Pines, he'll be right back in contention.
Bill Haas. Sunday at Torrey was a disappointing day for the former Demon Deacon, but he still enters this week with five consecutive top-10 finishes. While he has one top 10 at this event, he hasn't played the weekend in his other three tries. To show some discipline and to prove I can be at least somewhat impartial, I will advise you to pass on using Haas this week (Side note: I think my boss just fainted out of shock).
GIVING INTO THE HYPE PICK (CONTINUED)
Rickie Fowler. Fowler played well at Torrey Pines until he put on his orange clown suit over the weekend. Oops. Since he's technically now a Golf Digest colleague
, my rips will be reserved only for when he misses lunch in the cafeteria. He did draw criticism at this event last year from many other people, however, when he laid up on the par-5 15th in final round and only made par. Still, you can't overlook the fact he finished runner-up to Mahan by a shot in his first go-round here as a pro.
NOT GIVING INTO THE HYPE PICK
Anthony Kim. T-30, T-24 and two MCs. AK is coming off a great week, but his distance is still down as he continues to comeback from the thumb injury that cost him much of last season. With a driving distance average of 284.8 yards, Kim ranks just 104th on the PGA Tour. In his first four years before the injury, Kim was one of the tour's longest hitters, averaging more than 300 yards off the tee. Also, he's only managed a T-24, T-30 and two MCs in four trips to Scottsdale, so I'd rather use him in a spot where he has a better track record.
"Hey Alex, thanks for constantly reminding me that I've never won a PGA Tour event. I use it as motivation. Really look forward to working with you, Rickie Fowler."
OK, so Fowler didn't really say that and I don't exactly expect to be chatting with our newest playing editor around the water cooler. Seriously, though, please feel free to e-mail me with comments, questions or just to make fun of my picks. And of course, you can follow me on Twitter
WOULDN'T TOUCH WITH AN EXTRA-LONG FLAGSTICK
Justin Leonard. This is a bomber-friendly course and Leonard is certainly no bomber. Not surprisingly, he's missed the cut here three of the last four years.
Davis Love III: In 14 career times playing this event, Love has been a dud with only has three top 25s and one top 10. Plus, he's got other things on his mind now that he's been named the U.S. Ryder Cup captain for 2012. Time is ticking on trying to figure out the rainsuit situation. Speaking of Love, the PGA Tour had him miked during the first round at Torrey Pines. Yawn. What bundle of excitement will they supply wiith a microphone this week? Lucas Glover?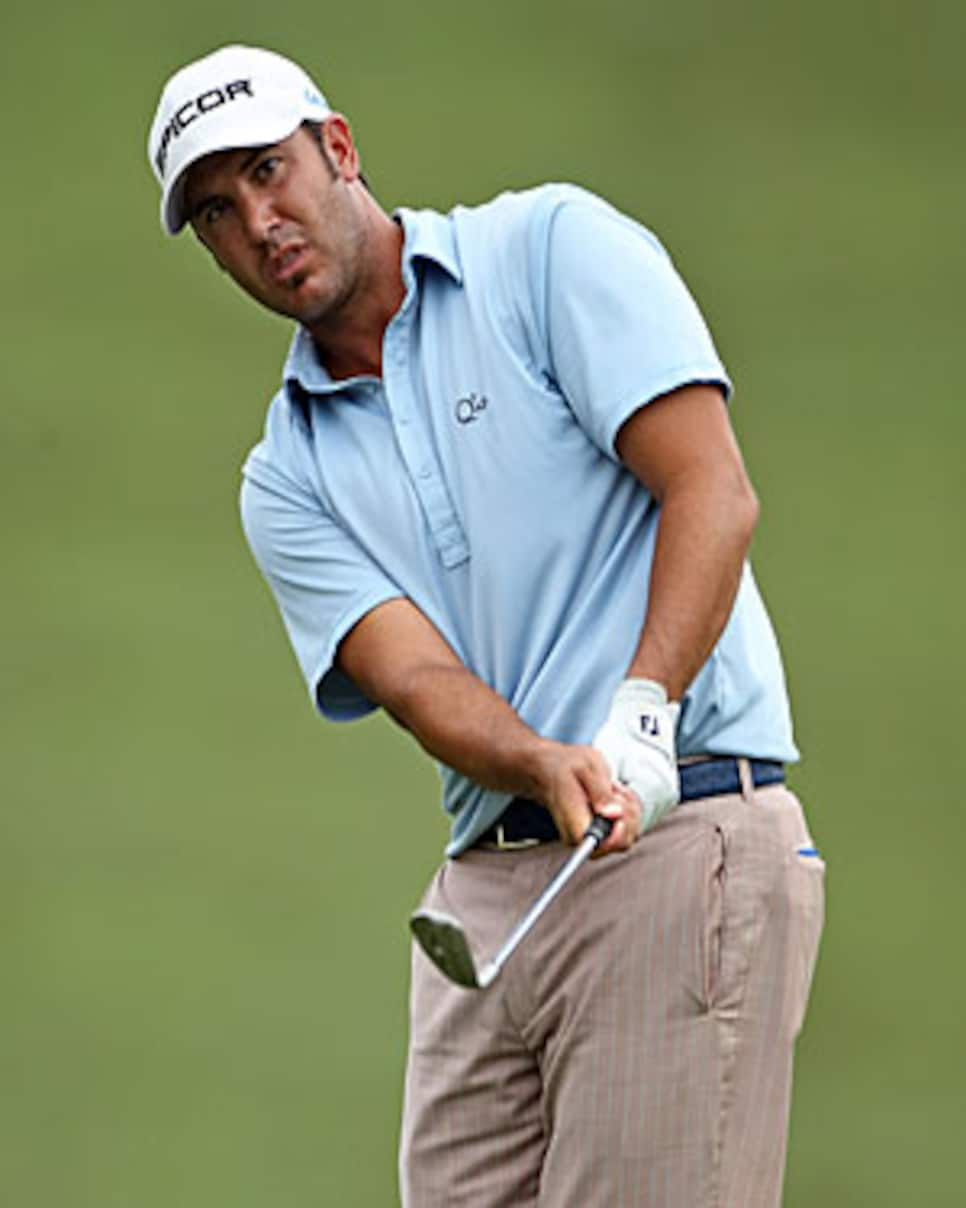 not see another picture of him again.
DON'T BE SURPRISED TO SEE THIS GUY WIN
coming into this year, Na has three top fives in five trips, including a runner-up in 2005. It's amazing to think that six years later, he's still looking for his first win. In our first Fantasy Fix guarantee of the year, though, we say he will claim that elusive title at some point in 2011. Maybe this is the week.
FREE FANTASY BASKETBALL ADVICE
Pacers President Larry Bird said the firing of head coach Jim O'Brien and the promotion of assistant Frank Vogel should mean more playing time for young players like Tyler Hansbrough and Paul George. That means they could be worth a look, especially once Indiana is eliminated from playoff contention. Hey, when Larry Legend speaks, you should listen.
Y.E. Yang and Ryan Moore. Yang fired a final-round 65 a year ago to finish solo third in his first trip to the Arizona desert. Meanwhile, Moore has posted T-6 and T-14 the past two years, despite a disastrous 74 in 2010's third round. The dapper dresser withdrew from his only event this year due to the flu, but he should be good to go after two weeks of rest and chicken noodle soup.
SKINNIEST PLAYER WHO COULD WIN
Charles Howell III. Howell is pretty much a lock in this category every week, but we like him more at a tournament where he has missed the cut just once in nine appearances. He also has five top 25s, including a T-4 last year and he's off to a solid start in the 2011 season with two straight top 15s.
GUY YOU'VE PROBABLY NEVER HEARD OF WHO COULD WIN
Scott Piercy. In three trips to Scottsdale, the journeyman has a T-15, T-6 and a T-8 last year. Unfortunately for him, there weren't enough finishes like that for him to keep his PGA Tour card, but now he's back in his beloved land of cacti. In each of the past two years, he's been lapped on Sunday by failing to break par. Perhaps a third time will be the charm.
THE THESE-GUYS-ARE-SO-GOOD-IT-MAKES-ME-SICK AWARD
I could easily go with Bubba's 370-yard power fades or Phil's ability to pace off 113-yard shots to the number, but instead I'll highlight Miguel Angel Jimenez. In between smoking a cigar and downing pints of Guiness, the Spaniard broke his putter in a rare fit of anger. Of course, golf's coolest customer then responded by birdieing three-straight holes by putting with his lob wedge. Seriously, it's getting tougher to watch these guys without developing an inferiority complex about my own game.
You've heard or will hear a prediction from everyone else, so why not me? I'm taking the Packers. Ohhh, you want a score too? Getting a little greedy are we? Fine, I'll cave. 27-24. You can thank me later.
*-- Alex Myers is a contributing editor for GolfDigest.com. Feel free to email him
since he has self-esteem issues.*