News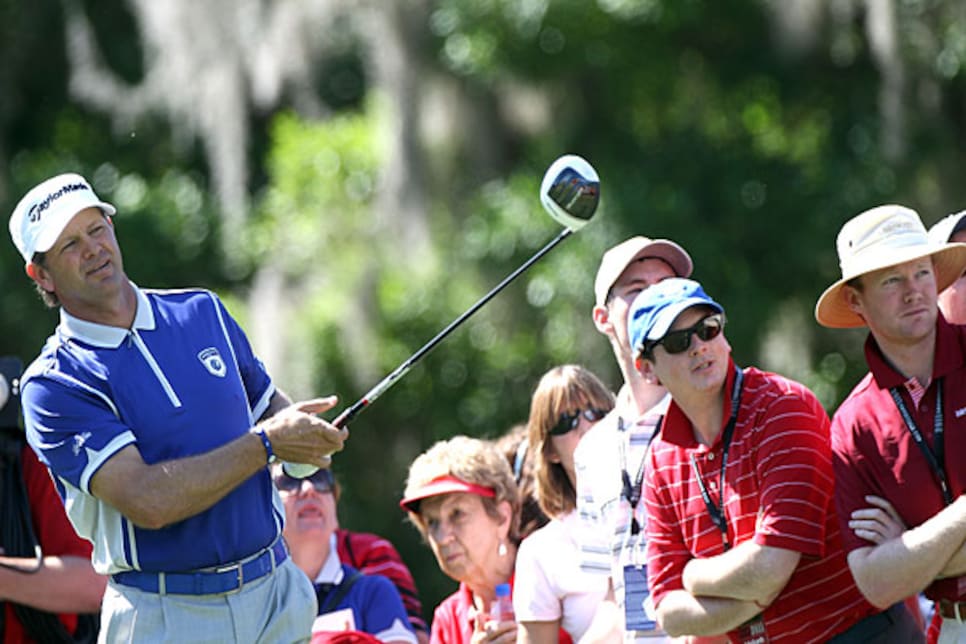 It's tough to overlook Retief Goosen's stellar Tavistock Cup performance. OK, so that's a lie.
Welcome to another edition of Fantasy Fix, where we're not afraid to pat ourselves on the back. Last week we guaranteed a winner and we came through. Not only did we pick Nick Watney to win
at Doral, we also predicted a final-round 66 for Tiger Woods. As a colleague advised, we better brag about it because it will probably never happen again. So in the words of Jeff Overton, "Boom, baby!" Why stop there, though? We've still got plenty of golf left on the schedule, so let's see if we can keep rolling.
The PGA Tour continues its Florida swing in Tampa with one of the more appropriately-titled (albeit unintentional) events of the season. The Transitions Championship will be played at Innisbrook and in a way, it is exactly what it suggests it is -- a transition between more marquee tournaments at Doral and Bay Hill.
Random tournament fact: Trevor Immelman and Kenny Perry are sponsored by Transitions. They are featured in a commercial where Immelman is grilling burgers and the 50-year-old Perry goes out "on the town" by playing billiards. For some reason, I always find this amusing.
Jim Furyk won here last year despite nearly shanking a ball off NBC on-course reporter Roger Maltbie during the final hole. He would make an ugly bogey to hold off K.J. Choi by a shot. I remember being in a Las Vegas sportsbook at the time wondering what kind of odds I could have gotten on that happening. But I digress... Furyk has a missed cut and a T-52 in his only other two appearances and he has been uncharacteristically bad in 2011. He's missed the cut in two of three full-field events and is only 74th in the FedEx Cup standings. In other words, don't bet on him repeating.
Nick Watney. Duh. You thought I would abandon my man after he came through for me last week? I don't think so. Here's a list of Watney's 2011 finishes so far in order: T-6, T-5, T-6, T-9, win. He has also made the cut all five times here, improving each year, including a solo fourth last year. (side note: It's time to give Watney a nickname. Since I can't think of anything creative and since his last name begins with a "W" and he's coming off a "W," we'll simply go with "Dubs" for the time being. If you have any better suggestions, operators are standing by)
FORMER CHAMPIONS READY TO GET BACK ON TRACK
K.J. Choi. A 2002 and 2006 winner here, Choi also finished solo second last year and T-6 in 2007. Simply put, it's time for the "Tank" to start rolling in 2011.
Retief Goosen. The Goose is also a two-time winner of this event (2003 and 2009), but so far this year, he's been in spring training mode like the nearby Major League Baseball teams. Speaking of exhibitions, he looked really strong at the Tavistock Cup.
"Hey, Alex. Just wanted to thank you for picking me to win last week. It's what I needed to get over the hump. Keep up the good work. Your friend, Nick Watney."
You got it, "Dubs." Keep up the good work yourself. OK, so Watney really didn't write me, but he didn't have to. We connect on a deeper level. Seriously, though, please feel free to e-mail me with comments, questions or just to make fun of my picks. And of course, you can follow me on Twitter
THEY'RE NOT DONE YET! VETERANS TO WATCH OUT FOR
Vijay Singh. The 2004 champion and a runner-up in 2003, Singh oddly hasn't played here since 2007. As we (semi) boldly predicted in an earlier column, though, he will win again on the PGA Tour. Perhaps this is the week.
Stephen Ames. The Canadian has never missed a cut in seven starts at Innisbrook. He had his best finish here last year with a T-6 and is also coming off a T-3 in Puerto Rico, where he fired a final-round 65.
Stewart Cink. It's been a rough go for the 2009 British Open champion. So much so that he's been banished to opposite-field events located near the equator. Still only 37, maybe Cink can turn it around at a course where he has a pretty decent record, including a T-2 in 2008 and a T-3 in 2005. One way or another, though, we'll hear about it on Twitter.
ODDEST TRANSITIONS TRACK RECORD
Sean O'Hair. Amazingly, O'Hair has sandwiched four missed cuts around a victory here in 2008. Like another famous Sean Foley pupil, O'Hair has been struggling of late. Stay away.
First off, more than in any other year, don't be afraid to pick upsets in the NCAA tournament. Like the WGC-Accenture Match Play Championship, anyone can beat anyone on any given day. Unless you're talking about Kansas. I like the Morris twins to lead the Jayhawks to a second title in four years. Of course, I predicted them to win it all last year as well... Oh, you want a Final Four? Fine. Kansas, Pitt, Texas and Washington, with the Jayhawks beating the Longhorns in a rematch of the Big XII championship game.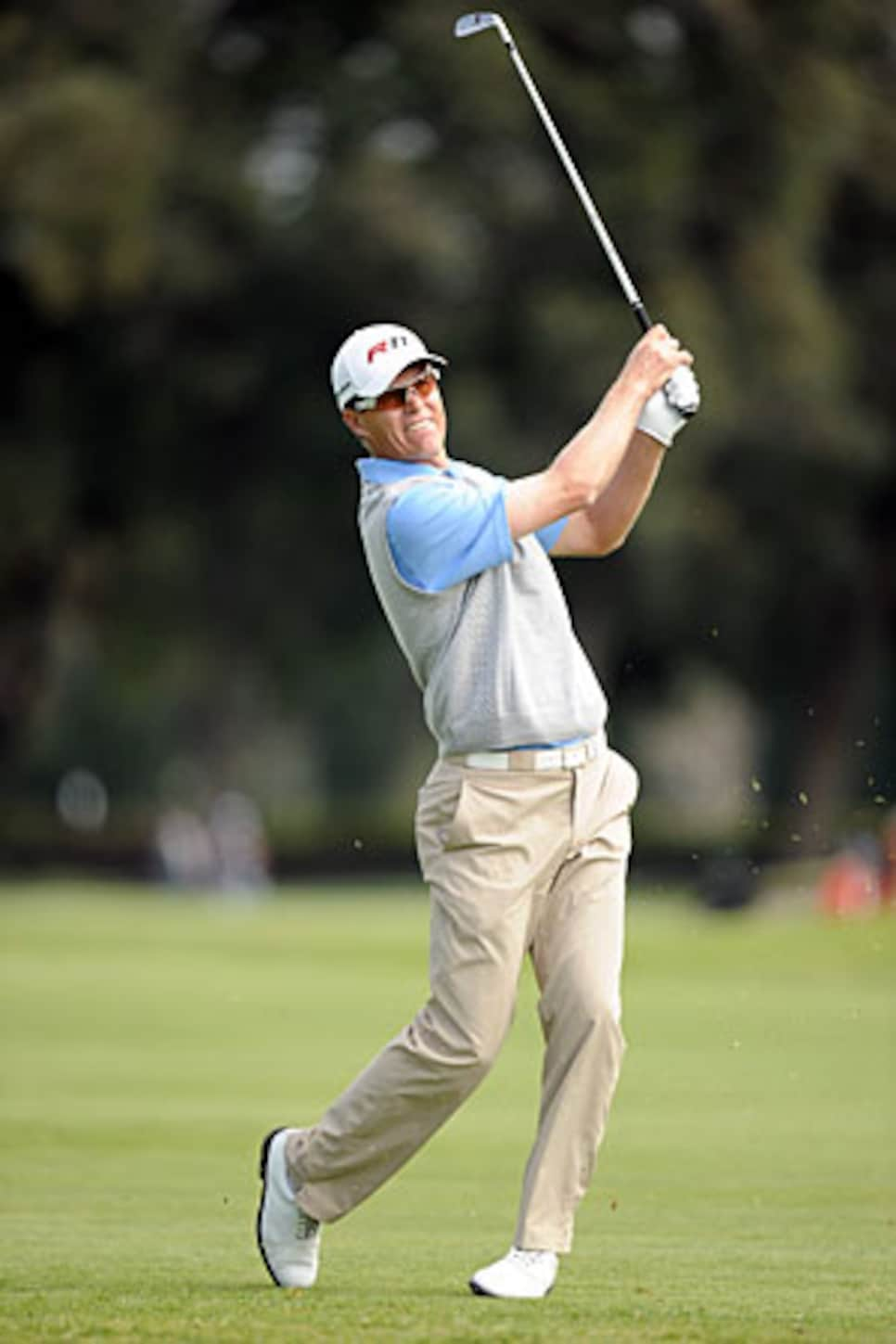 to be a really good ball-striker.
John Senden. A two-time runner-up in this event, both close calls came when the tournament was named the PODS Championship. But something tells us he should still be able to perform at Innisbrook under a different tournament sponsor. Also, Golf World Senior Writer Tim Rosaforte ran into the Aussie at a Chipotle Monday night and thinks he is due for a win. Maybe he'll be eating a celebratory burrito come Sunday night.
OBLIGATORY ST. PATRICK'S DAY PICK
Padraig Harrington. Any question we were going with Paddy in this spot? Any question he'll be wearing green on Thursday? There's actually good reason to pick Harrington this week, though, other than his Irish roots. The three-time major winner is coming off a a T-10 at Doral and he finished T-8 last year in his first-ever appearance in this event.
WOULDN'T TOUCH WITH AN EXTRA-LONG FLAGSTICK
Sergio Garcia. He's back! OK, so it's not like we've been counting down the days until El Nino made his return to the PGA Tour, but it's still nice to see the once-promising player still makes time for a little golf every now and then. Plus, he needs to start playing if he ever wants to re-up his deal with Michelob Ultra.
*-- Alex Myers is a contributing editor for GolfDigest.com. Feel free to e-mail him
) since he has self-esteem issues.*