News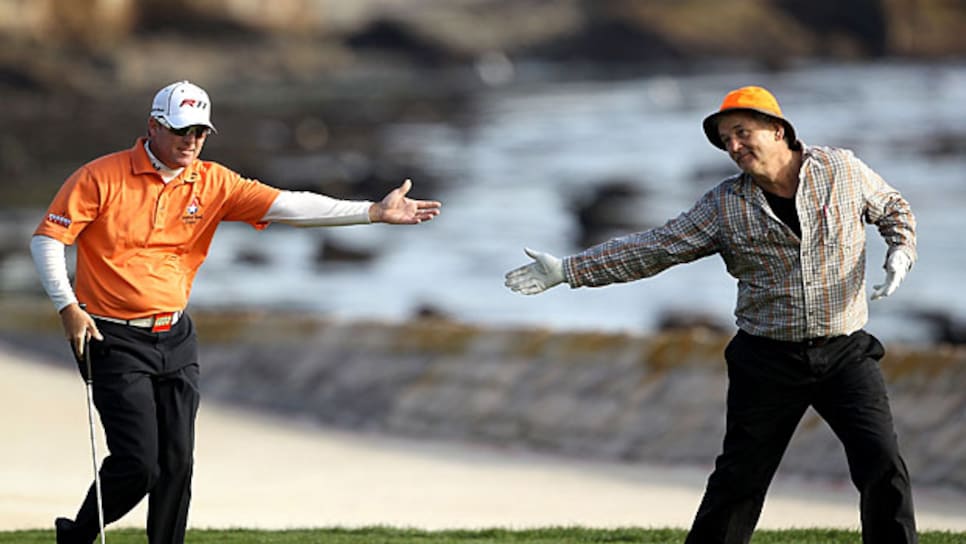 Who made up the rule that golfers can't look cool?
Welcome to another edition of Fantasy Fix, where our one wish is that golfers could look a little less awkward when they celebrate. Seeing D.A. Points and Bill Murray win at Pebble Beach was fun, but that attempted chest bump in the 14th fairway turned golf's cool factor down a few notches. Who will be clumsily jumping for joy this week? Read on to hear our thoughts.
The PGA Tour makes a final winter stop in California for the Northern Trust Open. While the event won't feature the plethora of celebrities or breathtaking ocean views of Pebble Beach, it does have Riviera Country Club. Hey, if Ben Hogan picks you as one of his favorite courses, you know you're doing something right. Despite the absence of a certain hometown boy with 14 major championships and the early-week withdrawal of Ernie Els and Nick Watney, viewers will be treated to a very strong field. On the down side, they probably will also be treated to constant Hollywood-related attempts at humor by Jim Nantz.
Random tournament fact: This is the only tournament that Woods has regularly played in (10 appearances as a pro) that he hasn't won. As a result, he hasn't regularly played there since 2005.
Steve Stricker: The Strick Show hasn't played much this year, but it's tough to argue against a guy who is the reigning champ and who also finished runner-up the year before. In total he has an impressive streak of nine straight rounds under par at Riviera. We wouldn't mind seeing him wind up with the trophy again this week. After all, it's been too long since we've seen a grown man cry.
Hunter Mahan. We didn't know what to expect after he returned from his wedding and honeymoon, but Mahan has been on fire with a T-6 at Torrey Pines and a runner-up at Pebble. Surprisingly, he doesn't have much success historically at Riviera, but his hot hand is too much to overlook.
NOT SURPRISING RIVIERA SUCCESS STORY
Luke Donald. It makes perfect sense that one of the best ball-strikers in the world always seems to play well on what has always been regarded as a ball-striker's course (see the Hogan comment above). Donald has never won (let's be honest, he hasn't won much anywhere), but he has a second, a T-3 and five top 15s in his last six starts at Riviera.
SURPRISING RIVIERA SUCCESS STORY
J.B. Holmes. The bomber isn't the prototypical player you would expect to do well on a strategic course like Riviera, but he has succeeded nevertheless. A T-7 in 2008, a T-6 in 2009 and a T-3 last year seem to have him closing in on a first win at a course other than TPC Scottsdale. A good week at Pebble won't hurt the confidence, either.
"Hey Alex, thanks for mocking me a couple weeks ago. It really motivated me to play better the last couple weeks. Sincerely, Aaron Baddeley."
Glad to help, Aaron, especially if you being back in contention means the TV cameras showing more shots of your lovely wife, Richelle, in the gallery. Seriously, though, please feel free to e-mail me with comments, questions or just to make fun of my picks. And of course, you can follow me on Twitter
Andres Romero. A Fantasy Fix favorite, Romero's best finishes on the PGA Tour in each of the past two years have come right here at this event with a T-5 last year and a T-3 in 2009. Of course, the volatile Argentine is just as likely to finish dead last.
Tim Clark. Unfortunately, another Fantasy Fix favorite has quickly become a Fantasy Fix goat. After taking time off to mend a blister on his left pinky toe (not the manliest thing we've ever heard), Clark pulled out just before his first round tee time at Pebble with an elbow injury. While I certainly hope this isn't serious (probably not seeing how he's in the field this week), he has some work to do for making me look bad and for costing all those people who couldn't remove him from their lineups in time. That's the last time I refer to him as a stud...
FLUSHING MONEY DOWN THE DRAIN AWARD
Steve Marino. We asked when would this guy win last week and he nearly did it until a disastrous triple bogey on the final hole at Pebble. That snowman cost him about $270K in prize money and a spot in the World Match Play Championship. What a dagger. But since he now knows he'll have next week off, why not try to make some of that back this week at an event where he finished T-5 last year?
FORMER PHENOMS & PAST CHAMPS TO KEEP AN EYE ON
Adam Scott and Charles Howell III. Scott won in 2005 (granted, it was a 36-hole tournament due to bad weather, but the winner's check was very real) and nearly defended in 2006. He missed the cut last year, but that was before his rebirth as a top-flight golfer, which was highlighted by his win at the Valero Texas Open in April. As for Howell, the last three years haven't been too kind here, but he did win this event in 2007 and was runner-up in 2003 (what was he, 15?).
FAVORITE BILL MURRAY MOVIE QUOTE
I know, I know. He's an avid golfer and he was in "Caddyshack." But what about, "What About Bob?" when he plays the role of a helpless and incredibly annoying patient of his crusty and arrogant psychiatrist, Richard Dreyfuss. There are many classic lines to choose from, but it's tough to beat "Isn't this a breakthrough, that I'm a sailor? I sail? I sail now?" Apparently, he really golfs now as well.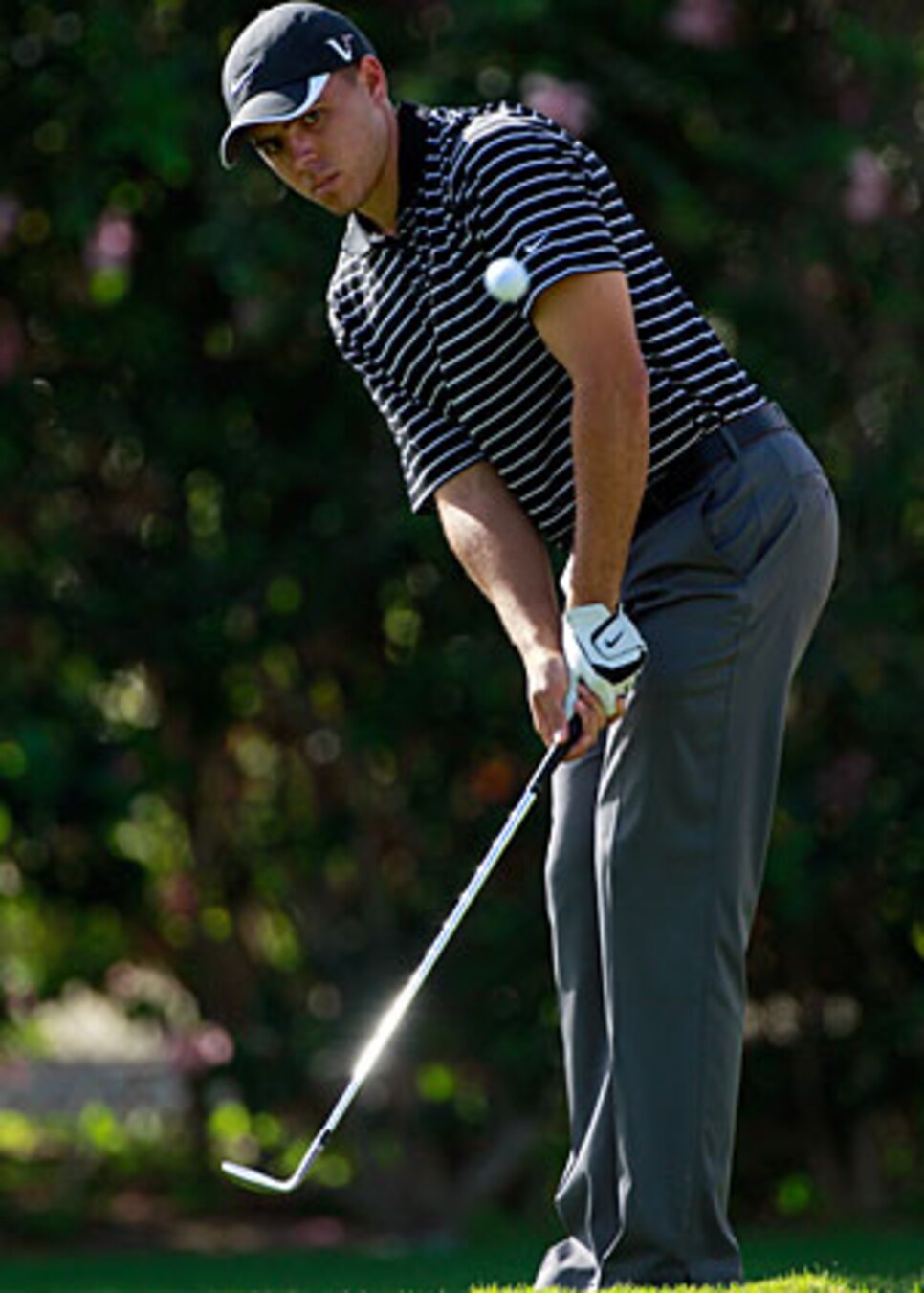 Phil Mickelson. This is a fifth week in a row that Mickelson is playing. And in each of the last two, he has seemed to stall on the final day. However, after struggling at Riviera early in his career, he won here in both 2008 and 2009 and was also a runner-up in 2007. He is playing his most consistent golf in a while and he'll probably come away from this marathon stretch of tournaments very disappointed if he doesn't pick up a win.
FREE FANTASY BASKETBALL ADVICE
Joakim Noah is set to return from a thumb injury after this weekend's All-Star game. However, as much as I love Noah (he's on my teams, which explains why he suffered the first serious injury of his career), I would hold off on putting him into the lineup for a bit. For one, as we've seen with Anthony Kim, thumb injuries can linger. For another, Noah put up monster stats early in the season before Carlos Boozer joined the lineup and Kurt Thomas began playing his best ball in nearly a decade. He obviously will be a vital part of the Bulls going forward, but not a fantasy stud in the near future.
GUY YOU'VE NEVER HEARD OF WHO COULD WIN
. Bramlett, a California boy who attended Stanford, became the first player of African-American descent to make it through Q School in 25 years. He has made just one cut in his first three starts of 2011, but maybe there's a Hollywood script about his life set to be played out this week... Sorry, didn't mean to go all Jim Nantz on you.
*-- Alex Myers is a contributing editor for GolfDigest.com. Feel free to e-mail him
on Twitter since he has self-esteem issues.*