News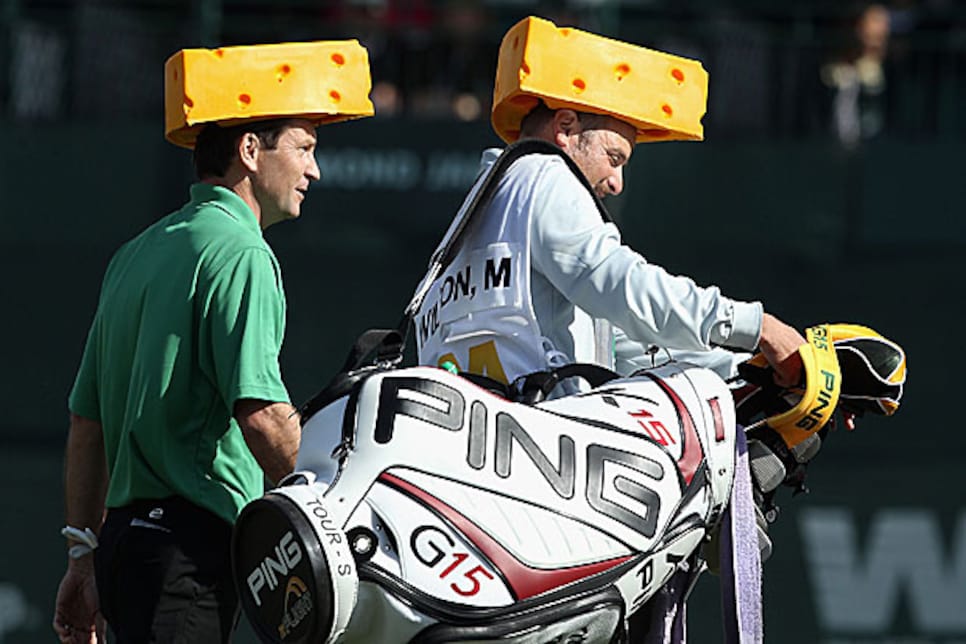 Can life get any better for Mark Wilson? Yes. He'll play in all the majors this year for the first time.
Welcome to another edition of Fantasy Fix, where we like to pat ourselves on the back for getting things right. No, we didn't call that Mark Wilson would beat Jason Dufner in a playoff thanks in part to a painful collapse by Tommy "Two Gloves" Gainey, but we did basically nail the score of the Super Bowl (Cha-ching). What sage advice do we have in store this week? Read on to find out.
The PGA Tour heads to the Monterey Peninsula for the AT&T Pebble Beach National Pro-Am. The tournament involves three courses, a whole bunch of celebrities and has-beens like Michael Bolton. (Side note: I had the pleasure of playing Spyglass Hill last year. The only drawback was that after I ordered a burger and fries at the turn, the 10th tee turned into a scene from Alfred Hitchcock's "The Birds". From time to time, I still have nightmares.)
Random tournament fact: Pebble Beach is the most beautiful place on Earth. Look it up.
Dustin Johnson. DJ has won this tournament two years in a row, but since that last win, he also suffered a collapse of epic proportions at the U.S. Open on the same golf course. Leading by three heading into Sunday, he shot a final-round 82 that not even George Lopez would have been proud of. As he showed from bouncing back from that, the rules debacle at the PGA Championship and his icy denial of dating Natalie Gulbis (Still don't get that one...), though, the dude is tough. A three-peat may not be in the cards, but there's no reason to think he won't contend.
Tim Clark. The South African is a consistent performer and at Pebble, it's been the same story. He has a T-4, two T-10s and two T-12 in his last seven trips. Technically, he is returning from an injury, but we're not too worried considering it was a blister on his left pinky toe.UPDATE: Apparently, the toe is OK, but now the elbow is a problem. As a result, Clark withdrew prior to his first round. Hopefully, you were able to get him out of your lineups in time or you just didn't heed my normally sound advice...
J.B. Holmes. The Kentuckian has only won twice on the PGA Tour and both came in Phoenix, where he just finished T-5. However, his T-2 last year at Pebble is proof that he can actually break par at a course other than TPC Scottsdale.
Phil Mickelson. Lefty is playing for a fourth straight week, but the return to eating meat should help him maintain his energy in this rare (see what I did there) occurrence. Mickelson has three wins in this event and last year he followed up his T-8 with a T-4 in the U.S. Open later in the year. Speaking of that tournament, where's the defending champion, Graeme McDowell, who is supposedly playing the PGA Tour this year? And will we ever see Open runner-up Gregory Havret again?
"Hey, Alex. Great job picking the Super Bowl. I took your advice and made more off that then I did from all those practice rounds with Dustin Johnson last year. Do you have any more picks? Who do you like in the big Mid-Tennessee vs. Arkansas-Little Rock college basketball tilt on Saturday? Your bud, Phil Mickelson."
No, Phil didn't really write me, but that would help explain his erratic play in Phoenix Sunday and I wouldn't mind him sending me a cut of his winnings if he did take the Packers. Seriously, though, please feel free to e-mail me with comments, questions or just to make fun of my picks. And of course, you can follow me on Twitter
DON'T BE A SUCKER BY PLAYING THIS GUY
Last year David Duval proved at this tournament he was "back." Again. The former No. 1 player in the world had a surprising runner-up finish that promised he was on the cusp of returning to greatness. Fast forward to the end of the 2010 season and he had to grind it out in the Fall Finish just to keep his tour card. The moral of the story: don't be too swayed by occasional bursts of brilliance.
RISK BEING A SUCKER BY PLAYING THIS GUY
Vijay Singh. He's back!!! OK, so maybe that's going a little overboard, but it was still nice to see the Big Fijian close with a 66 at TPC Scottsdale to finish T-3. I had forgotten what he looked like until I saw him on TV. Those engaging eyes, that warm smile, the happy-go-lucky attitude -- OK, so that's definitely going a little overboard. Perhaps the performance was proof that his surgically-repaired knee right knee is finally feeling better
. He also has three runner-ups at Pebble and was the 2004 champion.
GOOD PLAYERS TO SHY AWAY FROM
Hunter Mahan and Jonathan Byrd. Play the percentages and hold off on Mahan, who has more missed cuts (two) than top 15s in his seven trips here. Byrd has been even worse with five missed cuts in eight appearances.
WHEN IS THIS MAN GOING TO WIN?
Steve Marino. The birdie machine finished solo fourth here last year. He has 19 career top 10s in 121 PGA Tour events played, including three runner-ups, but still no victories. It has to drive him a little crazy that the suddenly immortal Mark Wilson now has four wins, despite only having two more total top 10s in 219 starts. Speaking of Wilson, where is this sudden dominance coming from? Like the rest of the golfing world, we're not big believers that he will continue this torrid place. Regardless, a man this hot (even his football team is winning titles) deserves a nickname. From this day forward, I dub thee "Little Cheese".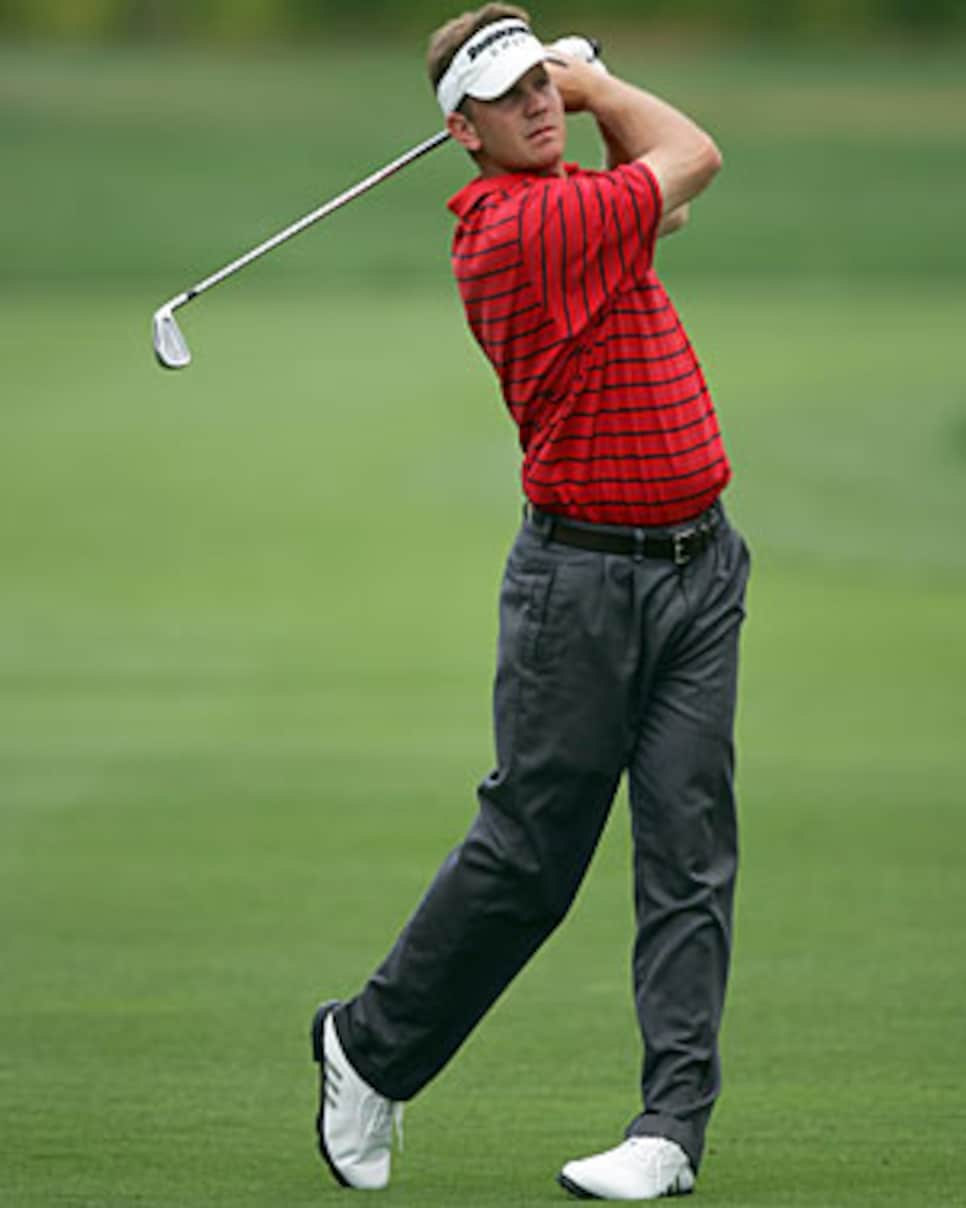 probably tougher than you are.
GUY YOU'VE BARELY HEARD OF WHO COULD WIN
Tom Gillis. The 42-year-old grabbed some headlines when he was a surprise Thursday leader in Phoenix. He stumbled to a T-68 over the weekend, but we'll focus on the positives. Gillis may be a late bloomer, but he can play. After finishing fifth on the 2009 Nationwide Tour money list, he won more than $1 million in 2010, his third go-round on the PGA Tour. And one of his three top 10s came at Pebble.
FORMER CHAMPION WHO COULD MAKE A RUN
Davis Love III: Now that all the excitement created by the PGA of America over him being named the next U.S. Ryder Cup captain has died down, it's time to re-focus on his own game. There's no better event to do that than one Love has won twice. He also finished T-6 at last year's U.S. Open.
COOLEST BACKSTORY IN THE FIELD
Billy Hurley III. The Dubai Desert Classic may have an American army officer playing with Tiger Woods in the pro-am, but Pebble will have this former first lieutenant in the Navy teeing it up for real. Hurley made the cut in his only PGA Tour event last year and the former Walker Cupper earned partial status on the Nationwide Tour for 2011 by making the final stage of Q School in December.
BETTER LATE THAN NEVER AWARD
Nick Watney. A week after a closing 63 at Torrey Pines, which included a back-nine 28, Watney again closed strong in Phoenix for another backdoor top 10. Why does Watney wait so long to make his run? Maybe he's still having nightmares from being the 54-hole leader at Whistling Straits. In any regard, he's definitely a player to watch out for this week, especially if he actually gets off to a good start.
In honor of the Super Bowl, we end with some potential wagers to enhance your viewing pleasure:
Over/under the number of times Jim Nantz addresses a celebrity as "pal" on air (23.5).
Will Bill Belichick wear a hoodie while playing in the pro-am? Will he crack a smile? Will he secretly videotape the entire tournament?
Over/under the number of fans in the gallery Mickelson will hit with errant tee shots (8.5).
Over/under the total people in Kenny G's gallery (6.5).
Will Natalie Gulbis be seen following Dustin Johnson this week? Will she be seen following him ever again? Will she start following Tim Herron instead? OK, now those would be long odds.
*-- Alex Myers is a contributing editor for GolfDigest.com. Feel free to e-mail him
on Twitter since he has self-esteem issues.*