News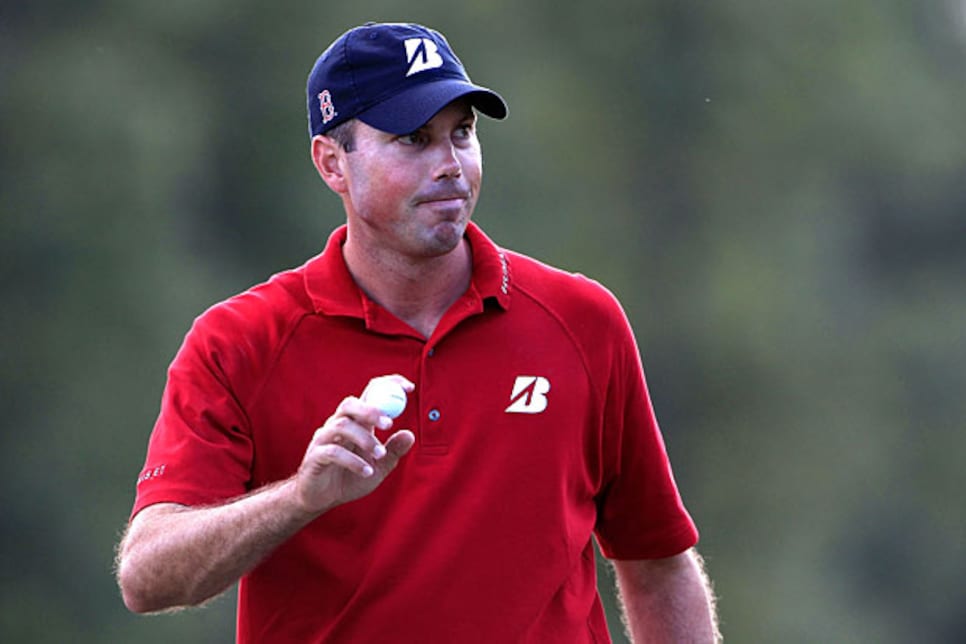 Matt Kuchar is probably only half smiling in this picture because he made a double bogey.
Welcome to another edition of Fantasy Fix, where we'd gladly grow our hair out if it meant making 11 birdies in one round.
What a performance by Charley Hoffman, who provided the latest exciting final-round finish on the PGA Tour this season and underscored yet again how deep the talent pool is on the PGA Tour. As NBC's Dan Hicks pointed out during Sunday's telecast, Hoffman had never had a top 10 in a major championship, World Golf event or the FedEx Cup Playoffs. In other words, he wasn't exactly due for a five-shot win over a star-studded field.
Next up is the BMW Championship at Cog Hill, the third of four FedEx Cup Playoff events. Just a year ago, Tiger Woods did his best to make everyone forget about his stunning loss to Y.E. Yang at the PGA Championship with a performance at Cog Hill reminiscent of his most famous romps. He shot a blistering 62 in the third round and cruised to an eight-shot win.
Odds are this year's tournament will be a little more competitive as the remaining 70 players jostle for both position on the leader board as well as in the FedEx Cup standings. Everyone will be trying to move into the top 30 to earn a spot in the field for the season-ending Tour Championship in two weeks. The elite will also be eyeballing a spot in the top five in the standings since anyone in that position would automatically wrap up the FedEx Cup title with a win at East Lake (we figured we'd include that tidbit since it's about the only part of the playoff-number crunching that we can understand without pulling out a calculator). With all that in mind, here are some thoughts.
Tiger Woods: One more time, it's time to back the world's No. 1 player. As mentioned above, his last PGA Tour win came at this course and in his career he has won five times at Cog Hill, often in spectacular fashion. Woods has shown glimpses of brilliance during the FedEx Cup Playoffs only to have a bad round or shot derail him from putting it together for four days. His T-11 at TPC Boston wasn't enough to keep from setting a personal-worst streak of finishing outside the top 10 in six straight starts, but with just three bogeys in his final 66 holes, he appears to be headed in the right direction.
As if he needed more motivation other than avoiding his first-ever winless year on the PGA Tour, Woods will need another good finish to earn a spot in the Tour Championship and extend his record streak of being atop the world ranking. Need more convincing? In his last six appearances here, Tiger has three wins and two runner-ups. Then again, we felt pretty confident about him heading into tournaments on other courses he's owned like St. Andrews and Akron...
After being disqualified from the post-season's first event for oversleeping his pro-am tee time, Jim Furyk didn't exactly light it up in Boston with a T-37. When you snooze, you lose, and Furyk now finds himself in 11th place in the standings after ending the regular season in third place. The good news, though, is that the Grinder is one of the few players in the field who has won on this track. In fact, in his last seven trips to Cog Hill, Furyk has been in the top four five times, including a victory in the 2005 Western Open (Side note: Does this whole oversleeping incident remind anyone else of the Seinfeld episode involving marathon runner Jean-Paul? "Why separate knob?! Why separate knob?!").
And finally, how about Matt Kuchar, who certainly has fond memories of Cog Hill having won the 1997 U.S. Amateur there. Some may still consider that as the biggest win of his career, despite claiming the first leg of this year's FedEx Cup Playoffs at the Barclays two weeks ago, but in 2010 he's shown he deserves to be considered among the game's elite. How good has Kuchar been? He played terribly over the weekend at TPC Boston and still finished T-11. In his only appearance in this event last year, he finished T-10. With 2010 being the year of top 10s for the affable player (He leads the PGA Tour with 10), there's no reason to not expect another one here.
Phil Mickelson: The world's No. 2 player probably breathed a sigh of relief when the USGA announced the 2017 U.S. Open would be held at Wisconsin's Erin Hills instead of Cog Hill. His record at the famed Chicago course has been downright dreary, having never finished in the top 25 in 11 attempts. In his latest try last year, Lefty shot a final-round 76 to tumble down the leader board into a tie for 30th place. When he won the Tour Championship a couple weeks later to finish second to Woods for the FedEx Cup, that disastrous round loomed even larger.
It was great to see Geoff Ogilvy back in form this past week, but we don't expect him to turn in a similar performance in Chicago. Outside of a T-5 in 2004, the smooth-swinging Aussie hasn't finished better than T-34 in six other tries, inlcuding two missed cuts and a T-55 and T-61 in his two tries at Cog Hill during the playoffs.
Andres Romero: We've been expecting big things from this Fantasy Fix favorite all season long and now he's finally delivering. A week after birdieing four of the final five holes at the Barclays just to move on, Romero used a hole-in-one during the third round at the Deutsche Bank Championship to vault into a T-11 and sneak by into this week's event as well. We hate to keep going back to the well with another Fantasy Fix favorite, but Bill Haas is certainly worth a look again. A T-10 here last year nearly earned him a spot in the Tour Championship. At No. 28 in the standings currently, a similar finish would do just that.
We'll take a semi-flyer (at this point in the season, almost everyone is a household name) on Kevin Na, who has had somewhat of a quiet season. The 26-year-old hasn't had a particularly high finish since a T-2 at Bay Hill, but he's closer than you think having made 20 of 23 cuts overall. With no cut this week, he'll definitely be around for the weekend, something he took advantage of last year with a third-round 65 that led to a T-8.
And a year ago, Marc Leishman broke through for a T-2 in this event (yes, he was eight shots behind Tiger, but a runner-up is a runner-up) to earn a spot in the Tour Championship and wrap up PGA Tour Rookie of the Year honors. On the bubble to qualify for this event, Leishman birdied his final two holes Sunday at TPC Boston to wind up with a 68 and move up to No. 57 in the standings. Cog Hill could be just the answer to make his sophomore campaign as memorable as his standout debut season. Or maybe he should just take a cue from Hoffman and skip that next trip to the barber.
-- Alex Myers is a contributing editor for GolfDigest.com.