News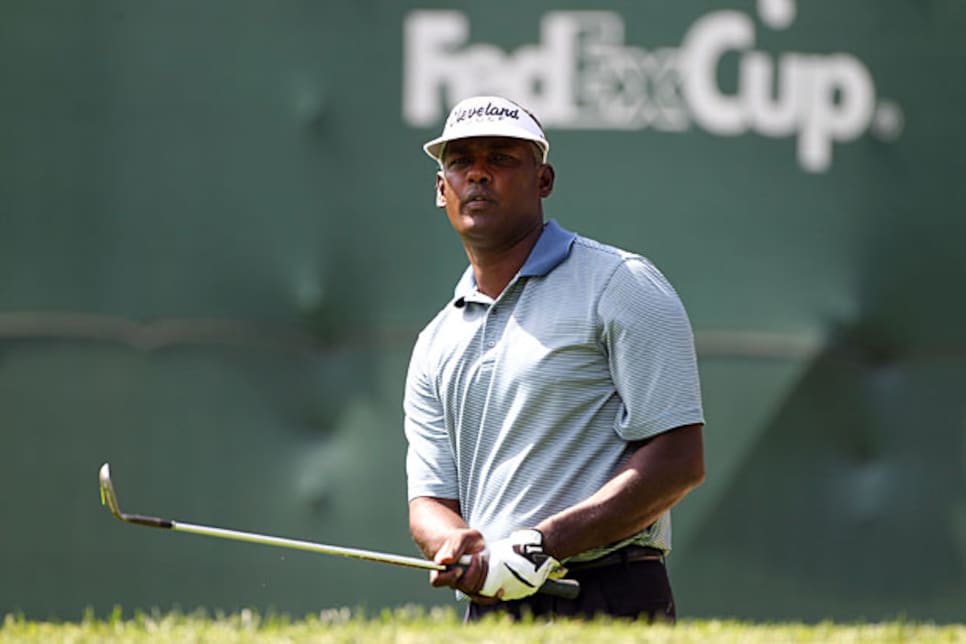 Singh has plenty of good memories in Boston, including wrapping up the FedEx Cup in 2008.
Welcome to another edition of Fantasy Fix, where we think there is nothing better than a playoff within the playoffs.
I mean how good was the Barclays? You had two guys battling it out in extra holes with the winner moving on and having a chance at the largest prize pool in sports and the loser getting sent home with some lovely parting gifts. OK, so that's not exactly how it happened, as Martin Laird still received $810,000 and a pass to the next three playoff events despite that painful three-putt on the 72nd hole. In fact, there were plenty of players who missed the cut, including Phil Mickelson, but will continue to play in the post-season. Perhaps even more alarming (sorry, couldn't resist) is the fact that Jim Furyk, who was disqualified for oversleeping a pro-am tee time, advanced as well.
While golf's version of the playoffs is clearly far from perfect, the end result of the Barclays was still exciting. After a year defined by unspectacular consistency, Matt Kuchar used a spectacular punched 7-iron from the rough on the first sudden-death hole to set up a birdie and claim his first victory of the season. Kuchar is now in first place on the points list and in position to possibly become one of the most unlikely players of the year in PGA Tour history. But before we go shipping him any hardware just yet, keep in mind that Vijay Singh in 2008 is the only player to win the first playoff event and go on to claim the FedEx Cup trophy.
This week, the top 100 players in the FedEx Cup standings will tee it up at the Deutsche Bank Championship at TPC Boston. The goal is to be in the top 70 by Sunday evening in order to advance to Cog Hill for the BMW Championship the following week. Those players will also keep their hopes alive of making it all the way to the fourth and final leg of the playoffs, the Tour Championship at East Lake, in three weeks.
Who will make some noise this week and who will head home? More importantly, will anyone forget to arrange a wake-up call? Here are some thoughts.
Tiger Woods: We are back on the bandwagon again following an unusual T-12 at the Barclays. Woods quickly climbed to eight-under par and into the lead, then fell back to even and out of the mix for the rest of the playoffs before getting almost all the way back to eight under by Sunday afternoon. At times, his putter was hot, his irons were sharp and his tee shots were straight. Yes, there was also that one drive to start Saturday's round that is still bouncing around the Ridgewood parking lot. Then again, if not for that, he would have been right in contention for his first win of 2010. He's never been a big fan of the first leg of the playoffs, but he's finished in the top 11 in five of his six trips to Boston, including a win in 2006 and runner-ups in 2004 and 2007.
There's also simply too much good history at this event to overlook Vijay Singh. The Big Fijian has won at TPC Boston twice, including in 2004 when he took over the No. 1 spot in the ranking from Woods. Tiger got him back in 2006 with a come-from-behind win, but Singh's 22-under total in 2008 gave him a five-shot victory and is still a tournament record. Overall, he's finished in the top four in four of the six times he's played this event.
When it comes to the playoffs, no one seems to rise to the occasion better than__Steve Stricker__. He won the first ever post-season event three years ago and added a second title at this very tournament last year. The Strick Show is coming off a T-3 at the Barclays and is in the conversation with Matt Kuchar and Justin Rose for MVP of the summer. His worst performance at this event in the last four years was a T-13 in 2008.
It's been a wild year for__Dustin Johnson__, but through it all he has solidified his position as one of the top players on the planet. Some brutal putting in the final round cost him at the Barclays, but he still finished T-9. He also finished T-4 in his first try at this event last year.
And we like another former winner of this tournament,Adam Scott. The Australian won the inaugural event in 2003 and then backed that up with a T-2 in 2004. He hasn't done much here since, but then again, there was a long stretch where he didn't do much of anything anywhere. After winning the Valero Texas Open in May, though, Scott has continued his strong play, including a T-9 at Ridgewood last week.
Ernie Els: We haven't heard much from the Big Easy since his close call at the U.S. Open at Pebble Beach (A T-18 at the PGA Championship is his best performance in four starts and he's coming off a 71st-place finish at the Barclays) and we're not expecting that to change this week. In addition to his recent rough patch, Els doesn't have a particularly good track record at TPC Boston either, including missing the cut last year by seven shots.
Another player who has been in a surprising cold stretch of late is Tim Clark. The Fantasy Fix favorite seemed to be in the mix in just about every event for much of the year, but has just a T-39, a T-54 and a missed cut at the Barclays in his last three starts. In his three starts in Boston since this event became part of the playoffs, he's only been around to play the weekend once.
It's been a disappointing 2010 campaign for__Stewart Cink__, despite a T-15 at the Barclays. His record in Boston is anything but impressive with a T-29 a T-33 and two missed cuts. At No. 58 in the FedEx Cup standings he'll probably have to do better than that to extend his season. On the bright side, a couple extra weeks off would provide time for some more tweeting. Ian Poulter just passed the one million mark in followers as well and is gaining ground fast. It must have been a lot easier for Nicklaus and Palmer to focus on golf without such important matters like this to worry about.
Jason Dufner: If it weren't for Stricker's birdie-birdie finish last year, we may very well be referring to Dufner as the defending champ this week and another unlikely playoff success story to go along with Heath Slocum and Martin Laird (sorry, still keep thinking he won). Dufner shot 68-65 over the weekend in only his second time teeing it up at TPC Boston. He missed the cut at the Barclays to fall 20 spots to No. 81 on the FedEx Cup list so he needs a good performance to extend his season and make a return trip to East Lake. We like his chances.
Last year, a T-15 at this tournament, kept Bill Haas' season alive. This year, he probably doesn't need to do anything to advance to Cog Hill thanks to an early-season win at the Bob Hope, but a good performance could go a long way to earning his first trip to the Tour Championship. In four trips to Boston, Haas has three top 15s, including a T-9 after just turning pro in 2004.
And then there's Andres Romero, who is just glad to be teeing it up this week. The gunslinging mentality that makes Romero a Fantasy Fix favorite was certainly on display last week at the Barclays. After back-to-back double bogeys on the back nine Sunday put him well outside the top 100 on the FedEx Cup points list, Romero ripped off birdies on four of the final five holes, including a 40-foot birdie putt on No. 18, to advance to Boston on the number. Romero's late run came at the expense of Kevin Sutherland, who got bumped by a spot. But hey, at least now the veteran player won't have to worry about hitting the snooze button anytime soon.
-- Alex Myers is a contributing editor for GolfDigest.com.