News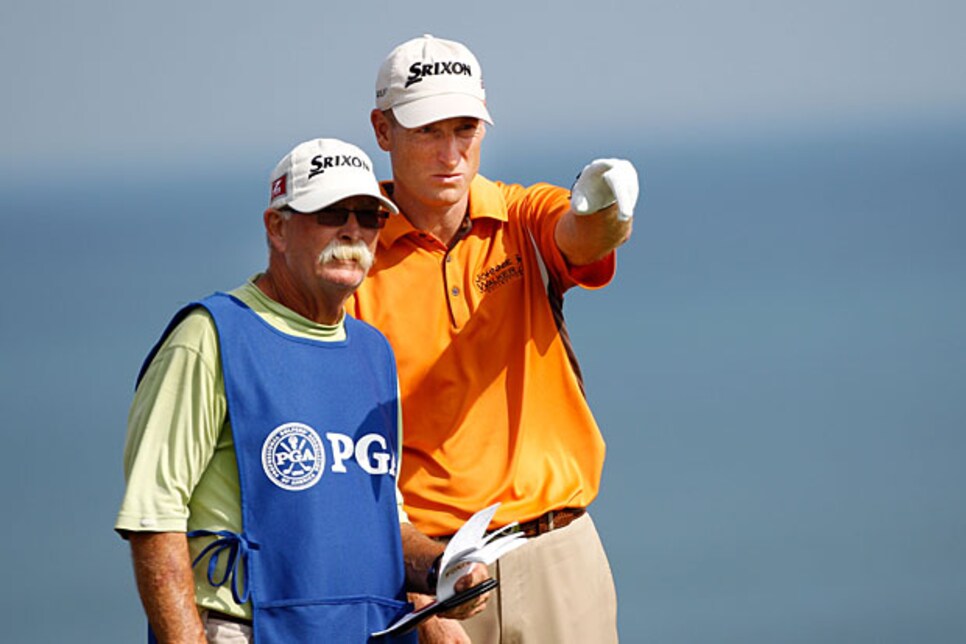 Maybe Fluff should have made sure his player's alarm clock was set.
Welcome to another edition of Fantasy Fix, where we're glad we won't have to worry about Monday qualifiers for the next few weeks.
The FedEx Cup Playoffs are here and only your ranking can allow you access to golf's biggest prize pool. Predicting what's going to happen from week to week in a sport loaded with parity is tough enough without having to deal with some guy like Arjun Atwal playing his way into the tournament and winning.
Congrats to Atwal on his surprising and impressive accomplishment, but now it's time to focus on the players who have been playing well on the PGA Tour all season long. Or at least just playing. The top 125 players earned their spots into this week's the Barclays, the first leg of four postseason events. From there, the fields will continue to get smaller until only the top 30 will tee it up at the concluding Tour Championship next month. We would go into more details about how the point system works in the playoffs, but since it changes every year, we're not entirely sure.
The site of this particular tournament has been just as unstable. After 41 straight years of being hosted by Westchester Country Club, the event has moved each of the past three years. This time it returns to Ridgewood Country Club, which was the site in 2008.
Keeping all that in mind, who do we see moving deeper into the postseason and who do we think will be slamming their trunk and taking a few weeks off following Friday's round? Here are some thoughts.
Paul Casey: The PGA Tour titles haven't flowed in since the Englishman picked up his first last year at the Shell Houston Open, but the ninth-ranked player in the world is too good to be stuck on one win for too much longer. Ridgewood could be the place for No. 2 after a T-7 there in 2008. Casey will also come in with some added motivation to do well since he is now auditioning for Colin Montgomerie after being bumped from an automatic spot for the European Ryder Cup team thanks to Peter Hanson winning the Czech Open. Another strong finish like what he managed at both the British Open (T-3) and PGA Championship (T-12) would certainly help his chances.
Ridgewood Country Club is a great fit for Jim Furyk, who is looking to bounce back from a disastrous final-round 77 at the PGA Championship. Furyk navigated the course's narrow fairways with a T-12 in 2008 and is trailing just Ernie Els and Steve Stricker in the standings, he enters the playoffs with his best chance so far of winning the FedEx Cup. There's no reason for him not to get off to a strong start in the home stretch here. (UPDATE: Unless of course, he oversleeps, misses his pro-am time, and gets disqualified
from the tournament. Sadly, we're not making this up.)
Heath Slocum may technically be the defending champ at this event, but Vijay Singh is the only former champion to have won on this course. We'll put a little more stock in that fact and put our support behind the Big Fijian this week. Singh has showed flashes of great play recently with a solo ninth at the AT&T National and a second-round 66 at Whistling Straits that put him in contention at the PGA Championship. This also just seems to be his time of the year as he is the only man not named Tiger Woods to have won the FedEx Cup trophy.
And then there's David Toms, who nearly won the Wyndham Championship last week thanks to a final-round 64. Atwal's clutch par putt on the final hole as Toms watched on TV was the difference (We liked his crack that Atwal was paying playing partner Scott McCarron to show him the line), but the runner-up finish was still his best of 2010 by far. Like Sedgefield Country Club, Ridgewood is an older course that rewards accuracy more than length. Toms is consistently one of the straightest drivers on tour (No. 6 this year) and if his putter stays hot, he could be among the leaders again come Sunday.
Ryan Moore: Two years ago, Moore managed to finish dead last when this event was at Ridgewood, shooting rounds of 76 and 78. Also, he's coming off an equally-disappointing missed cut in Greensboro as the defending champion. After being labeled a Fantasy Fix "stud," let's just say we're not happy with him for making us look bad.
On the other hand, Anthony Kim, who we continue to label a "dud," has been making us look good of late. Kim missed another cut at the Wyndham Championship in his return from thumb surgery. While he needs to get back on track if he is to be one of Corey Pavin's captain's picks, we don't think that a fourth straight week of playing competitive golf is the best thing for his recovery.
And where has Geoff Ogilvy gone? The former top-five player hasn't produced much since a win in Kapalua to start the season. With no other top 10s in 2010, he has sunk all the way down to 36th in the world ranking. Like Moore, he also missed the cut here two years ago. But considering he hasn't been around to play the weekend in the last three events that have a cut, another MC wouldn't be much of a shock.
Justin Leonard: What looked like a completley lost season now holds promise for the 1997 British Open champion. Despite a closing bogey at Greensboro, the T-3 was his first top 10 of 2010 and his best regular-season finish since winning the 2008 St. Jude Classic. The performance moved him all the way from the precarious position of No. 109 on the FedEx Cup points list to No. 68. Another such finish here could ensure a spot in the Tour Championship.
Sticking with the theme of shorter, but straighter hitters, we like Kevin Sutherland Two years ago, he found himself in a three-man playoff here with two giants of the game: Singh and Sergio Garcia. He lost, but the $616,000 paycheck that finishing tied for second brought is nearly as much as he's made this year. He's also only had three top 10s since so it's safe to say that if there's one person in the field excited to be headed back to Paramus, N.J. this week it's Sutherland, who leads the tour in greens in regulation. (Side note: Speaking of Garcia, he's in the middle of his self-imposed break from the game. We guess everyone is entitled to some vacation time now and then. Just usually, the time off is used to play golf, not avoid it).
And finally, we scoured the FedEx Cups points list to find a big name near the bottom and came up with one. No, not Tiger Woods. The world No. 1 is far from the point of ever being called a sleeper, but we'll throw the label on fellow major winner Ben Curtis. Sure, he's only ranked 114th on the points list coming into this week, but keep in mind that he finished T-4 at Ridgewood in 2008. Also keep in mind that Slocum was No. 124 last year when he won this event. Monday qualifiers or not, when it comes to the PGA Tour, these guys in the field are all good.
-- Alex Myers is a contributing editor for GolfDigest.com.