News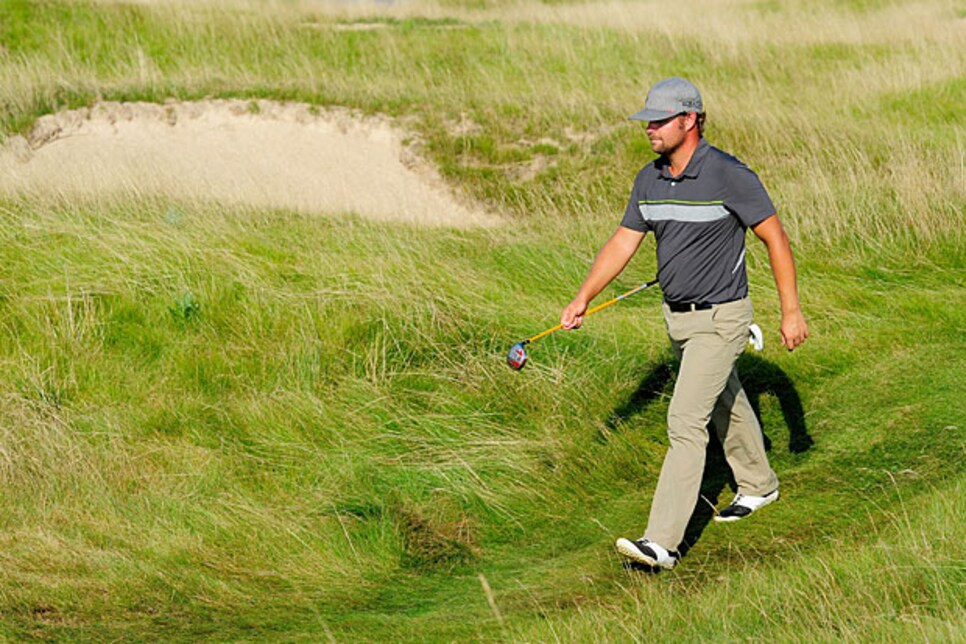 Moore had his own bunker problems at Whistling Straits, but he is the defending champ in Greensboro.
Welcome to another edition of Fantasy Fix, where we only ground our club in the sand if no one is looking (OK, not really).
What a tough ending for Dustin Johnson at the PGA Championship after incredible back-to-back birdies on 16 and 17 had put him in position to win his first major title. But as they say, rules are rules and a bunker is a bunker -- even if children are using it as a sandbox.
In the end, Martin Kaymer wound up as the latest European Tour player to claim a major. And while he wasn't singled out here in last week's preview, I'm sure you'll be happy to know that I did make him my pick for my one-and-done work league. What? I can't share all my secrets...
But after the last major of the season, we now turn our attention to the last regular-season PGA Tour event: the Wyndham Championship. This time, "glory's last shot" refers to a bunch of guys who are having so-so seasons, trying to get in on the $35 million prize pool that is the FedEx Cup Playoffs.
There should be plenty of jockeying for position by the leaders as well as by those trying to ensure a spot in the postseason by getting into the top 125 in the standings. Who will play well and who will have their bubble burst? Here are some thoughts.
Ryan Moore: The defending champion, he shot three rounds of 65 or better last year to pick up his first PGA Tour victory. Last week at Whistling Straits, Moore briefly found himself alone in the lead on Thursday. Then he realized he was leading a major championship outright and wound up finishing near the bottom of those who made the cut. Something tells me he won't have to worry about that same type of pressure this week at Sedgefield Country Club.
Not only is Carl Pettersson playing well of late, but he's the only player other than Moore in the field to have won this event on this course (from 1977-2007 the event was held at nearby Forest Oaks CC). In 2008, Pettersson shot a then career-best score of 61 -- still a course record -- in the second round (he shot 60 last month at the Canadian Open) before shooting 66-68 on the weekend to hold on for the victory. The Swede returns having just finished T-24 at Whistling Straits and with a solo sixth at the AT&T National to go along with his fourth PGA Tour title at the Canadian Open.
Woody Austin has surpassed the $1 million mark in earnings seven straight years, but he needs to do some work if he's going to keep that impressive run going. Austin has made $668,072 this year and at No. 118 on the points list, he's in danger of not qualifying for the playoffs for the first time. However, he's made five consecutive cuts and his last two starts resulted in a T-4 at the Greenbrier Classic and a T-10 at the Turning Stone Championship.
Anthony Kim: Since returning from thumb surgery, Kim hasn't played well, with a T-76 at Firestone and a missed cut at the PGA Championship. While we admire the young star for committing to this less-than-glamorous event to get some more work in before the start of the playoffs and the fast-approaching Ryder Cup, we still need to see some positive results before banking on him.
Then there's David Duval, who has found himself in all three categories of Fantasy Fix this year. Despite playing a little better of late (T-17 at the Canadian Open and T-22 at Turning Stone), he will end the regular season as a "dud" due to the fact that he didn't come close to making the cut in this tournament the past two years. Another such outcome and he may not qualify for the playoffs.
And speaking of trying to qualify, why is Henrik Stenson playing in Greensboro? Try the fact that the 2009 Players champion is currently only 133rd on the FedEx Cup points list. While that number has been accumulated in just 11 events, it has still been a disappointing year for the Swede. Despite a T-3 at the British Open, his 80-75 performance at Whistling Straits is a better indication of where his game is right now. He also has the dubious distinction of being the only player to finish lower than Tiger Woods at the recent Bridgestone Invitational.
Speaking of Woods, the world No. 1 isn't guaranteed a tee time at the Barclays next week. At No. 108 in the standings, he'll probably make it, but he still gets an unofficial "dud" label this week for not playing to ensure his spot. The PGA Tour has painstakingly tried to promote its playoffs since introducing them in 2007. The absence of its biggest star certainly wouldn't help matters.
Michael Sim: Health issues have derailed what looked to be a breakout season on the PGA Tour for the 25-year-old Australian. He began the year with a T-2 at the Farmers Insurance Open, but was forced to sit out much of the early portion of the schedule with a bad shoulder. A T-3 at the Turning Stone Championship indicates that he may be finding the form that led him to three wins on the Nationwide Tour last year.
Last year, a pair of 66s over the weekend weren't good enough for Kevin Stadler to capture his first win on the PGA Tour. Instead, he lost in a three-man playoff to Moore. But the son of the Walrus is back and he can still salvage a less-than-stellar season. AT 117 in the FedEx Cup points race, Stadler needs a good showing to ensure he'll tee it up next week at the Barclays. We think that motivation gets him there.
Similarily, a Fantasy Fix favorite, Andres Romero, also finds himself just inside the bubble for the playoffs at No. 123. He was in the same situation last year, but opted not to play this event and forgo any chance of playing in the postseason. This decision shows the Argentine's head is more in the game this time around. Either that or we're just still holding out hope that he can rediscover the magic that led to 10 birdies (and two double bogeys) during the final round of the 2007 British Open.
And finally, we will recognize the only player in the field who truly can be proud of his play at the PGA Championship. Jason Dufner's 66 in the second round at Whistling Straits got him to the weekend and he took advantage with rounds of 69 and 71 to quietly finish T-5 -- by far his best-ever finish in a major. Having earned nearly $1 million in 2010 so far, Dufner is in great position for the playoffs at No. 62. But the 33-year-old is still driven by the pursuit of a first PGA Tour title. With a watered-down field, this could be the week. One thing's for sure, though: with Sedgefield having just 48 bunkers, all the players will have a lot less sand to worry about than at Whistling Straits. After what happened over the weekend, that's probably a good thing.
-- Alex Myers is a contributing editor for GolfDigest.com.