News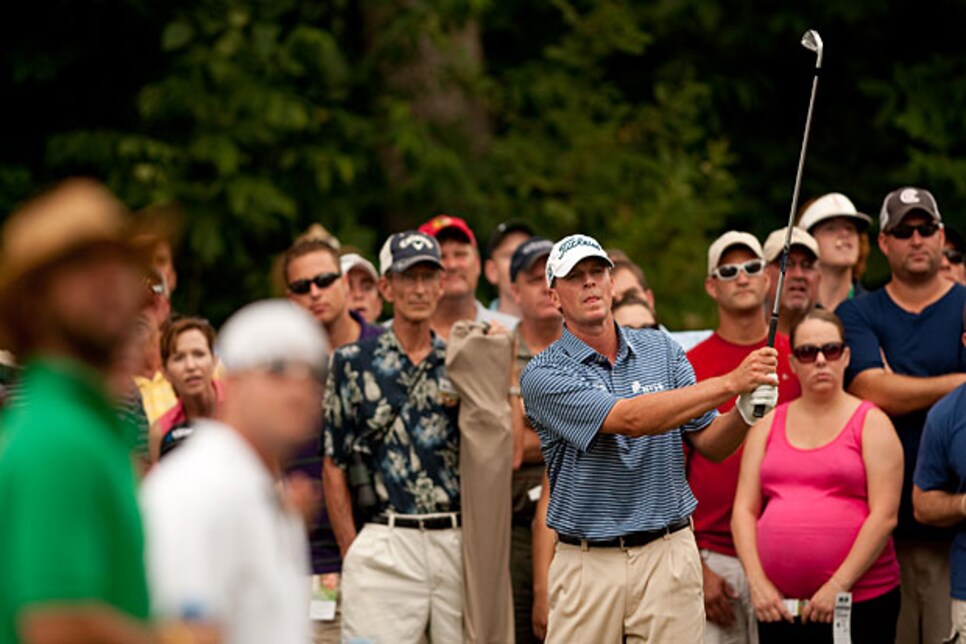 Steve Stricker should have plenty of crowd support playing in his home state this week.
Welcome to a final major championship edition of Fantasy Fix, where "Glory's Last Shot" may apply to the hopes of winning your league. The PGA Championship is here and with that meaning double points in many fantasy leagues, it's a great opportunity to make a late-season move in the standings.
, most notably Tiger Woods.
, where it seems just about everyone in the field will have a chance to take home the Wanamaker Trophy. If that parity wasn't evident enough by the amount of first-time winners on the PGA Tour in 2010 (12), or the lack of anyone having a monster year (Hunter Mahan's victory tied him with Ernie Els and Jim Furyk for the most this season, all with two), then certainly the last two majors served as proof.
First, Graeme McDowell surprised at the U.S. Open at Pebble Beach and at last month's British Open, Louis Oosthuizen -- a player for which ESPN's announcers still needed cue cards during the final round to help pronounce his name correctly -- shocked the golf world with his romp at St. Andrews. Both are world-class players to be sure, but neither had seriously contended in a major before.
Meanwhile, the big guns come to this event licking their wounds, or in the case of third-ranked Lee Westwood, won't come at all due to a wounded leg. The two players ranked above him, Tiger and Phil Mickelson, shot a combined 15-over-par in their last round. So who should you turn to? Here are some thoughts.
Steve Stricker: We know, it's cliche. Stricker is from Wisconsin, Whistling Straits is near Milwaukee. More than that, though, he is a top player that actually looks in control of his golf game. After missing some time in the spring with a shoulder injury, Stricker got going with a title defense at the John Deere Classic last month and he's coming off a T-9 at the Bridgestone. With how good he's been the past few years, it's amazing how few times his name has popped up on the leader board at a major. We expect that to change this week, with Stricker making a run at a career-defining moment.
Hunter Mahan: One of the streakier players in the game, Mahan probably can't wait to tee off at Whistling Straits on Thursday to keep the good vibes going following his final-round 64 at Firestone (His 66 on Saturday wasn't too shabby, either). The win was his second of the year and it wrapped up a spot on the Ryder Cup team, meaning he'll have even less to worry about.
Ernie Els: Despite a brutal finish at Firestone, Els finished T-22 to remain first in the FedEx Cup points standing. He finished third at the U.S. Open at Pebble Beach, a course similar in style to Whistling Straits, and he has had success on the Wisconsin course in the past. In the 2004 PGA Championship, Els missed out on a playoff by one shot.
Tiger Woods: We can't believe it's come to this. Watching his stunningly dreadful performance at Firestone, a course he's absolutely owned in the past, was like watching a low-handicapper chop it around from the championship tees for the first time. It won't get any easier this week. Woods struggled at the PGA Championship at Whistling Straits in 2004, shooting an opening-round 75 and finishing T-24. A result that high this time around would actually be seen as a step in the right direction.
We're staying away from another Nike-wearing, highly-ranked player in Anthony Kim as well. Kim came back from having thumb surgery this past week at the Bridgestone and he looked like he could have used a little more time off, carding rounds of 75 or higher. Kim was still at the University of Oklahoma the last time the PGA Championship was staged at Whistling Straits so the lack of experience won't help him either.
And after starting out the season sizzling with a third-place finish at the Accenture Match Play Championship and a win at the Honda Classic, Camilo Villegas has produced just two top 10s since. A T-44 at the British Open is his best finish in his last four tournaments and he's coming off a T-71 at Firestone in which he managed to go the first two rounds without making a birdie.
Justin Leonard: We've been hard on the Texan this year and rightfully so. Still a marquee name and at an age where he should still be close to his prime, Leonard has been immersed in the worst season of his career. However, he finally showed signs of life at the Bridgestone, where he was in contention heading into the final round before a 76 dropped him to T-22. Leonard also returns to Whistling Straits as one of the guys that had the most success In 2004. He and Chris DiMarco were the two runners-up to Vijay Singh in a four-hole playoff.
While he still doesn't seem to be generating much buzz, it appears that Adam Scott is close to finding the form that once made him third in the world ranking (When your swing is compared to Tiger's in 2000, how do you ever lose form?). He ended a two-year winless drought at the Valero Texas Open and played well at Firestone. Six years ago at Whistling Straits, Scott finished T-9, just three shots out of a playoff.
Finally, we'll show some love for Bill Lunde, who is riding the momentum from his first PGA Tour win at the Turning Stone Resort Championship. Lunde would have been off this week if not for that victory, which earned him a spot in the field at Whistling Straits to continue his strange journey. Just five years ago he quit the game to take a 9-to-5 job. When that didn't work out, he begrudgingly joined a mini-tour after an 18-month break from competition just to try to make a few bucks. Three years and more than $2 million in earnings later, something tells me he won't be missing sitting in a cubicle when he tees it up on Thursday.
-- Alex Myers is a contributing editor for GolfDigest.com.