News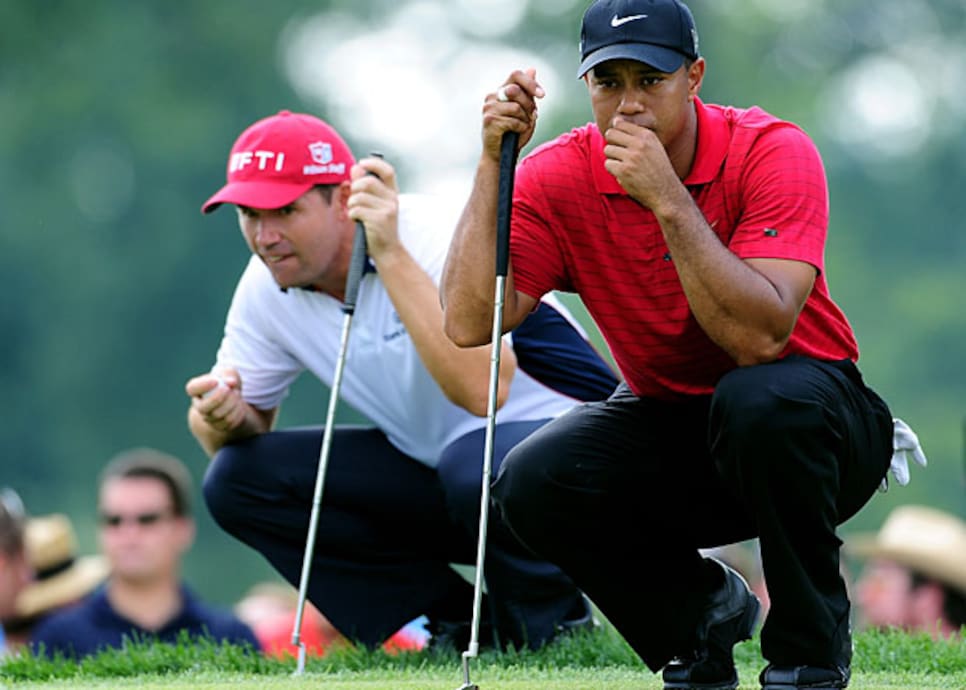 Padraig Harrington was the latest victim of Tiger Woods' magic at Firestone last year.
Welcome to another edition of Fantasy Fix, where we're glad to see someone who shot a 59 actually wound up winning the golf tournament.
begs the question: Are these guys too good or are these courses too easy?
Regardless, the PGA Tour will head to one of its most tried-and-true locations this week for the Bridgestone Invitational. Firestone Country Club will once again be the site for this World Golf Championship, which is good news for Akron, Ohio, since the only other time the city was in the news this summer for sports came when its favorite son, LeBron James, announced he was leaving for Miami during a crushing, one-hour TV special.
But Akron can certainly get excited for this week. As Jim Nantz mentioned on air during the final round of the Greenbrier Classic, the top 50 players in the world ranking are in the field. Turns out, it's actually the top 80. Not too shabby.
Other than the obvious fact that it's a strong field, this means two things. A.) The Turning Stone Resort Championship, which will be happening simultaneously, will not have a strong field and B.) with so many top golfers playing at Bridgestone, picking "sleepers" for fantasy purposes, is almost too easy. But that doesn't mean we won't pick some anyway to pad the stats. Here are some things to consider before setting your lineups.
Tiger Woods: OK, we're going to the well one more time here even though we don't even know what putter he'll have in his bag this week. Despite all the struggles of the No. 1 player in the world (By the way, isn't it amazing that he still holds that ranking?), we still thought he was almost a lock to win the British Open at St. Andrews. Wrong. Well, now he heads to a course where he's been just as dominant. When it comes to this event, the PGA Tour should almost consider saving Woods some time and jet fuel by shipping him a fresh trophy and having everyone else just play for second place.
Woods has three-peated here twice and has won seven times overall in 10 appearances. He is the defending champion and would probably be returning to Akron this week looking for sixth straight win at Firestone if he hadn't missed the 2008 tournament following knee surgery. Oh yeah, the three times he hasn't won, he's finished T-2 and fourth twice, including 2002 when the tournament moved to Sahalee and Craig Parry won (Forgot about that one, didn't you?). He's never shot worse than 71 (one-over par) at the famed track and he is cumulatively 103-under par in 40 career rounds at "The Monster," which previously hosted the World Series of Golf before this current event was created in 1999. In other words, if he doesn't have a good showing this week, his troubles on the course may be even worse than we thought.
A player who has put himself in position to possibly catch Woods in the rankings is Lee Westwood. Much has been made of his inability to close the deal at major championships, but the fact remains that he's been playing as well as anyone over the past year. I wouldn't expect that to change at a course where he has three top 10s, including a runner-up in 2008, in his last six appearances.
For similar reasons we like another Englishman,Justin Rose, this week. Rose has already won twice this summer, his first two victories on the PGA Tour, and has a T-2 and a solo fifth at this event in just five career tries.
And then there's__Jim Furyk__. While he's never won here (Let's face it, not many of today's players have thanks to TW), Furyk has had plenty of success at Firestone. At one point, he shot under par in 16 of 17 rounds and he's finished in the top six in half of the 10 times he's teed it up for this tournament, most notably when he lost in a seven-hole playoff to Woods in 2001.
Anthony Kim: This rising star was playing perhaps the best golf of his career (A win in Houston, a third at the Masters and a T-7 at Quail Hollow in consecutive tournaments) when thumb surgery following the Masters forced him to sit out. He's making his return this week and while we expect the injury to be fully healed (He had originally planned to come back two weeks ago at the Canadian Open, but held off a little longer), we're never a fan of picking someone who hasn't played a competitive round of golf in three months. Plus, at Firestone, he's been consistent, but in a bad way -- finishing T-36 the past two years.
We'll be bold and throw another top player out there as someone to avoid this week: Ernie Els. The Big Easy remains the leader in the FedEx Cup standings and a favorite for PGA Tour player of the year, but he has missed cuts at three big events (The Players, the Memorial and the British Open) since winning two tournaments in March. He also hasn't finished in the top 10 at this event since 2001.
And I hate to do it to my fellow Wake Forest classmate, but Bill Haas has suddenly hit the skids after getting off to a flying start in 2010. Haas, the winner of the Bob Hope in February, has missed three straight cuts and hasn't made a six-figure paycheck since the last World Golf Championship in March. As a first-time qualifier for this event, we're not expecting much.
Stuart Appleby: As I mentioned above, finding true sleepers in a field this good is tough so don't blame us for singling out the latest Mr. 59. Before last week, however, Appleby, mired in a prolonged slump, would have certainly fit the mold. In fact, he wouldn't even have been invited to this event if not for his historic final-round 59 to win the Greenbrier Classic.
But we're not just basing this pick on one round. Fact is, Appleby had been playing better of late, making the cut in six of his last seven tournaments, including a T-11 at the AT&T National. He also happens to have been a runner-up here just two years ago.
Another big name with a strong track record playing Firestone and some recent showings that indicate a return to good form is Vijay Singh. After an uncharacteristic string of missed cuts early in the season, Singh has made six straight cuts, including a T-9 at the AT&T National. The big Fijian also took advantage of Tiger's absence at this event in 2008 to pick up a victory and he has five other top-15 finishes at Firestone.
Finally, the only other player in the field this week not named Vijay or Tiger to have won this tournament is Stewart Cink. Mr. Twitter accomplished that in 2004 when he held off Woods and then had a runner-up to Tiger in 2006. Last year he finished T-6 when he was still basking in the glow of winning the British Open at Turnberry. That glow has faded during an uneventful 2010 season, but perhaps a return to Akron and a crowd desparate to cheer about something will bring brighter times. Just whatever you do Stew, don't tweet about South Beach.
-- Alex Myers is a contributing editor for GolfDigest.com.