News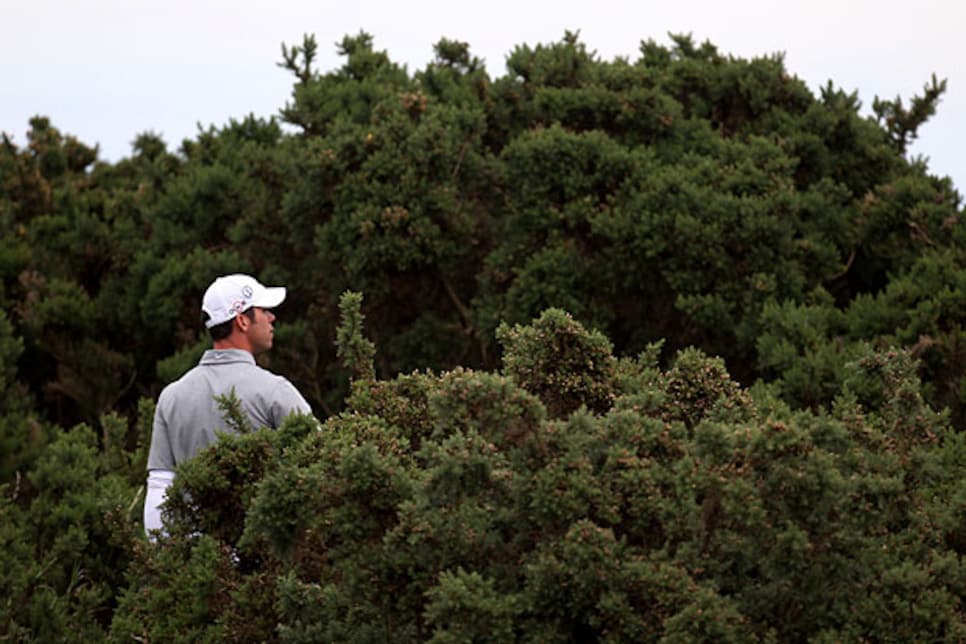 There's plenty of Good news for Paul Casey this week. He's the highest ranked player in the field and there aren't any gorse bushes at St. George's Golf and Country Club.
Welcome to another edition of Fantasy Fix, where we're glad we only have to spell players' names correctly, not pronounce them.
How about Louis Oosthuizen's British Open performance over the weekend? We apologize for not calling the South African's staggering seven-shot win at St. Andrews in advance. Then again, Nostradamus himself couldn't have seen that one coming.
This week, the PGA Tour turns the excitement down just a notch as it heads to the Toronto area for the RBC Canadian Open. While there's always a bit of a letdown following a major championship, at least we can expect some more competitive golf come Sunday since the suddenly unstoppable Oosthuizen isn't in the field. He will obviously merit some serious fantasy value going forward, but as John Strege points out
, though, we shouldn't go handing the next great thing from South Africa the keys to the golfing kingdom just yet. As impressive as his win was, we have two words for you: Trevor Immelman.
Back to the Canadian Open, which used to carry with it prestige similar to that of a major. In 2000, Tiger Woods even competed to pull off his "Open Slam," adding the title to his romps at the U.S. Open and British Open earlier in the summer. But now, the tournament has fallen in status, struggling to bring in big names. It's gotten so bad that even players who win here like Jim Furyk (2006 and 2007), don't even want to come back.
But as we saw at the Old Course, good players are everywhere. And more often than not, it's a week such as this in which they are first identified. Here are some thoughts on how it will play out.
Retief Goosen: Last year, the South African lost this tournament to Nathan Green when he bogeyed the second hole of a playoff. This year, he returns as the only major winner in the field (of 11), who is currently in the top 75 of the world ranking. Coming off a strong week at St. Andrews (solo sixth) and with seven top 10s under his belt in just 12 starts, we are all about turning the Goose loose.
Paul Casey has never played in this event. We're not sure if he's ever even set foot in the Great White North. What we do know is that he's the highest-ranked player in the field (No. 8) and he's coming off a T-3 at the British Open -- though he's probably still having nightmares about that triple-bogey on No. 12 during the final round. Don't worry, Paul. The gorse bushes have been replaced by maple leafs at St. George's Golf and Country Club.
I'll stick with what little chalk there is going to be in Ontario this weekend and highlight Luke Donald. The Englishman finished T-24 here last year, but has been playing much better of late, including a T-11 at the British thanks to a pair of 69s on the weekend and a win on the European Tour at the Madrid Masters. His former coach at Northwestern, Pat Goss, predicted he'd win on both tours
before the year is out. Maybe this is the week.
Sean O'Hair continued his good run with a T-7 at the Old Course, making him tied with Nick Watney for low American (yippee!). He missed the cut here last year, but finished third two of the three previous years. And as always, look out for Fantasy Fix favorite Tim Clark, who should bounce back after having a rough time wielding his long putter in the wind at St. Andrews. Plus, it keeps the South African theme rolling.
Mike Weir: This guy seems like the obvious pick due to the lefty playing on his home soil, but the bottom line is that Weir simply isn't playing well right now. He shot 73-75 at St. Andrews to miss the cut and he hasn't had a top-25 finish at a stroke-play event since the Bob Hope Classic back in January. He's missed the cut in four of his last six events and he's had an up-and-down record in his national championship. Weir wants to win this tournament badly -- maybe too badly.
Another one of the 11 former major champions in the field who is playing like a shell of his old self is David Duval. A runner-up at the U.S. Open at Bethpage coupled with his insistence that he was close to regaining the form that made him world No. 1 got people dusting off their Oakleys in celebration. A runner-up at the AT&T Pebble Beach National Pro-Am near the start of this season made even more believers. But it has been a brutal stretch since then, with nine missed cuts in 13 starts and a best finish of T-30 at the Valero Texas Open.
A year ago, you couldn't talk about golf's youth movement without mentioning Danny Lee along with Rory McIlroy and Ryo Ishikawa. Now, while McIlroy and Ishikawa make news at major championships, Lee is just looking to make cuts. The native of New Zealand, who has struggled all year on the European Tour, will turn 20 on Sunday, but we don't expect him to be celebrating a win as well.
Robert Garrigus: First it was the meltdown at the St. Jude Classic when he made a triple-bogey on the 72nd hole before losing in a playoff to Lee Westwood. Then it was a disastrous 73-74 weekend at the Reno-Tahoe Open that dropped him from the lead to a T-10. Still, we like that this journeyman, who quietly led the PGA Tour in driving distance during the 2009 season, keeps putting himself in contention.
As mentioned before, this list of former champions playing in this event is limited. However, Scott Verplank fits the bill (2001) and the veteran has also been playing well of late, losing in a playoff at the Travelers Championship to Bubba Watson and with T-5s at both the Memorial and the Byron Nelson. Verplank finished T-8 here last year and has five top 10s at this event.
And finally, we like one of the coolest stories on the PGA Tour to stay hot. With an economics degree from Yale, Bob Heintz is clearly one of the smartest professional golfers around. Apparently, he also can play. Heintz, who is fully exempt on the Nationwide Tour for 2010 and is coming off a runner-up finish at the Reno-Tahoe Open. The performance could have been even better if he hadn't missed a three-footer for birdie on the final hole that would have put him in a playoff with Matt Bettencourt. Still, the $324,000 he earned is more than what he made in each of his last two full seasons on the PGA Tour. And we didn't even need to major in economics to figure that out.