News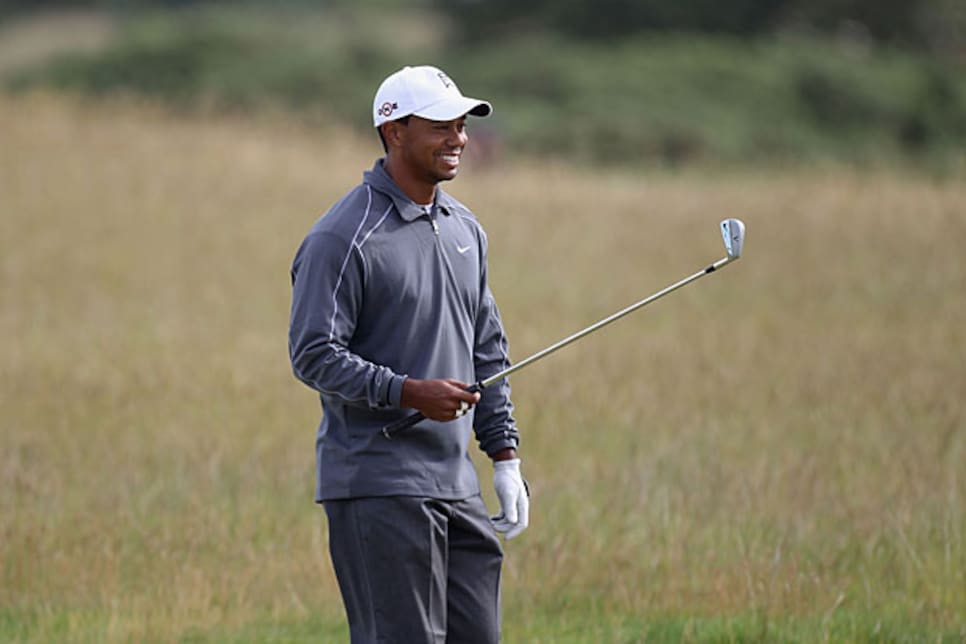 Tiger always seems to be smiling at St. Andrews, where he's won two British Opens by a combined 13 shots.
Welcome to another edition of Fantasy Fix, where we don't need a special press conference to unveil our decisions.
LeBron James may have hijacked the sports world last week with his made-for-TV announcement, but this week, the focus is back to some good old-fashioned competition -- "old" being the key word as golf returns to the Old Course at St. Andrews for the 139th British Open.
While it was nice seeing Steve Stricker put on a show and make us look good in the process, it's safe to say that there's a little more excitement this week than there was surrounding the John Deere Classic. And what's not to like here? You've got the oldest major championship on the world's most storied course and some not-so-great weather on the horizon, meaning fans should get the full Open Championship experience even if they're sitting on their couches.
The Old Course, we all know, is the home of the "Road Hole" and the "Valley of Sin," the site of 27 previous Opens and countless memorable moments. Saying a course has history is an understatement when it has hosted eight major championships before the turn of the century -- the 20th century, that is. Who will add his name to the Claret Jug this time? Here are some thoughts.
Tiger Woods: We all know the story here. Two attempts as a professional have produced not only two wins, but two blowouts. In 2000, Woods won by eight shots. In 2005, he only won by five. There are so many signs pointing to Woods winning that despite his recent struggles, he's been made a 5-1 favorite (Phil Mickelson and Rory McIlroy are a distant second at 16-1).
That Saturday back nine of 31 in the U.S. Open at Pebble Beach and a second straight T-4 at a major championship gave the golfing world proof that Tiger still has magic left in his golf bag. And while a possible switch of putters after more than a decade of dominance might reek of desperation, we'll take it as a sign that the world No. 1 isn't afraid to try fixing his faults. Call us suckers, but we'd be surprised if Woods isn't sipping some bubbly from the Claret Jug come Sunday.
Slump or not, it's tough to pick against two-time British Open champion Padraig Harrington. And with nasty weather in the forecast, I like this grinder's chances even more. In the same vein, when the conditions get tough, two-time U.S. Open champion__Retief Goosen__ is usually at his best. The South African has made the cut in his last 11 British Open appearances and has five top-10 finishes, including a T-5 last year and a T-5 the last time the Open was held at St. Andrews in 2005.
Another South African, Ernie Els, is still the leader in the FedEx Cup race and he remains one of the favorites to win at St. Andrews, a decade after his second consecutive second-place finish to Tiger in a major. Els was so far behind that he needed binoculars to see Woods' red shirt, but a runner-up is a runner-up. The Big Easy left Pebble Beach this year bitterly disappointed after not capitalizing on a golden opportunity to add to his major collection, but his performance proved there's still time to collect some hardware.
And how can we not try to ride the wave with__Steve Stricker__? The Wisconsin native answered Paul Goydos' historic 59 in the first round with a 60 of his own that afternoon and wound up setting several tournament records along the way in winning the John Deere Classic. Of course, playing that event isn't exactly the best tuneup for links golf. We can't say that we blame Stricker, though, for going after some easy money.
About the only thing that could possibly rain on Stricker's parade other than the predicted precipitation is playing with El Nino himself. Stricker is paired with Sergio Garcia, aka the human rain cloud, the first two days. The once promising Spaniard has gone from always being a threat to win to a Fantasy Fix pariah. Hey Sergio, why not crack open one of the Michelob Ultras you made money plugging and crack a smile? Speaking of duds...
Phil Mickelson: OK, we'll reluctantly take the bait again and pick against him at a major. Mickelson's struggles at the British Open have been well documented
, but he's in such a zone when it comes to playing in the game's most important events. Then again, bold predictions like these are why I get paid the big, um ... make that the regular bucks.
A missed cut at the Scottish Open last week provided another reason to avoid Lefty, who amazingly, has more missed cuts (two) than top 10s (one) in his British Open career. Here's an instruction video
on playing in the wind that Mickelson's teacher, Butch Harmon, recently did for Golf Digest. Perhaps Butch should pass on some of his knowledge to his prized pupil.
We promised we had learned our lesson about picking against Jim Furyk, but we simply have to here. Furyk has a decent Open record, but at St. Andrews, where his accuracy off the tee isn't as rewarded, he has struggled, missing the cut in 2005 and finishing T-50 in 2000. He's played better across the pond the past four years, but it's tough to look past that string of five-straight missed cuts from 2001 to 2005.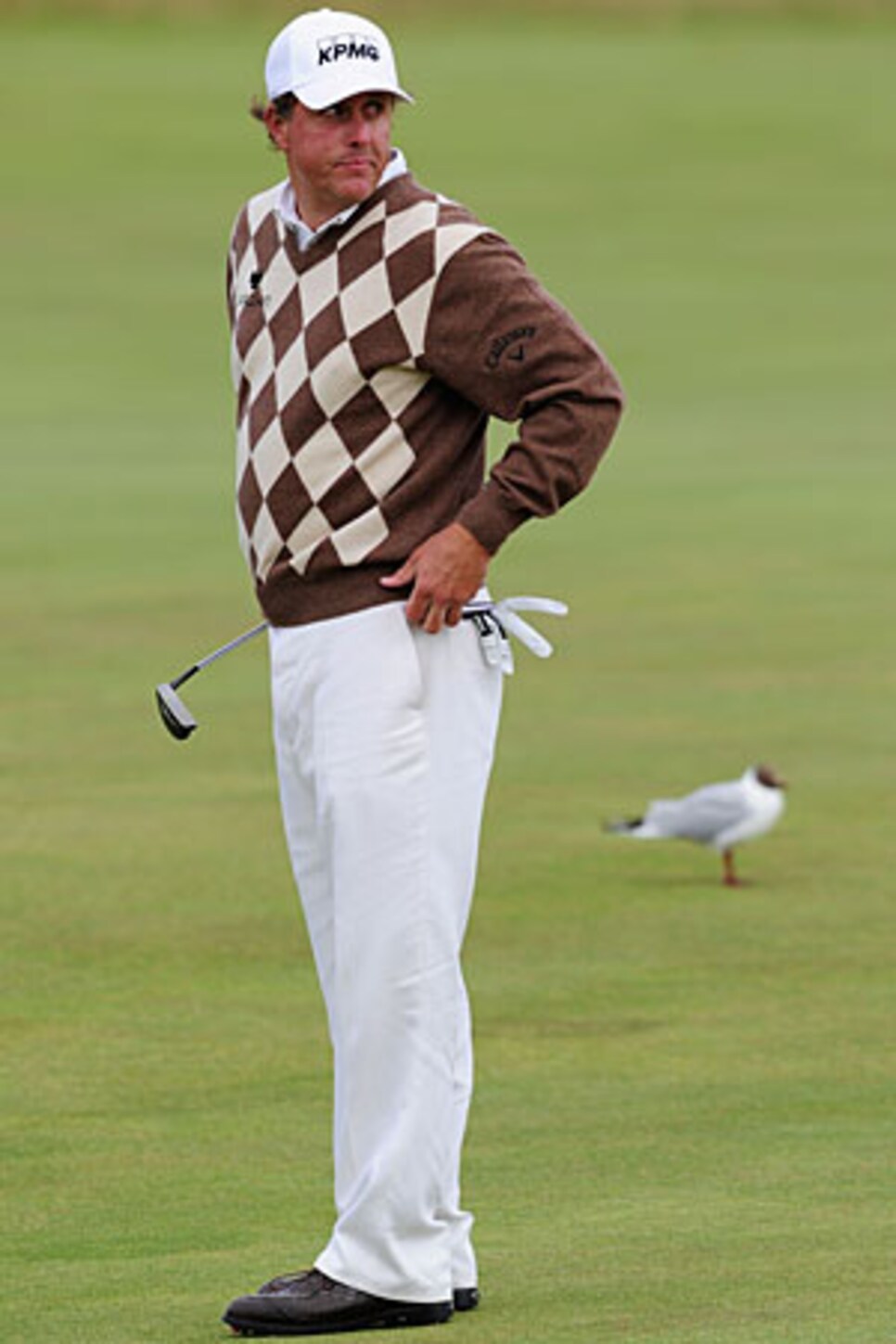 Tiger in the world ranking?
Despite the fact that he's the defending champion, we'll be staying away from Stewart Cink this week. Most people predicted his first major championship win at Turnberry would open the floodgates for more big wins to come. As usual, most people were wrong. Cink has done very little in 2010 and has never played well at St. Andrews (MC in 2005 and T-41 in 2000) nor at the Open in general where even including his big win, he's missed the cut three of the last five years. In other words, he should cherish his final few days with the Claret Jug.
Pick a Molinari brother, any Molinari brother. Both Francesco and Edoardo come in red hot. Edoardo won the Scottish Open on the European Tour this past week and Francesco finished T-4 after nearly winning the week before, falling in a playoff in France to Miguel Angel Jimenez. The two have just a combined four appearances in this tournament, but Francesco finished T-13 last year.
And finally, European Ryder Cup captain Colin Montgomerie has managed to get in the news a lot this year. This time, it might actually be for playing well. Montgomerie made the field by firing a course-record 62 at Sunningdale in qualifying and in Tiger's last romp here in 2005 it was Montgomerie that finished solo second. His dream of winning this major, or any major for that matter, is probably over, but that doesn't mean he still can't make some noise -- other than incessantly talking about the Ryder Cup of course.
-- Alex Myers is a contributing editor for GolfDigest.com.